Exclusive: Pig Heart Surgeon Responds to Patient's Prison Sentence
Dr. Bartley Griffith, the doctor who performed the first successful pig heart transplant in a human, pushed back on criticism that the patient's criminal history should have pushed him to the back of the line.
David Bennett Sr., who received the pig heart, was convicted in 1988 of stabbing a man seven times and the victim's family said they wished the heart went to a more "deserving recipient." Criminal history isn't a factor in deciding who receives what medical attention and Bennett's incarceration didn't enter into the discussion when considering him for the transplant, according to Griffith.
"I knew nothing about his arrest so I didn't ask him about it," Griffith said in an essay for Newsweek. "We don't look at incarceration history and things like that, I think that's unethical."
Griffith added that he felt confident that no one involved in the transplant "knew anything about this particular issue that was so very long ago."
Griffith met Bennett in 2021 when he came into the intensive care unit because he had been put on a temporary artificial bypass machine. Without the machine, Griffith said in an essay for Newsweek that Bennett, 57, likely wouldn't have survived the night.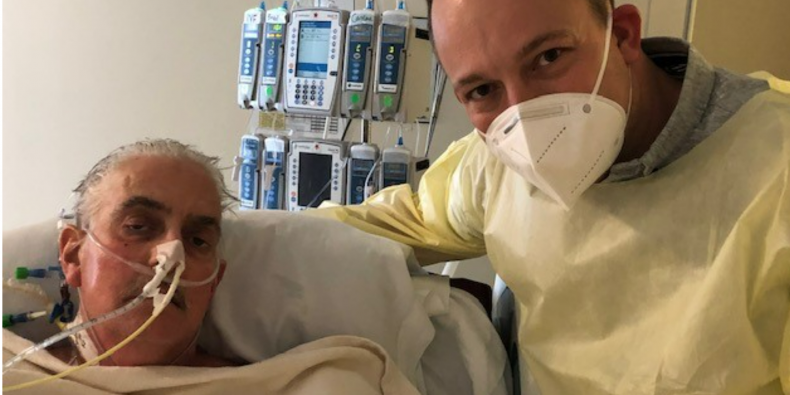 A heart transplant was the ideal scenario for Bennett, but he hadn't been medically compliant in the past and therefore was ineligible for the procedure. Believing the 57-year-old likely wouldn't leave the hospital without a transplant, Griffith began exploring the potential to use a genetically modified pig heart transplant.
Griffith floated the possibility to Bennett in mid-December and although the 57-year-old said he would have preferred a human heart, he decided to move forward with the procedure.
"He wanted to know what his chances were and I said that it may be a day, a week, a month or a year. We really don't know and I couldn't tell him what the real risks were. He said: 'Well, I don't want to die. So let's do it. And if I do die, somebody will learn something,'" Griffith said in an essay for Newsweek.
The surgery took place on January 7 and a week later, Griffith doesn't believe Bennett's body will reject the heart. He also hopes that Bennett will be able to move around in a wheelchair next week.
While the surgery is being heralded as a groundbreaking development in science that has the potential to save lives, it came with a pang of disappointment for the family of Edward Shumaker, who Bennett stabbed decades ago.
Shumaker spent the 19 years after the stabbing using a wheelchair until he had a stroke in 2005, according to the Washington Post. He died two years later, just shy of his 41st birthday. After serving six years of his 10-year prison sentence, Bennett "went on and lived a good life," according to Leslie Shumaker Downey, Ed's sister, and now gets a "second chance with a new heart."
"I wish, in my opinion, it had gone to a deserving recipient," Downey said. "He's being given another shot at life. But my brother Ed wasn't given a shot at life. Ed was given a death sentence."
The University of Maryland Medical Center told the Washington Post Bennett came to them "in dire need" and the decision to pursue the transplant was made "solely on his medical records."