Exclusive Poll: Prince Harry and Meghan Markle Will Be Happier Outside Royal Family, According to 48 Percent of Brits
Almost half of Britain thinks Prince Harry and Meghan Markle will be happier outside the royal family, an exclusive poll for Newsweek reveals.
The Duke and Duchess of Sussex decided to step down from royal duties and begin a new life in Los Angeles earlier this month.
A survey has revealed 48 percent of people in the U.K. think they will be "happier living life outside the royal family," while 26 percent said they would not be.
Young people were most likely to take the positive view, at 64 percent among 18-24-year-olds compared to 33 percent of over-65s.
Asked whether the former royals made the right decision, 41 percent agreed, compared to 34 percent who disagreed.
Of those who believed it would be the wrong decision, 57 percent said it "cannot be undone," while 32 percent said they should return.
Redfield & Wilton Strategies conducted the poll of 1,500 adults on Sunday for Newsweek, with a 2.53 percent margin of error.
The couple's new start comes amid fresh battles with the media, as they announced a boycott of four outlets in the country they have left behind.
The duke and duchess have vowed "zero engagement" with the Daily Mail, The Sun, Daily Mirror and Daily Express, as well as their online sister titles.
And Meghan on Friday had the first hearing in her privacy case against the Mail on Sunday over its publication of a "private and confidential" letter she wrote to her father, Thomas Markle Sr.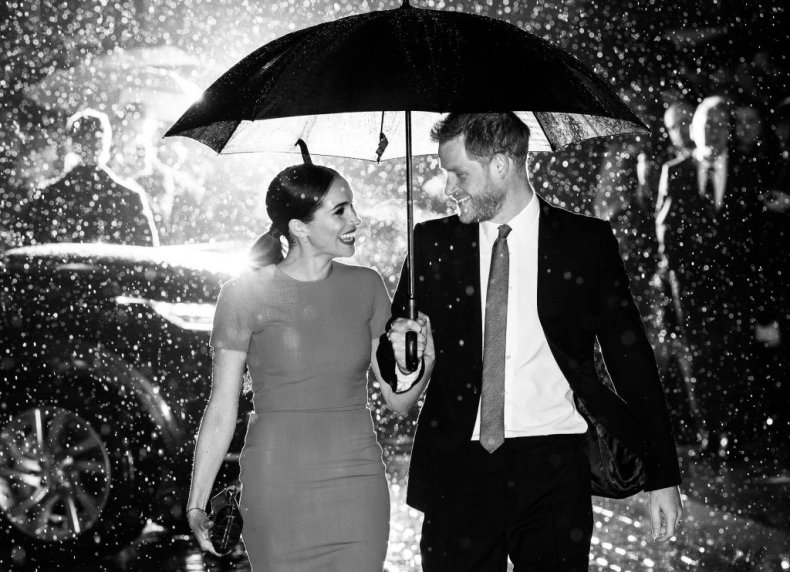 The online poll also revealed 45 percent of people felt the media boycott was the right decision, with 20 percent saying they "agree" and 25 percent who "strongly agree".
This compares to eight percent who disagreed and ten percent who strongly disagreed, making a combined total of 18 percent.
However, 34 percent felt the criticism of the duke and duchess by the British press has been "about right," with 33 percent saying it has been "excessive" and 13 percent saying it was "not strong enough."
The polling comes as Meghan and Prince Harry wait for the judge in her privacy case to make his first ruling, on an attempt by the Mail on Sunday to have certain sections of her argument struck out.
Mr. Justice Warby reserved judgment on Friday and is due to issue his ruling sometime this week.
The full trial is yet to start.
The new data follows polling conducted for Newsweek earlier this month showing British people felt their impression of the duke and duchess had got worse since coronavirus.
For Meghan, 36 percent said they had a more negative view compared to 20 percent, who felt more positively.
For Prince Harry, 33 percent saw their opinion of him decline compared to 19 percent who said it had improved.
Survey data also showed that 57 percent either approved or strongly approved of Queen Elizabeth II's response to coronavirus.