Exclusive Premiere: Julia Weldon's 'Take Me To The Water' Music Video Pays Tribute To Beaches
As the coronavirus pandemic affects public spaces, New Yorkers anticipate more closures as time goes on. Julia Weldon, singer and songwriter, premiered their video for "Take Me To The Water" on April 29. The video, premiering exclusively with Newsweek, pays tribute to the many public spaces people escape to in the summertime, including members of the LGBTQ community.
Earlier in April, it was revealed that New York City's public beaches would likely be closed for the season, as large public gatherings were canceled through the end of June. The city's Parks Department was told to "prepare for every scenario," which includes the possibility of beach closures.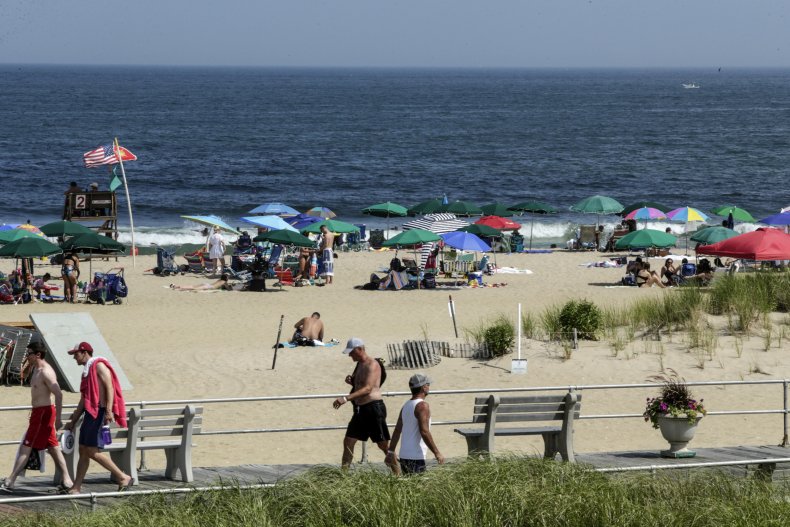 "Take Me To The Water" was filmed in scenic Fire Island, New York. It honors nature and features incredible shots of the beach, forested areas and the ocean. For members of the LGBTQ community the island has long been a place of retreat, a place where acceptance was de rigueur, a welcome respite from daily lives that were often filled with judgement and censure.
Yes, the beach is an escape for almost everyone, but when you don't feel safe to be your own self in your own body, where do you turn? For decades, Fire Island has been that place for LGBTQ people, making the closures of the beaches smart that much more.
Outdoor city spaces are important to everyone, especially those who may not have air conditioning, or feel they have anywhere to go and consider them a safe haven. Closing beaches for the season would have a huge impact.
Weldon said they are using music as a coping mechanism and creative outlet during the coronavirus pandemic. "Music seems to be incredibly important for all of us right now to get through this difficult time. Maybe that's because we are experiencing something that feels sometimes ineffable, and music has the ability to express what we can't say in words," they said.
"I'm also doing virtual concerts and find it cathartic to perform for those who need to hear live music," the singer/songwriter added. "We might all be behind our screens, but there's a huge need for interaction, connection and love. And that's what music is all about."
Charis Shafer, who directed, edited and served as cinematographer called the video "a labor of love for both of us and a welcome distraction in these uncertain times." "Completing this project took on an elegiac tone after hearing the beaches were closing. It's surreal — and a bit comforting — to return to a time that feels so distant from our current reality," she reflected. "This is the way we felt about the song and the ethos we were trying to convey: just a moment in time when you can let it all wash away and simply exist as a creature in nature."
Shafer said that these "moments of stillness and connection" are helping her cope during the pandemic.
Weldon's music video for "Take Me to the Water" (which was shot entirely on an iPhone and produced by Drew Morgan) is from the album Comatose Hope. Check out their YouTube page here and follow them on Instagram for virtual concert updates.