Exclusive: Raj Rajaratnam Reveals Why He Didn't Take a Plea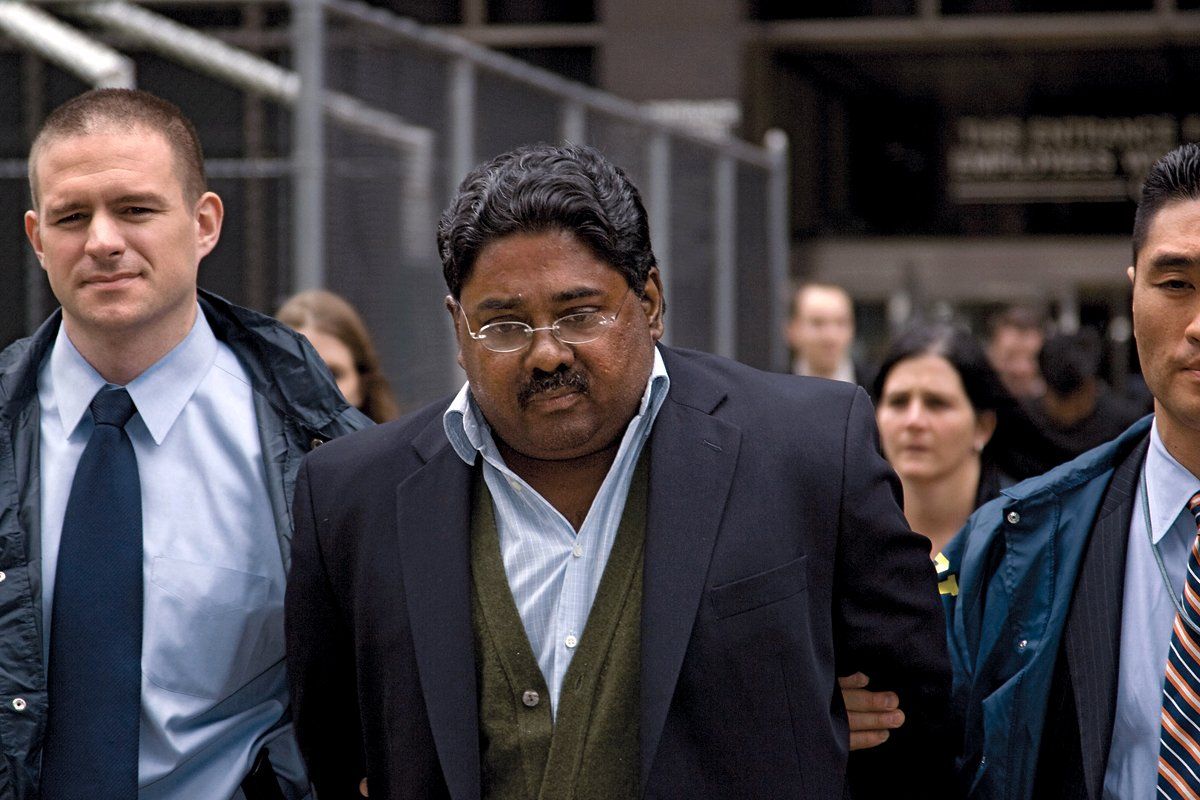 It was 6 a.m. on Oct. 16, 2009, and Raj Rajaratnam, head of the Galleon Group hedge fund, was at home on his exercise bike looking out over Manhattan's Turtle Bay, thinking about how many shirts he would have to pack for his trip to England that day. He was to go there to launch a $200 million fund to invest in the Sri Lankan stock market, in which he, the richest Sri Lankan on the planet, was the biggest single investor.
At 6:30 his doorbell rang. He answered it to find a number of policemen and men in suits outside. An FBI agent named B. J. Kang told him he was under arrest for insider trading. There were five other agents with him, come to collect Rajaratnam. They asked if he had a gun, if he had drugs on the property. For a moment he was afraid they would plant something.
As they led him away from his family, Rajaratnam says Kang told him, "Take a good look at your son. You're not going to see him for a long time." He added, for good effect, "Your wife doesn't seem so upset. Because she's going to spend all your money."
The interrogation, at the FBI office in lower Manhattan, lasted eight hours. They put a laptop in front of him and pressed a button. He heard the voice of his wife picking up his home phone. "Hello?" Then they clicked on another button and his voice came on, on his cellphone, talking to his Wharton classmate and friend Anil Kumar, discussing business matters at McKinsey, where Kumar worked. On the same day, Kumar and another Wharton classmate, Rajiv Goel, were charged with insider trading.
Two FBI agents, wearing prominently displayed guns, played good cop, bad cop. They thumped tables, jumped up and down, told him, "Just say you did it to one count!" But the suspect—who chose not to call a lawyer—was uncooperative. "In my head I was saying, 'You can't intimidate me! I'm from Sri Lanka'?"—where prisoners have to deal with much worse. They wanted him to turn in other hedge-fund managers. They wanted him, especially, to wear a wire and tape his conversations with Rajat Gupta, the former CEO of McKinsey. Gupta, whom Rajaratnam refers to as a "first-class guy," was the most respected Indian executive in the U.S.
After the interrogation, they led Rajaratnam outside in handcuffs and paraded him in front of reporters for a perp walk. It was the most dramatic moment in a four-year investigation led by Preet Bharara, the U.S. attorney in Manhattan.
It was Rajaratnam's understanding that were he to plead guilty and wear a wire, he might be offered a sentence of as little as five years. With good behavior, he could be out in 85 percent of that time. The evidence on the wiretaps was incontrovertible. It was his voice on the phone asking a variety of informants about companies he was investing in, and giving them loans and other monetary rewards in exchange.
Of the 50-odd people caught up in the insider-trading scandal, "most everyone that's been charged has pled guilty," notes Rajaratnam. "Nobody's fought it. They've taken the plea." But he decided to plead not guilty, and was later convicted on all 14 counts of insider trading, and is now going to jail for 11 years.
Why didn't he take the plea?
Rajaratnam was a man who lived for information; his entire business edge was built on acquiring information before others did. But when it came to the biggest bet of his life, this master of information was guided—as he saw it—by the political history of his people, his personal journey as a dark-skinned immigrant through the rich countries, and a 3,000-year-old tradition of astrology.
The whole story speaks to the South Asian–American community: its pursuit of success and money at any cost; the differences between immigrants and the first generation; and the immigrants' incomplete understanding of the rigor of the law in the U.S.
"There are rules and there are laws, and they apply to everyone, no matter who you are or how much money you have," says Bharara. This is what was not easily understood by the South Asians named in the conspiracy. There are laws and rules in India and Sri Lanka, too, but they can be tested, ignored by those who have money or friends.
Rajaratnam is an immigrant, not American-born. He had grown up, as he tells it, in fear: of the Sinhalese majority in his homeland; of the skinheads in Britain where he'd studied; and of the established elites of Wall Street where he did business. At just about every stage of his life, there were people out to get him. "I saw myself as an underdog."
Rajaratnam has lived in his penthouse apartment for 15 years. It has a splendid view of the East River on two sides, right where it curves around. "It's nice to not feel claustrophobic in Manhattan," he says as he shows me in. The living room, where we sit, has an idol of Ganesha, and pictures of his wife and children.
Rajaratnam's father was an upright executive, the head of the Singer Sewing Machine Co. in South Asia. Residing in Colombo, the capital of Sri Lanka, in the 1960s, the family was Tamil, an ethnic minority favored by the colonial British. After independence, the majority Sinhalese systematically discriminated against the Tamils. Sensing that the situation would get more violent, Rajaratnam's family emigrated in 1971. He was already in boarding school in London. Two years earlier, his parents sent the 11-year-old to study at Dulwich College. "P. G. Wodehouse went there," I prompt him. Wodehouse is beloved all over South Asia because his comic novels demonstrate that the former colonial masters were ... silly. His face lights up. "I spent three years in his room. People who stay in rooms in Dulwich write their names. When I moved in, I could see his name. I wrote mine below."
Afterward, Rajaratnam went to Sussex University, in Brighton, to study engineering. These were the days when a far-right party, the National Front, was marching through the streets, beating up "Pakis," who were easy targets. "They wouldn't fight back. They were more docile." Rajaratnam was once with his uncle in a tough London neighborhood, walking down the street, when three white men rammed their shoulders into the older man. "We started pushing and shoving," but did not run. "Running has never been part of my M.O." As a consequence, both Rajaratnam and his uncle got beaten up. But "I didn't get beaten up any more than they did." After that incident, Rajaratnam took to carrying chili powder in his pockets when he ventured out at night. "I was conscious of the fact that I could be attacked because of my ethnicity."
After Sussex, he decided to get an M.B.A. at Wharton. Of the 600-odd students there, 20 were South Asian. That's where the Galleon network began. His roommate ended up being head of investor relations at Galleon; another classmate later oversaw Asia for Galleon. Altogether, four people from his class ended up working for him. Most ambitious South Asians at the time went to Silicon Valley. "Wall Street was tough to get into for us. Not to be crude, but there's a Jewish mafia, and a WASP mafia, and an Irish mafia up in Boston." He rattles off the names of the leading money houses, identifying each by the ethnicity it is stocked with. "They hire their own; they socialize among their own." When it comes to the South Asians, he bemoans the fact that "for us as a group there's no unity." He mentions the microscopically specific matrimonial ads in India Abroad, a community newspaper. "A Punjabi Khatri wants to marry a Punjabi Khatri ..."
He was among the South Asian pioneers on Wall Street. "We didn't grow up reading The Wall Street Journal. We didn't have someone who knew someone who could give us an interview. We didn't have the domain knowledge; we were all foreigners." Americans had the connections.
Wall Street attracted type-A personalities, "people who could say, 'I want to make a million dollars before I'm 30.' " Rajaratnam found this strange. "Culturally, we couldn't say that. We were too shy to say, 'I want to make a lot of money.' We were more coy." He noticed, too, that "Americans are born salesmen and born negotiators." When he was a kid, if he wanted to go to a movie and his father said no, that was it. With his American-born son, however, "if I say no, he starts negotiating."
Rajaratnam's first job out of Wharton was at Chase Manhattan. Then he worked as an analyst for Needham & Co., in 1985, a startup. Rajaratnam was its 10th employee, and first South Asian. He started following the semiconductor industry. The PC was taking off, advanced computer chips were being mass-produced, and his engineering background helped him understand the technology. He became director of research and, in a few years, president. "I was in the right growth sector." Along the way, he hired several South Asian analysts. At one point, George Needham, the chairman, asked him why he was hiring so many South Asians. In response, Rajaratnam read off the names on the company's trading desk. "Almost all of them were Jewish."
Rajaratnam realized that the real money was in investing, not research. So he started a hedge fund within Needham with $15 million from executives he'd previously done business with. It grew to $250 million in short order.
Then he founded his own hedge fund in 1997, called Galleon after the European ships that traded in spices and ivory with his birthplace, the Isle of Serendip. Galleon started with $300 million in funds. By January 2008, it had grown to 160 people. But the funds under management had grown exponentially. Rajaratnam was now investing $7 billion. It was the biggest technology-based hedge fund on the planet.
In 2007 a former Galleon employee in California named Roomy Khan was picked up by the FBI, confronted with various securities and tax charges, and made a deal with the feds, wiretapping her conversations with Rajaratnam. She had given the feds the names of 20 hedge funds. "Of all of them, why did they pick you first to wiretap?" I ask. "Mine was the largest," he says, with some pride.
In New York's South Asian community there are many stories of Rajaratnam's generosity. He has given financial support to the Harlem Children's Zone; the education reformer Geoffrey Canada testified in his support during the trial. He's also given $250,000 a year for three years to South Asian Youth Action, a Queens-based NGO; his wife, Asha, is on the board. SAYA works with the children of immigrants who are not doctors or engineers, and those who have fallen from their model-minority status. "We middle-class Indians don't worry about taxi drivers," he says.
For four straight hours, Rajaratnam sits in his armchair and talks. I finally get up and excuse myself; I am due at a 50th-wedding-anniversary party at an Indian restaurant on Long Island. At the party I meet Indians who are working in banks or tech companies—Rajaratnam's world. I tell them who I've been meeting, and their eyes widen. They are surrounded by their Indian wives and Indian-American children, who are performing synchronized Bollywood dances to entertain the parents. Before his indictment, Rajaratnam was an honored member of this world. "I am really respected in the Sri Lankan community," he had told me, with emotion.
The second time I meet him, on a foggy, drizzly Monday, I am on the Upper East Side with half an hour to kill before my meeting. I spend it walking around the opulent district of Sutton Place. This is the most expensive housing on the most expensive island in the greatest economy in the world. This is where you come to live after you've made it everywhere else.
When Rajaratnam comes down the stairs to the living room, he hasn't showered or shaved and appears listless, guarded.
Asha comes into the room to ask if we'd like lunch. She is a slight, shy woman wearing a leather jacket, and wears pain like a garment.
Rajaratnam's reclusiveness—he has given almost no interviews to the press, even before there were any investigations—has led to many wild stories. "They wrote all kinds of things about me. It's all theatrics, and the press just laps it up."
His younger brother, Rengan, had urged him to show the world that he was human by bringing his family to the trial. Even the U.S. attorney, Bharara—who, like Rajaratnam, is South Asian—had his wife in the courtroom. "Bring abba [father] to the court, amma in a wheelchair!" urged Rengan. But Rajaratnam wouldn't. "I didn't want to subject my family to the scrutiny of the press. We are private people." Asha showed up only on the day of the sentencing, sitting not next to her husband but in the spectators' gallery. After they decided to convict him of all charges, the jurors collectively linked hands and prayed for the family of the man they had just convicted.
Did he regret anything?
"I'd probably not be so trusting of people." It's clear who he's referring to. The government's case rests principally on his two Wharton classmates. Anil Kumar, the McKinsey executive, was hired by Galleon as a consultant. The other, Rajiv Goel, worked at Intel for eight years. Both of them pleaded not guilty first, Rajaratnam notes, before they switched to guilty under prosecutorial pressure.
In his conversations with Kumar, Rajaratnam had trusted him to decide what was and was not insider information. "I did not think a senior partner of McKinsey would violate the confidentiality of McKinsey. I assumed he was kosher, that he would not cross the line." Rajaratnam does not speak well of Kumar. He calls him a choot—Hindi for "c--t." "I'm not Indian, but that word fits him," he says. He remembers Kumar, after a statistics exam at Wharton, asking Rajaratnam: "How much did you get?"
RAJARATNAM: Ninety-seven. How much did you get?
KUMAR: I don't want to tell you my grades.
Part of Rajaratnam's narrative is that of a man from a smaller South Asian country seduced and betrayed by people from the Big Brother country. Kumar had introduced him to Rajat Gupta. The two of them wanted to start an Indian School of Business in Hyderabad. "I gave them [the school] a million dollars. I later found out they never contributed any of their money, and are listed as the school's founders. And I'm not even a fucking Indian."
The betrayal by the Indian associates hurts the most—he barely mentions the white government witnesses. He regrets doing a joint venture with the Indians.
The South Asian connection makes less sinister some of the allegations in the trial. For example, the prosecution noted that Rajaratnam would visit Goel's house in Silicon Valley, presumably to talk about Intel. But the real explanation is more human. "His wife makes really good chaat [a savory snack]!" Rajaratnam and Goel were very good friends, so his betrayal hurts him personally.
"There are two types of plea bargains. One is, you cooperate with the government. You finger 10 other people. The other is a plea bargain without cooperation." The white defendants all pleaded without cooperating; they did not wear a wire. "The South Asians all did the plea bargain with fingering," he notes sourly. "The Americans stood their ground. Every bloody Indian cooperated—Goel, Khan, Kumar." He puts it down to "the insecurity of being an immigrant, lawyers bullying them into that position."
As late as two weeks before the sentencing, Rajaratnam was still being asked by the government to turn on Gupta. But he wouldn't wear a wire, he says, so he could sleep at night. "Anil Kumar's son worked at Galleon one summer. I used to vacation with Rajiv Goel's family. Their families knew my family. You don't think this is going to haunt these guys? They wanted me to plea-bargain. They want to get Rajat. I am not going to do what people did to me. Rajat has four daughters."
The Rajaratnam case can be seen as a metaphor of the difference between immigrants from South Asia, who have a more elastic view of rules and a more keenly developed art of networking, and their children, the first generation, schooled to play by American rules. Preet Bharara came to the U.S. when he was an infant. Yet for all his complaints about unfairness, Rajaratnam, surprisingly, still believes in American justice. "In Sri Lanka I would have given the judge 50,000 rupees and he'd be sitting having dinner at my house. Here, I got my shot. The American justice system is by and large fair."
"In your case too?" I ask.
"I said by and large."
Why so many Indian names in the indictments, I ask. "Because Roomy Khan's network was Indian," he explains simply. "They're not being unfairly targeted. I don't believe in conspiracy theories." His brother Rengan sees it differently. "For years these guys were sitting around in sports clubs and exchanging information. That wasn't a crime. And now we immigrants do the same thing and it is?"
Speaking of the prosecutors, Rajaratnam says: "They want to get into your head. I'm a fighter, an underdog."
Earlier we'd been discussing Velupillai Prabhakaran, leader of the Tamil Tigers. In his final days, Prabhakaran, too, was under a form of house arrest in his bunker, where he spent his time cooking Chinese meals. When his body was found, it was obese. Prabhakaran had wanted nothing less than total independence, but the Sri Lankan Army put paid to that idea, brutally, in 2009. "Clearly, we lost," Rajaratnam says. For a second, I'm not sure who he's talking about: Prabhakaran and the Tigers, or himself. Both of them held out for the maximum. They put up a fight and were wiped out.
It makes sense: the Tamil schoolboy, persecuted in his home country; tormented in the U.K.; handicapped in his career, as he saw it, by his ethnicity. When faced with yet another antagonist, he reaches for the chili powder in his pockets. But still, wouldn't the balancer of risk and profit have realized that the smart thing to do was to take the plea and hope for a reduced sentence, rather than risk dying in jail? (Rajaratnam has advanced type 2 diabetes; his kidneys are failing.) It seemed like an irrational decision.
But there is an irrational explanation. A Sri Lankan diplomat close to Rajaratnam told me that she'd met him shortly before he was convicted. "He'd gone to the ola-leaf readers. They told him he'd be acquitted." Ola-leaf readers are Sri Lankan astrologers. They believe that 3,000 years ago, seven Indian sages decided to write down the horoscopes of every person yet to be born, on a series of palm leaves. A skilled reader can read the leaves to present a complete life story of an individual, including his future. So on a subsequent meeting with Rajaratnam, I ask him about the ola leaves. "A friend did it for me," he says, startled that I know. The friend took his (and his wife's) date and time of birth to a leaf reader in Sri Lanka, who sat before a sheaf of leaves and asked a series of questions to which the friend answered yes or no, as at a deposition.
"Is his name Vijay?"
"No."
"Is his name Karun?"
"No."
"Is his name Raj?"
"Yes."
Then the correct ola leaf was picked out by the astrologer and Rajaratnam's fortune read. The astrologer chanted into a tape for 45 minutes. The recording said there was a government case against Raj, that he was in the stock business, that he was world-known. That he had to close his business down.
"So I don't generally believe in fortune tellers and astrologers," Rajaratnam says. "But the ola leaves were written thousands of years ago. In those days there was no share business. I found it interesting." The leaf reader also divined that his wife was born in "some Southeast Asian country." Asha was born in the Philippines.
There were other unorthodox influences on Rajaratnam. "Two or three years ago, before all of this stuff happened, my sister Vandani was in Singapore—she's into all this stuff. She called me one day and said, 'Raj, I met this person who said you'll be betrayed by an Indian woman with a mole on her face.'?" He didn't pay much attention to this prophecy. "Then I got indicted, and I saw a photo of Roomy Khan, with a huge mole on her face. The picture was from a few years ago. She had it surgically removed."
And at the end of the ola-leaf reader's tape, the astrological conclusion heartened him. "He said that eventually I would prevail." It fueled his conviction that he should fight the case all the way. It explains his puzzling insistence that he is innocent, in spite of the massive wiretap evidence to the contrary.
This was his edge; this was inside information that no one else had.
Suketu Mehta, a professor of journalism at New York University, is the author of Maximum City.