Exclusive Rolls-Royce Boat Tail Is a Study in Restrained Extravagance
Rolls-Royce doesn't just make cars. They build them. A team of artisans handcrafts each model, though some special builds get more attention then others. The company's Boat Tails are their apex.
A second version of the Boat Tail debuted today at Villa D'Este on Lake Como in a prelude to Concorso d'Eleganza festivities. The previous iteration, rumored to be built for Jay-Z and Beyoncé, was speculated to have been cost its buyers $28 million.
This is the final Boat Tail of three that will ever be built, according to the company.
"Coachbuild elevates our work as a House of Luxury into a new space; it is the haute couture of our industry," said Torsten Müller-Ötvös, CEO of Rolls-Royce Motor Cars in a press release.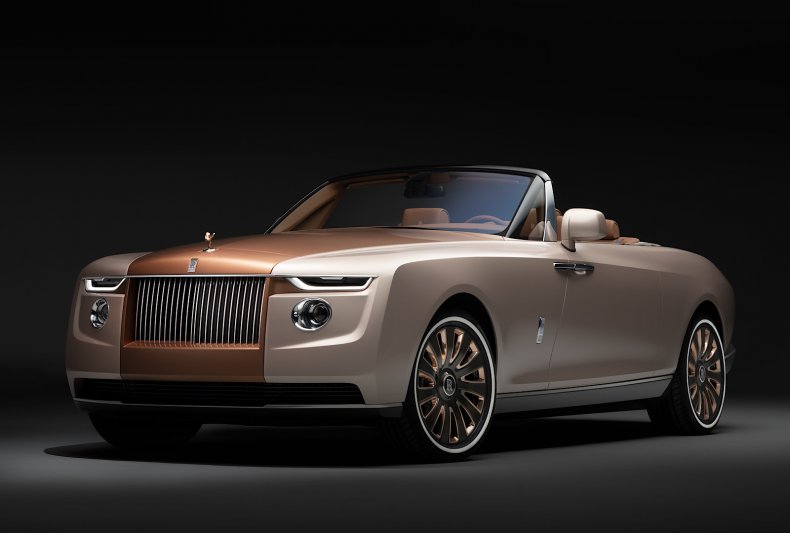 "For the commissioning patron it offers the ultimate in individuality, self-expression and Bespoke service. Far more than just a beautiful motor car, a coachbuilt creation becomes a legacy that embodies something extraordinarily personal and emotionally resonant for each client. For our designers, too, Coachbuild provides unparalleled creative freedom; opportunities to take design, materials, engineering and craftsmanship to the very highest levels."
The new model was commissioned by a customer Rolls-Royce has chosen not to name whose family business has grown over generations from its origins in the pearling industry.
The press release describes this individual as "an established patron of the arts, who additionally owns a sizable collection of classic and modern cars, housed in a dedicated private museum".
The vehicle was designed to pay tribute to the owner's parents. "Every Rolls-Royce Coachbuild commission is, of course, incredibly special; but in this case, there was an additional depth of feeling. Creating a motor car in honor of a revered client's father and family history is an extraordinary privilege; a responsibility that we took very much to heart," said Alex Innes, head of coachbuild design at Rolls-Royce Motor Cars.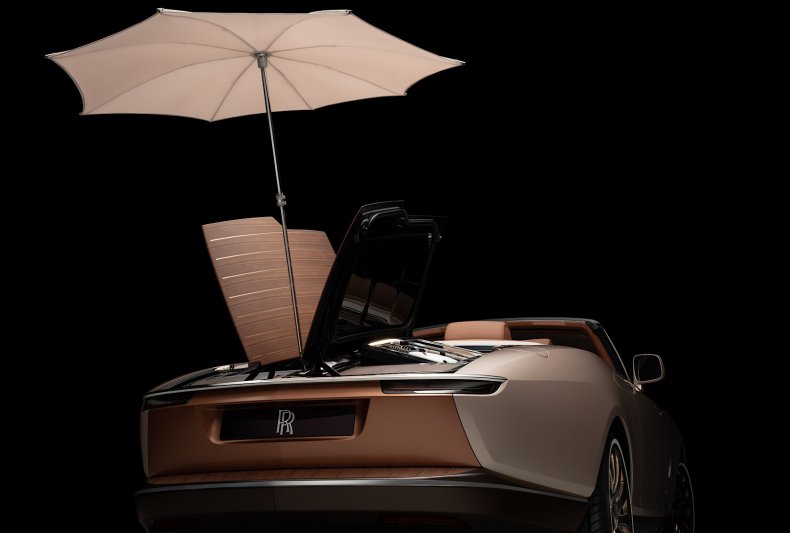 This Boat Tail is entirely built by hand with its body panels fashioned from single sheets of aluminum. The design echoes the design history of racing yachts in the early 20th century.
Its aesthetics were inspired by a gift given to the Rolls-Royce team by the commissioner, four pearl shells, personally chosen from the buyer's private collection for their unique color and complexity. They provided the inspiration for the car's exterio paint, which the luxury automaker says is one of the most complex finishes it has ever undertaken.
The paint's foundation is a blend of oyster and soft rose, with large white and bronze mica flakes mixed in to create a quality that allows the color to seemingly charge under different light conditions. This paint is complemented by a contrasting congnac-colored hood.
The color was created specifically for this model and contains bronze and gold-colored aluminum mica flakes. The effect is completed with a layer of crystal and iced matte clear coat, which adds warmth to the appearance.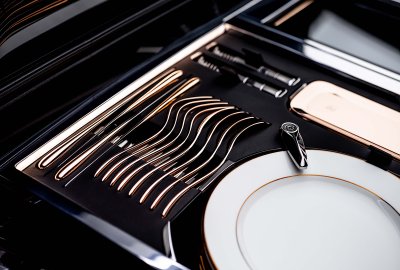 Lower sills of Boat Tail incorporate a rose gold woven thread.
The rear deck of the model features a Royal Walnut veneer that is inlaid with rose-gold plated pinstripes with a satin-brushed finish. The wood was specifically chosen by the client for the way it matures over time, which will see it changed to a cognac tone.
Rolls-Royce's signature Pantheon Grille sits up front, milled from a single, solid billet of aluminum. It wears a rose gold-colored Spirit of Ecstasy.
Its interior is equally fancy. oyster-colored leathers mix with Royal Walnut veneer while rose gold and mother-of-pearl accents elevate the look and feel of the design. The transmission tunnel is formed of the veneer, complete with rose gold pinstripes that match the deck.
The dashboard's timepiece is made of mother-of-pearl, supplied by the client from his own collection. Control switches and instrument dials feature the same material.
Pricing for the one-off model has not been disclosed. Whispers from industry insiders put it at around the same cost as the previous Boat Tail.