Exclusive: Russia's Ambassador Talks 'Red Lines' on Ukraine, Ties With China and More
In a comprehensive interview with Newsweek, Russian ambassador to the United States Anatoly Antonov laid out his country's demands to the West on the current crisis over Ukraine, discussed the importance of the strategic partnership with China and sought to set the record straight on a number of other geopolitical issues plaguing ties between Moscow and Washington.
Antonov has a decades-long career in the Foreign Ministry, where he has held a number of posts spanning both the eras of the Soviet Union and Russian Federation. He was appointed as envoy to Washington by Russian President Vladimir Putin in September 2017 and he has served as the face of the powerful nation's diplomatic presence in the U.S.
Relations between Cold War-era rivals the U.S. and Russia have long been defined by tensions and marked with significant points of cooperation. But a serious downturn occurred in 2014 after Washington supported an uprising opposed by Moscow in Ukraine, where Russia would go on to annex the Crimean Peninsula after a referendum that has been disputed by the West.
Elsewhere in Ukraine, a separatist insurgency erupted as rebels aligned with Russia declared breakaway republics at war now for seven years with Kyiv (which is alternatively known as Kiev). This conflict has recently come to the forefront of international attention amid fears of a severe escalation as Moscow demands an end to NATO's expansion toward Russian borders, a position that Antonov repeats today, just as the Russian Foreign Ministry released detailed proposals to settle the feud.
And as ties with the U.S. have grown increasingly strained in recent years, Russia's relationship with another top power, China, has flourished. The two nations and their heads of state, who held their most recent summit virtually on Wednesday, have regularly touted their relations as the best in history, and have called for even deeper cooperation in the political, economic and military realms.
Antonov notes this increasingly robust relationship between Moscow and Beijing is not aimed at the U.S. or any other country but sees it as nonetheless more important than ever in a world rife with instability, some of which, he argues is the product of Washington's policies around the world.
This transcript has been lightly edited for clarity.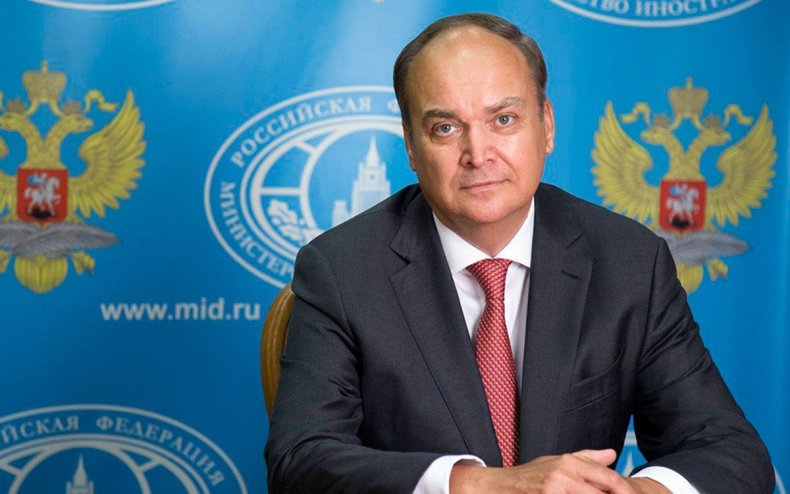 Newsweek: We've been hearing many reports from the West and Kyiv lately of a buildup of Russian troops near the border with Ukraine amid concerns that some sort of offensive was being planned. Moscow has denied this, but given the current state of tensions, I would like to ask: Can you rule out a Russian attack on Ukraine altogether and are there specific steps you feel the U.S., Ukraine and potentially others could take to ensure no confrontation erupts? Would a declaration of Ukraine neutrality and end to its NATO membership process be among them?
Antonov: The State Department and Pentagon daily warnings on Russia's buildup of its military presence near the border of Ukraine are nothing but propaganda. I'd like to remind that Russia has every right to freely move troops on its territory and conduct training activities. We are not threatening anyone. The rhetoric of the Western press and U.S. dignitaries about Moscow's aggressive plans is absolutely unfounded.
The only way to stability in the Donbas region is implementation of the Minsk agreements. We call on the U.S. to exert pressure on Kiev to fulfill its obligations under the document.
We want Washington to send a clear signal to Ukraine about the inadmissibility of revising the Minsk accords, which are the uncontested basis for resolving the situation. The U.S. has the resources to stimulate [Ukrainian President Volodymyr] Zelensky to implement the Minsk agreements, which were approved by the UNSC Resolution 2202 and are legally binding. By the way, many U.S. experts have started to put it clear: Kiev openly sabotages the Agreements, refrains from engaging in a direct dialogue with Donetsk and Lugansk.
For Russia, the ongoing militarization of Ukraine by NATO, the presence of Western troops on its territory and hypothetical membership of this country in the Alliance are unacceptable. Such steps are beyond the red lines of our national interests. A legally binding agreement that includes the U.S. and its European allies is required to prevent expanding NATO borders to the East and deployment of weapons on Russia's western borders. The presidents of Russia and the United States, Vladimir Putin and Joe Biden, spoke recently about this.
As agreed during the Russia-U.S. virtual summit, we submitted a comprehensive proposal on legal security guarantees during a meeting of Russian Deputy Foreign Minister Sergey Ryabkov and Assistant Secretary of State Karen Donfried on December 15 in Moscow. The issue was also discussed in a phone call the same day between Aide to the Russian President Yury Ushakov and the U.S. National Security Advisor Jake Sullivan. By the way, to make our work on security arrangements transparent for the public we published the Russian proposal on security guarantees.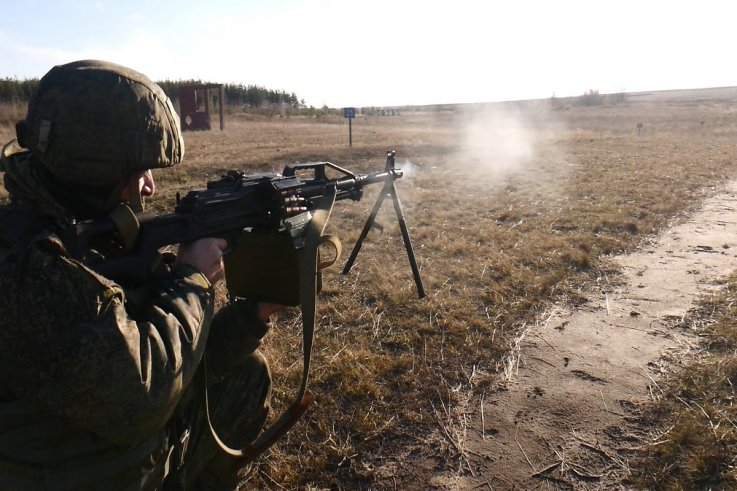 A Russian soldier is seen firing a light machine gun during a training exercise at the Western Military District's Pogonovo training ground in the Voronezh region, which borders Ukraine, in this photo published December 1. Russian officials have argued they were within their right to move troops where they pleased on their own side of the border.
Russian Ministry of Defense
The U.S. continues to use sanctions against Russia in an attempt to influence policy related to the Nord Stream 2 project, through which Washington and European allies claim Moscow is using energy as a weapon against unfavorable Western policies. Does Russia reject these accusations and will Russia retaliate against U.S. sanctions?
It has been said many times that the gas pipeline is an exclusively commercial project. Sanctions and other threats against members of this consortium are used for unfair competition.
Despite the efforts to disrupt the project, construction has been completed. Now certification process is underway. Through many years of honest interaction with Europe and other consumers of Russian hydrocarbons, our country has proved that it is a reliable partner. We have never imposed our supplies on anyone, did not use energy resources as an instrument of political pressure or to achieve so-called opportunistic goals attributed to us.
We are confident that the choice of energy supply sources should remain with European consumers, including Germany. Russia is ready to supply as many hydrocarbons as consumers need.
Last month, you wrote a joint op-ed with Ambassador Qin of China criticizing the "Summit for Democracy" that was recently organized by the U.S., and this came at a historic high point for relations between Moscow and Beijing as well as at a low point for relations between Washington and Beijing. Do contacts between Russia and China today include discussions on the risk of a major conflict over Taiwan, which attended the Summit for Democracy in one of several U.S. moves to provoke China, and what kind of risk would such a confrontation pose for Russia?
An important part of the Russian-Chinese strategic partnership is coordination on foreign policy issues. Russia and China have similar views on many global and regional problems. Such cooperation of the two countries has become a stabilizing factor in international affairs. Its importance was reiterated during a phone call on December 15 between President Vladimir Putin and President Xi Jinping.
As for the Taiwan strait, it is necessary to point out that all regional disputes should be resolved on the basis of dialogue between the involved parties. We strongly believe that interference of non-regional powers can not make the situation better, more stable or predictable.
In this regard participation of Taiwan in the Summit for Democracy did not contribute to strengthening peace and stability in the Taiwan strait. As we emphasized in the joint Russia-China article, the U.S. initiative is an evident product of Cold War mentality, it will stoke up ideological confrontation and create new dividing lines. The U.S. understanding of democracy is inconsistent with the U.N. Charter and other basic norms of international law. No country has a right to judge who is "democratic" and who is not.
On the Summit for Democracy, specifically, I would like to stress that the path to prosperity of nations lies through respectful cooperation with each other, despite differences in views on particular issues. That is why we urge to stop using "value-based diplomacy."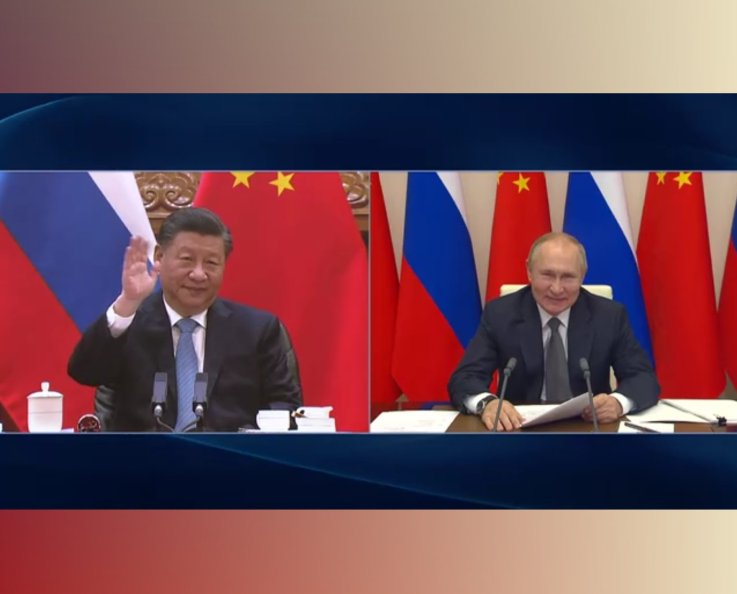 Chinese President Xi Jinping waves to answer Russian President Vladimir Putin's greeting during the start of their virtual summit on December 15. Both men pledged to further boost the strategic partnership between their two countries during the meeting.
Russian Presidential Press Office
Do China-Russia contacts also include communication over the situation on the border with Ukraine? The last time Beijing hosted the Olympics in 2008, a war erupted between Russia and Georgia. Has Moscow offered any assurances to Beijing that this would not happen again or is that not a consideration for Moscow?
Regarding your question about the military conflict in 2008, it is very important to keep in mind that we are talking about an armed aggression by [then–Georgian President Mikheil] Saakashvili's regime. This person nursed by the U.S. and its allies used the moment while the attention of the whole world was attracted to the summer Olympics in Beijing to fulfill his crime against people of Abkhazia and South Ossetia. The unprovoked attack claimed more than 1,000 lives, including Russian peacekeepers. We called on the United States to stop the madman in Tbilisi and had to react with our military might only 24 hours after the blatant and heinous offence against peace in the Caucasus had been committed.
So any analogy of Russia and China coordination with regard to Ukraine is nonsense. Although speaking more broadly, there is no doubt that the current situation in the world fosters further strengthening of the strategic partnership between Moscow and Beijing. But unlike the U.S. and its NATO allies we have no geopolitical plans and aims against any sovereign country.
Russia's foreign policy is aimed at creating a stable and sustainable system of international relations based on international law and principles of equality, mutual respect and non-interference in internal affairs of states.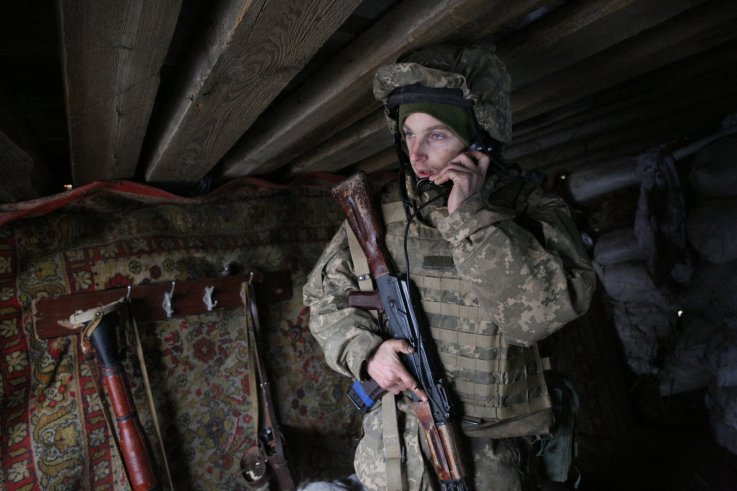 A Ukrainian serviceman talks on a phone in a dugout on the frontline with Russia-backed separatists near the village of Pesky, Donetsk region, on December 14. The U.S. and Ukraine have accused Russia of directly backing the separatists that have proclaimed internationally unrecognized breakaway republics on the Ukrainian side of the border with Russia.
ANATOLII STEPANOV/AFP/Getty Images
Another place in the world where U.S. and Russian forces have been at odds is Syria. Over time, however, the U.S. has shifted its support from rebels explicitly supporting regime change to Kurdish-led Syrian Democratic Forces that seek more autonomy and recently we heard reports that the SDF and Damascus resumed dialogue. What role is Russia playing in this latest push for peace and do you feel that President Biden's administration has the capacity or willingness to support such a settlement?
Russia and the United States maintain contacts on Syria. In this regard cooperation through the military channels is especially worth mentioning. This type of engagement has proven to be effective. We consider it essential to continue the de-conflicting dialogue on Syria. Constant and expeditious military-to-military exchange of information help to avoid unnecessary and dangerous incidents in the Arab republic.
Nevertheless, we believe that the presence of U.S. troops in Syria is illegal. The occupation of almost one-third of the Syrian territory is unacceptable. We assume that the American forces and other unlawful military troops should be withdrawn from all parts of Syria.
As for the political process, we are engaged in a close dialogue with all parties involved including the Syrian Democratic Council (SDC). In late November, Russian Foreign Minister Sergey Lavrov met with the co-president of the Executive Committee of the SDC in Moscow. We encourage the Kurdish opposition to normalize relations with the Syrian central authorities. Russia is ready to assist. We assume that the United States should do the same given close links between Washington and the SDC.
Moreover, the current U.S. administration itself repeatedly emphasized the
need to preserve Syria's territorial integrity.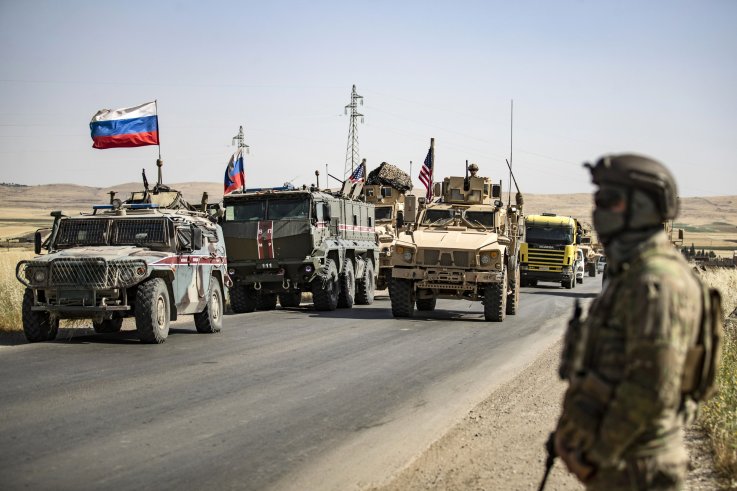 U.S. soldiers stand near a Russian military vehicle in the northeastern Syrian town of Al-Malikiyah, known to Kurds as Derik, at the border with Turkey, on June 3, 2020. The U.S. backs the Kurdish-led Syrian Democratic Forces, while Russia and Iran support the Syrian government, led by President Bashar al-Assad, who is today once again being embraced by other Arab nations after many distanced themselves when then war broke out a decade ago.
DELIL SOULEIMAN/AFP/Getty Images
Elsewhere in the Middle East, tensions between the U.S. and Iran remain high, even as talks to try to arrange a return to the Joint Comprehensive Plan of Action (JCPOA) proved that Washington abandoned resume in Vienna. U.S. diplomatic and defense officials have repeatedly warned that "all options" would be available to them if these negotiations ultimately failed. How does Russia react to this language and given Moscow's own strategic partnership with Tehran, what is the level of support that Russia could offer Iran in the face of U.S. military pressure or even military action?
We proceed from the understanding that diplomacy is the only way of solving the Iranian nuclear problem. Since its conclusion, the Joint Comprehensive Plan of Action proved its effectiveness by ensuring transparency of Iran's nuclear program.
From all perspectives, the nuclear deal is an optimal combination of obligations and benefits all its participants, as well as the entire world community.
We are convinced that neither Iran nor the United States is interested in escalating tensions. Therefore, we call on all parties to show maximum flexibility and contribute to the search for mutually acceptable solutions for the soonest JCPOA revival.
We've seen how previous U.S. wars in the region have contributed to a global refugee crisis and some of these migrants have been at the center of the ongoing dispute at the border between Russia's ally, Belarus, and U.S. ally Poland. To what degree is Moscow willing to offer political support for the actions of President Alexander Lukashenko's administration and military assistance to ensure his defense? Might this assistance include sending Russian forces or the deployment of nuclear-capable Iskander ballistic missile systems as he has requested?
You are absolutely right in trying to understand the roots of the current crisis at the Belorussian border. The deeper cause of the situation are attempts of the Western countries, including the U.S., to impose their vision of democracy around the world.
Such an activity of the United States and its partners over the past decades led to a series of regional conflicts. As a result, we saw a dramatic deterioration of the security situation in the Middle East and Northern Africa, economic decline and massive migration flows. Unfortunately, the West has not fulfilled its promises to rebuild the states that suffered from wars and to bring people's life back to normal. That is why Belarus has become a transition point for the refugees. It happened not by the fault of Minsk.
Now, lives of thousands of ordinary people seeking refuge in Europe are in danger. No doubt, this situation should be solved by providing necessary aid in accordance with the international humanitarian law. The West needs to abandon the language of sanctions and threats against Belarus and stop politically motivated accusations. Let alone the fact that organizers of the human trafficking from the Middle East are in Europe. We believe that the only way out is constructive dialogue with Minsk on the issue.