Exclusive: SEALs Ousted From Iraq for Allegations of Sexual Assault Received Glowing Internal Reports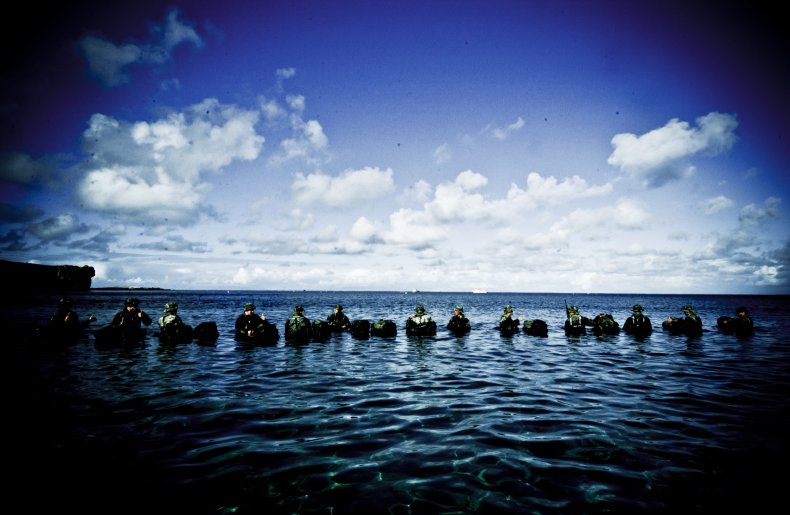 WASHINGTON — This year, an entire platoon of commandos from SEAL Team Seven was ousted from Iraq after allegations of unauthorized alcohol consumption and sexual assault; Chief Edward Gallagher, a Team Seven member, was court-martialed for war crimes; the Navy Times revealed that members of SEAL Team Ten had tested positive for cocaine. Could Navy brass have known there were problems?
"I don't know yet if we have a culture problem," Navy Rear Admiral Collin Green wrote in a letter to his forces in late July as reported by CNN. The "command climate" surveys that the military uses to gauge organizational issues should have provided an answer—but didn't. Newsweek has obtained the surveys conducted just months earlier and found a startling disconnect between what those teams' service members reported and what seems to have been true.
Command climate surveys which elicit insights about culture and leadership from service members, are confidential and therefore considered a useful, reliable way to find out what's really going on inside any given military unit or team. A plethora of "red lights" given by survey takers obviously means there are issues. It turns out, though, that a long line of green lights might be even more ominous.
"It's like batting 1,000 in baseball," a former U.S. Navy SEAL said after Newsweek shared the command climate reports. "If you're the commander of SEAL Team Seven, you don't have any cultural or organizational issues? Honestly, this reads like a unit not wanting to garner the attention of senior leadership, so they just go through the survey and say everything is great."
In their most recent survey of 109 men and one woman from February 2019, SEAL Team Seven received an "excellent or adequate" rating in every major organizational and cultural category but one—sexual assault report knowledge. The rating scores outpaced similar units in Naval Special Warfare and the larger Navy community as a whole.
Eight months before Gallagher, a member of SEAL Team Seven, was arrested at Marine base Camp Pendleton in California and charged with crimes including premeditated and attempted murder, the team's survey (from January 2018) shows similar positive results to the 2019 survey. The 2018 survey does not compare ratings between similar units, a practice Naval Special Warfare did not begin until earlier this year.
The surveys, known officially as the Defense Equal Opportunity Management Institute Command Climate Surveys, require units to complete the survey annually or within 90 days of a new commander taking charge, per Pentagon policy. The survey covers areas from job satisfaction and organizational performance to trust in leadership, and includes questions about sexual misconduct, racism and suicidal ideation.
While the surveys are voluntary, commanders encourage their personnel to take the survey and to answer candidly; participants remain anonymous to alleviate fears of retaliation.
Two women who previously served in Naval Special Warfare reviewed the command climate surveys obtained by Newsweek and said rank-and-file women within special operations hesitate to be forthcoming because they might be identified relatively easily, since the surveys break down demographics by gender, rank and race.
"I remember saying this out loud at one point while taking a survey— that it would be very easy in a command climate survey to pick out my responses as the only female officer," said one of the women.
"There were probably times when I wanted to answer differently than I did, but I will say that overall, the command climate was pretty good for my unit," she added. "Yes, there were incidents and issues but those were usually confined to a few people."
When asked by Newsweek if SEALs took the surveys seriously, the women said service members are inundated with online training requirements and that a lot of times—regardless of service—U.S. troops simply "click-through" the training without answering honestly.
Navy Lieutenant Matthew Stroup, a spokesman for Naval Special Warfare, told Newsweek: "Tools that Naval Special Warfare employs to open lines of communication for minority groups include but are not limited to command-wide events that develop an inclusive culture, robust Force Integration Programs that ensure women who meet standards have the opportunity to become operators, and inclusive professional development programs."
He added: "Command climate surveys are one tool at a commander or commanding officer's disposal assessing their command, though they are not the only tool at their disposal."
"Overall, the results of our command climate surveys are holistically positive. The vast majority of responses are considered excellent or favorable. We appreciate the feedback on the areas we need to improve and welcome the opportunity to identify weaknesses and drive our culture and processes toward greater performance," said Lieutenant Stroup.
Two months before several members of SEAL Team Ten, out of Little Creek, Virginia, tested positive for cocaine or other banned substances in April 2018, the team received excellent or adequate rating scores—similar to SEAL Team Seven—in every major organizational and cultural category but one—sexual assault report knowledge. Their rating also outpaced scores in the Navy community as a whole.
Newsweek also obtained 2018 and 2019 command climate surveys for SEAL Team One (2018-2019); SEAL Team Two (2018); SEAL Team Three (2018); SEAL Team Four (2018); SEAL Team Five (2018-2019); SEAL Team Eight (2018-2019); and SEAL Team Ten (2018); along with surveys for higher command elements and support groups.
The results of those surveys show a similar high-rating trend to the scores seen in the two command climate surveys for SEAL Team Seven.
Naval Special Warfare told Newsweek that in the Spring of 2018, the command conducted a comprehensive ethics assessment review to provide a comprehensive understanding of the ethics and culture within the special operations community.
"Naval Special Warfare is committed to addressing good order and discipline issues throughout the formation to ensure that adherence to the high-standards of excellence develop the maritime special warfare force the nation expects," said Lieutenant Stroup.
He added: "The ethics assessment revealed that there is not an institution-wide ethics issue at Naval Special Warfare, but rather that there are specific areas of concern that are being addressed. Naval Special Warfare is confident that addressing these issues will mitigate any concerns and continue to deliver the force the nation expects."