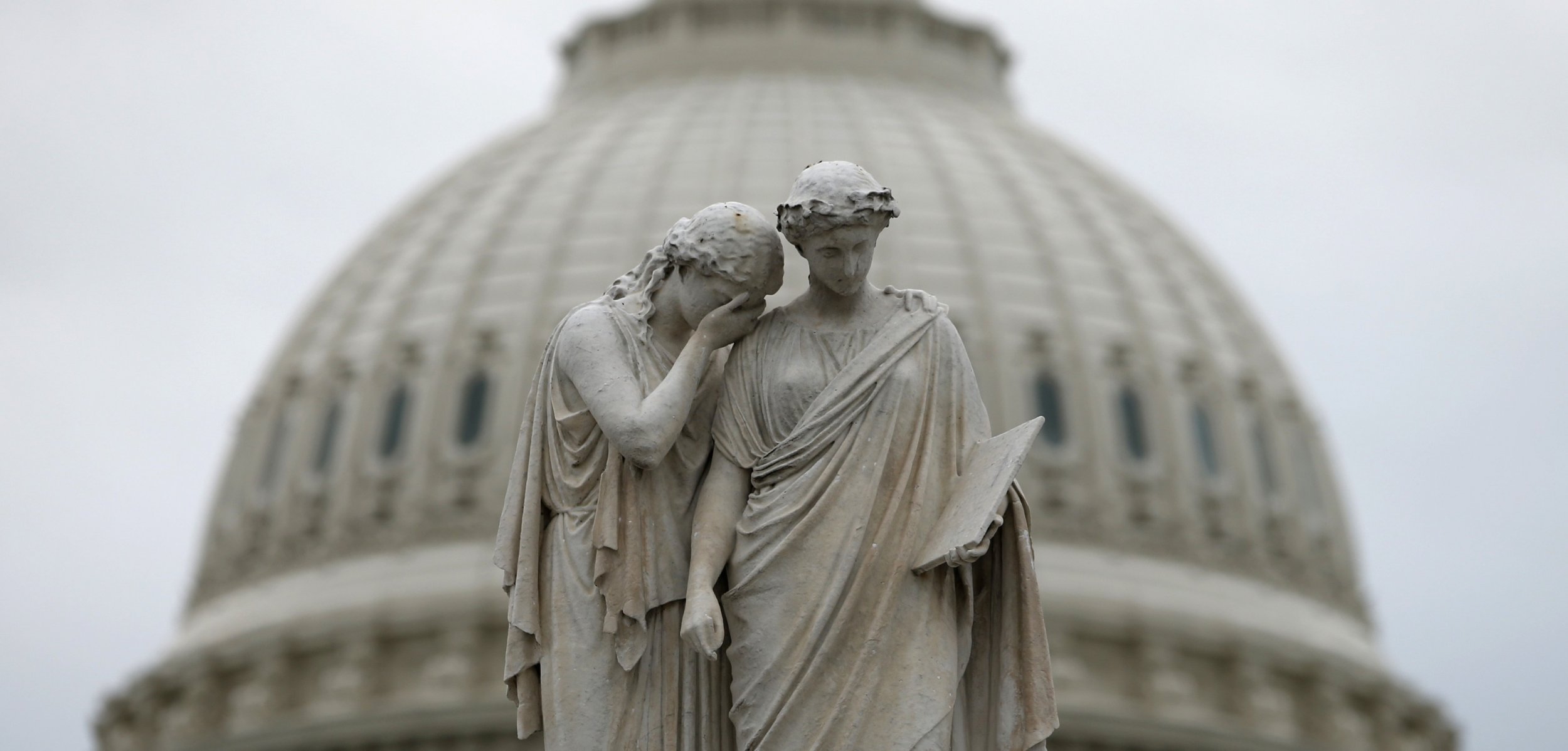 The Republicans caved and agreed to restore the government and extend the debt ceiling for a number of good reasons. The Democrats and the president held firm, voters were angry with them, and Wall Street was worried that if America defaulted on its debt the world economy would collapse, as it did in 2008.
But there was no stronger pressure on GOP House members to buckle than the fear that independent credit agencies like Standard & Poor's and Fitch were poised to downgrade America's credit score.
Key to making such decisions is John Chambers, the global head of S&P's sovereign ratings committee and a member of the team, which was led by colleague Nikola Swann, that marked down America's debt rating in 2011, from AAA to AA+. This time, if the House Republicans had not blinked, Chambers was ready to cut the debt rating again.
"If the government does discontinue debt-servicing, unless it is cured immediately, it goes into 'selective default',"said Chambers, citing S&P sources close to the heated talks in Washington. Selective default is the lowest of S&P's 20 grades of untrustworthiness. How many countries are currently in selective default? Only Grenada.
A source close to S&P indicated that until the last minute Wednesday, when a deal was stitched up in the Senate to reopen the government and delay the debt ceiling until February, the committee in charge of assessing the U.S. sovereign debt rating, headed by credit analyst Marie Cavanaugh, was ready to convene a meeting to lower America's rating. Already Fitch, a ratings-agency competitor of S&P, announced it was putting the U.S. on "credit rating watch negative," citing a lack of "timely" action by Congress to pass a budget.
Like a troubled teenager, America is repeatedly self-harming. "It is simply not a characteristic of the most highly rated sovereigns that you have to worry about them not paying their debts," Chambers said, noting that no nation has ever defaulted for such a ridiculous reason – political games of mutually assured destruction. "It is unheard of in a cohesive civil society, making it all the more puzzling and lamentable that we have these shenanigans over spending that has already been approved by Congress."
When Standard & Poor's, which monitors and ranks the credit of 127 countries, slashed the sovereign debt rating of the United States during the 2011 debt-ceiling war, cries of "unpatriotic" and "anti-American" echoed up Wall Street (past the grave of Alexander Hamilton, first U.S. Secretary of the Treasury and founder of the U.S. financial system; his tombstone, in Trinity Church graveyard, is now encircled by rat traps).
"We knew what we were doing, that it was a historic decision," says Swann. "The volume of calls coming in was more than we could sort through on our own. We were there until late Friday, doing interviews, investor calls, and teleconferences, all through the weekend and the rest of the following week." The hue and cry was no surprise. After all, nothing less than the world's global reserve currency was at stake.
By losing its gold-star rating, America slipped below Sweden, Denmark, Finland, Norway, Germany, the Netherlands, Hong Kong, Singapore, the United Kingdom, and Canada. It has remained there ever since, washing up alongside France, Austria and the Isle of Man. The world's superpower is now second best.
Swann spent the rest of 2011 jetting between Toronto, his home base, and cities and conferences around the world trying to explain to those heavily invested in U.S. debt and currency why S&P decided to downgrade an otherwise prosperous superpower with a resilient financial system when no other ratings agency would stick its neck out and do the same. "The simple truth is, the U.S. was running one of the highest deficits the world has seen since World War II as a share of the [national] economy," he says.
Some felt S&P had been rash; others believed it hadn't downgraded the U.S. far enough. S&P is currently the only agency to cut the U.S. rating down to the second-highest slot, although overseas investors in U.S. debt, currency and equities have begun to take a dim view of the slowness of the other agencies to follow suit.
"It's hard not to look at it and say the U.S. hasn't been getting preferential treatment," says one London hedge fund trader. "If this wasn't the world's superpower, there would not be a measured response. These ratings agencies would be going nuts right now."
"The political brinksmanship of recent months highlights what we see as America's governance and policymaking becoming less stable, less effective and less predictable than what we previously believed," S&P stated to justify its lone decision in 2011. "The statutory debt ceiling and the threat of default have become political bargaining chips in the debate over fiscal policy."
This week's congressional game of chicken over the debt ceiling underscores how hand-to-mouth uncertainty is taking such a long-term toll not just on investors, but also on America's optimism. Gallup this week reported investor confidence dropping to the lowest level in nearly two years, harking back to when S&P first sounded the financial alarm.
Swann said America's repeated near-misses do not instill confidence in the markets that Congress will not at some future time vote to prevent America from repaying its debts. "There's no question, our ratings are trying to predict chances of future default," he said.