Exclusive: Taliban's Anas Haqqani Hopes Talks to Release U.S. Hostage Mark Frerichs Are 'Successful'
In remarks sent to Newsweek, senior Taliban official Anas Haqqani has expressed hope that discussions between his group and the United States regarding the last known U.S. hostage in Afghanistan will see a positive outcome.
Newsweek first reported in early February 2020 that Mark Frerichs, a contractor and former U.S. Navy diver, had been abducted in Afghanistan by individuals believed to be members of the Haqqani network, a powerful Taliban-aligned group designated a terrorist organization by the State Department nearly a decade ago. Weeks later, former President Donald Trump's administration reached a landmark peace accord with the Taliban, paving the way for a U.S. military withdrawal ultimately completed earlier this week by President Joe Biden.
Frerichs' family members have continued to campaign on his behalf all the while and have recently intensified their pleas as the U.S. exit was accompanied by a swift Taliban takeover of the country.
Last month, Newsweek published an urgent appeal by Frerichs' sister, Charlene Cakora, addressed to Haqqani network commander Sirajuddin Haqqani, a deputy leader for the Taliban. Specifically, she proposed freeing Frerichs in exchange for the release of Afghan tribal leader Bashir Noorzai, who was jailed on drug trafficking charges after being lured to New York on a self-styled diplomacy mission in 2005 and is currently serving a life sentence at a federal prison in New Hampshire.
While the elder Haqqani has not since discussed Frerichs' case in public, his brother, Anas Haqqani, another senior Taliban official and fellow son of the late powerful leader Jalaluddin Haqqani, has offered new insight into a potential deal to secure the captive Florida man raised in Illinois.
"Regarding the Mark Frerichs case, there was an exchange of discussion in this regard between the U.S. Special Envoy Zalmay Khalilzad and the head of the Political Bureau, Mullah Abdul Ghani Baradar," Anas Haqqani, who himself was released from captivity in 2019 alongside two comrades in exchange for U.S. and Australian hostages as part of a deal between the Taliban and former Afghan government, told Newsweek.
"There are attempts between the Political Bureau and the U.S. envoy, which we hope will be successful in this regard," he added.
Hearing the news, Cakora expressed hope that this could mean progress for her brother's case.
"I'm very encouraged by Mr. Haqqani's reply," she said in a statement sent to Newsweek. "It shows that the Taliban wants to resolve this just like we do."
But she, like others following the Frerichs saga, is also seeking more than just positive remarks. Cakora is requesting recent footage of her brother in hopes that it could ignite movement on his case.
"I think the most important thing right now is for them to share a recent video of Mark," she said. "We are confident he is alive, but having that video might make it easier for both sides to take action to get Mark home."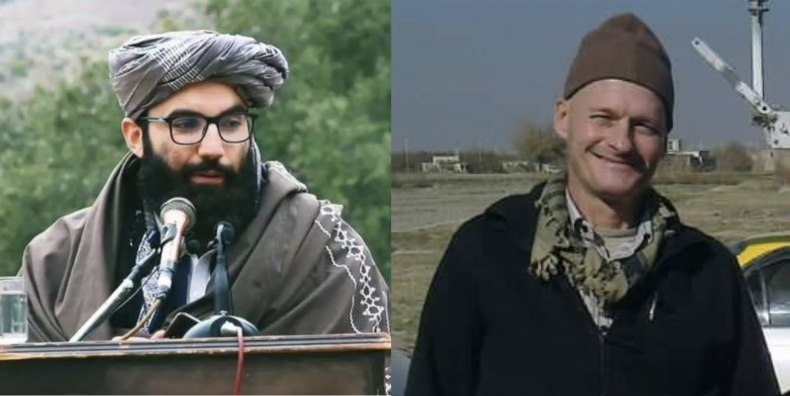 The Biden administration is also seeking such evidence, which they would consider proof of life.
"We are eager to explore ways to bring Frerichs back," a U.S. government official who requested anonymity told Newsweek last week. "But these explorations are predicated on receiving a recent proof of life. The bottom line is that any progress moving forward lies in receiving a proof of life."
Haqqani did not address whether the Taliban was willing to provide proof of life when asked by Newsweek.
While the last U.S. military plane departed from Kabul on Monday afternoon, early Tuesday local time, marking the end of a two-decade war effort that ultimately left the Taliban once again in power, Frerichs was not the only U.S. citizen left behind. The White House has said that around 100 U.S. nationals remain in Afghanistan, either by choice or inability to join the massive evacuation effort out of Hamid Karzai International Airport.
Secretary of State Antony Blinken has said the U.S. was working extensively to secure safe passage for the U.S. citizens who are still in Afghanistan and are seeking to leave the country.
"We're in constant contact with Americans who remain in Afghanistan and may still wish to leave," Blinken told reporters on Friday. "We've assigned case management teams to each remaining American citizen who has expressed an interest in leaving."
He noted that most of the remaining U.S. citizens in Afghanistan are dual nationals "whose home is Afghanistan and whose extended families live there, so it's no surprise that deciding whether or not to leave the place they call home is a wrenching decision."
The Taliban, officially called the Islamic Emirate of Afghanistan, has pledged to allow free passage both to foreign citizens and Afghans, including those who served the U.S. military campaign and fear retribution.
As the Taliban sought international recognition for its rule, Blinken said Monday for the first time that the missing U.S. man's return may be key to future relations between the U.S. and the Taliban. The Islamic Emirate has yet to be recognized by any world power, though diplomatic engagements with the likes of China, Russia, India and Pakistan, and even other Western countries like Germany and the United Kingdom, continue.
"If we can work with a new Afghan government in a way that helps secure those interests—including the safe return of Mark Frerichs, a U.S. citizen who has been held hostage in the region since early last year—and in a way that brings greater stability to the country and region and protects the gains of the past two decades, we will do it," Blinken said in remarks following Monday's news that the U.S. military mission in Afghanistan had officially concluded.
Earlier that day, the White House also weighed in, confirming that discussions were underway between U.S. and Taliban officials regarding Frerichs.
"The case of Mark Frerichs is a case that has been raised repeatedly by our officials from the State Department," Press Secretary Jen Psaki told reporters.
She said the State Department was "working closely" with both Khalilzad and his counterpart tasked with reconciliation in Afghanistan, Roger Carstens. "They've continued to press the Taliban for his release, continued to raise the status in senior-level engagements in Doha and in Islamabad," she explained.
Frerichs' case, Psaki said, "is of great importance to the president."