Exclusive: TV Networks Don't Want O.J. Simpson Interview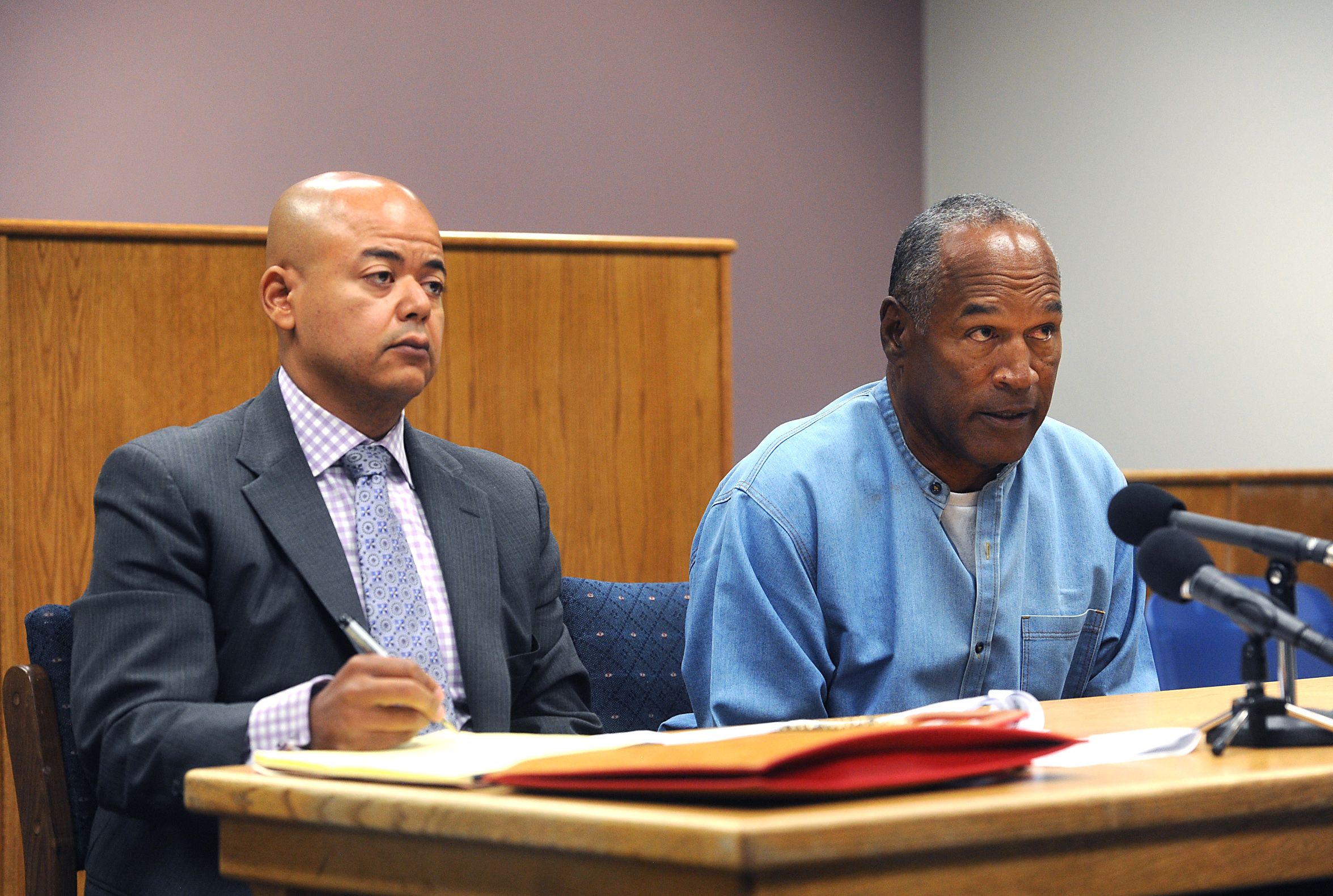 O.J. Simpson's attempt to return to the limelight with a big televised interview has gotten off to a slower start than his infamous Ford Bronco car chase.
Numerous TV networks confirm to Newsweek they are not interested in landing, or at least not interested in paying to land, the former NFL footballer-turned-convicted criminal's first major interview since his release from prison.
Simpson, 70, was freed from Lovelock Correctional Center in Nevada October 1 after serving nine years of a 33-year sentence for 12 charges, including armed robbery, kidnapping and assault with a deadly weapon.
Simpson was acquitted for the 1994 murders of his ex-wife, Nicole Brown Simpson, and her friend Ron Goldman. The high-profile trial pioneered courtroom coverage as a television event: Simpson's not-guilty verdict attracted around 150 million viewers in the U.S. in 1995.
Prior to his release from prison, the New York Post reported that "Simpson's team has reached out to several outlets to gauge their interest" in the first exclusive televised sitdown with the disgraced athlete. The interview would have come with a hefty price tag of between $3 million and $5 million, the Post said.
However, several networks contacted by Newsweek confirm they have either passed on the interview, are not interested or are unwilling to pay.
Spokespeople for ABC's news division and CNN say the networks do not pay for interviews.
A spokesperson for Discovery Communications, which operates Discovery Channel, TLC and Investigation Discovery, tells Newsweek, "Investigation Discovery was approached for this interview, but we declined. No money was discussed."
Newsweek also understands that A+E Networks, the parent company behind A&E, Lifetime, Crime & Investigation and History, was approached but passed.
Spokespeople for the news divisions at NBC and CBS had not responded to several requests for comment by Newsweek by the time of publication.
Mark Borkowski, a London-based media and communications expert, tells Newsweek he is not surprised that there is little interest in a Simpson interview.
"I don't think there's interest in O.J. Simpson," Borkowski says. "Anybody who would look at an investment of this scale, to get an interview they've got to think about the return. If they're turning their nose up at it, when everybody is desperate for exclusive content, it shows that the price tag no longer [matches] the selling potential."
He adds: "I think a lot of people would feel uncomfortable, too, doing deals with someone who is tainted in such a way."
If not a traditional televised interview in the U.S., Simpson's team could potentially strike a deal with a streaming service or an international news outlet. A spokesperson for Netflix, however, tells Newsweek: "We are not interested. We are not a news organization."
Borkowski says Simpson may have more clout with news organizations in other parts of the world. "A foreign broadcaster would be interested. And I'm sure the North Korean state broadcaster would be interested," he says.
Simpson's attorney Malcolm LaVergne, meanwhile, denies that an interview with the athlete is being shopped around, despite networks confirming to Newsweek that they were approached.
LaVergne emailed Newsweek: "Mr. Simpson has not solicited interviews from anyone at any time since his incarceration or release. I have literally received a thousand requests for interviews for Mr. Simpson. Every major news organization and network show has called or emailed or used social media to contact me for a Simpson interview. Mr. Simpson has repeatedly told me that he had no interest in doing any interviews, period."
LaVergne also accuses the family of murder victim Goldman of fabricating "false stories about Simpson soliciting interviews" so "they can take the articles to court in an effort to harass Simpson."
Though Simpson was acquitted of murder charges in 1995, he lost a 1997 wrongful death lawsuit filed by Brown and Goldman's estates in civil court. Simpson was ordered to pay $33.5 million in compensatory and punitive damages.
An attorney for the Goldmans, David Cook, told CNN earlier in October that the amount is now closer to $70 million, due to added interest.