Exclusive Video: Roseanne Barr on the Feminization of Men
"All the men, they want to be women..."
Twenty years since her last standup routine and nearly five years removed from being fired off her own show after she tweeted a joke that ABC deemed racist, Roseanne Barr is set to perform a comedy set for the Fox News streaming service Monday.
In a clip provided exclusively to Newsweek, the slimmed-down comedienne segues from a quick joke about weight into a culture-war riff on her feeling that American men have been feminized.
"All the men, they want to be women, or else they're just complete pussies and losers. Have you noticed that? There's no men with any kind of spine left. They've all been beaten down," she says.
"I defy any of you men who say you're strong and manly and this and that," she continues. "I defy you to go home tonight and tell your wife or girlfriend that she needs to sit down and shut her yap ... 'close your mouth and make me a sandwich' ... None of you's will do it because you're scared shitless!"
The on-demand special on Fox Nation is dubbed, Roseanne Barr: Cancel This! It's an appropriate title, given her assertion she was effectively canceled in Hollywood in May, 2018, after she tweeted that the "muslim brotherhood & planet of the apes had a baby," referring to Valerie Jarrett, a former senior adviser to President Barack Obama.
Barr said at the time that she wouldn't have tweeted the joke had she known Jarrett was Black, and that she would apologize on air, but that ABC decided to fire her from the hit show, Roseanne, later bringing the show back as, The Connors, with the Roseanne character having been killed off.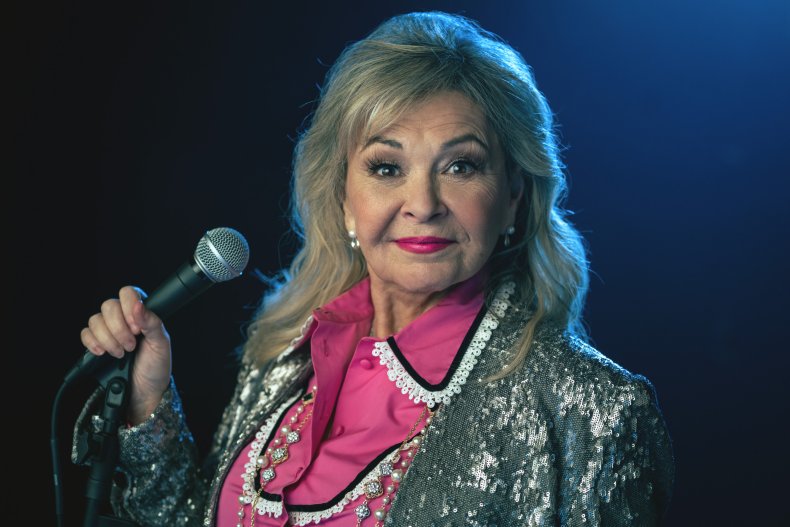 Barr had been a staunch progressive earlier in her career, once protesting at an Occupy Wall Street rally and running for president for both the Green Party and Peace and Freedom party. She made a 180-degree turn in 2016 with her full-throttle support of President Donald Trump, hence it may be no surprise she has found a home for a one-hour special on the conservative Fox Nation streaming service.
Appearing with Tucker Carlson on Fox News to promote her special, Barr said her intent was to be "more offensive than we've ever been before."
She told Carlson she was "blackballed" in Hollywood after her inappropriate tweet and that a standup routine on Fox Nation is "a great place" to "discuss cancel culture and how horrible it is."
The special was filmed before a live audience at the Cullen Theatre in Houston, Texas.
In another clip provided to Newsweek and other outlets, Barr says her idea — instead of being fired — was to have Jarret appear on the show. "She could have dressed me down. We could've had a teachable moment."