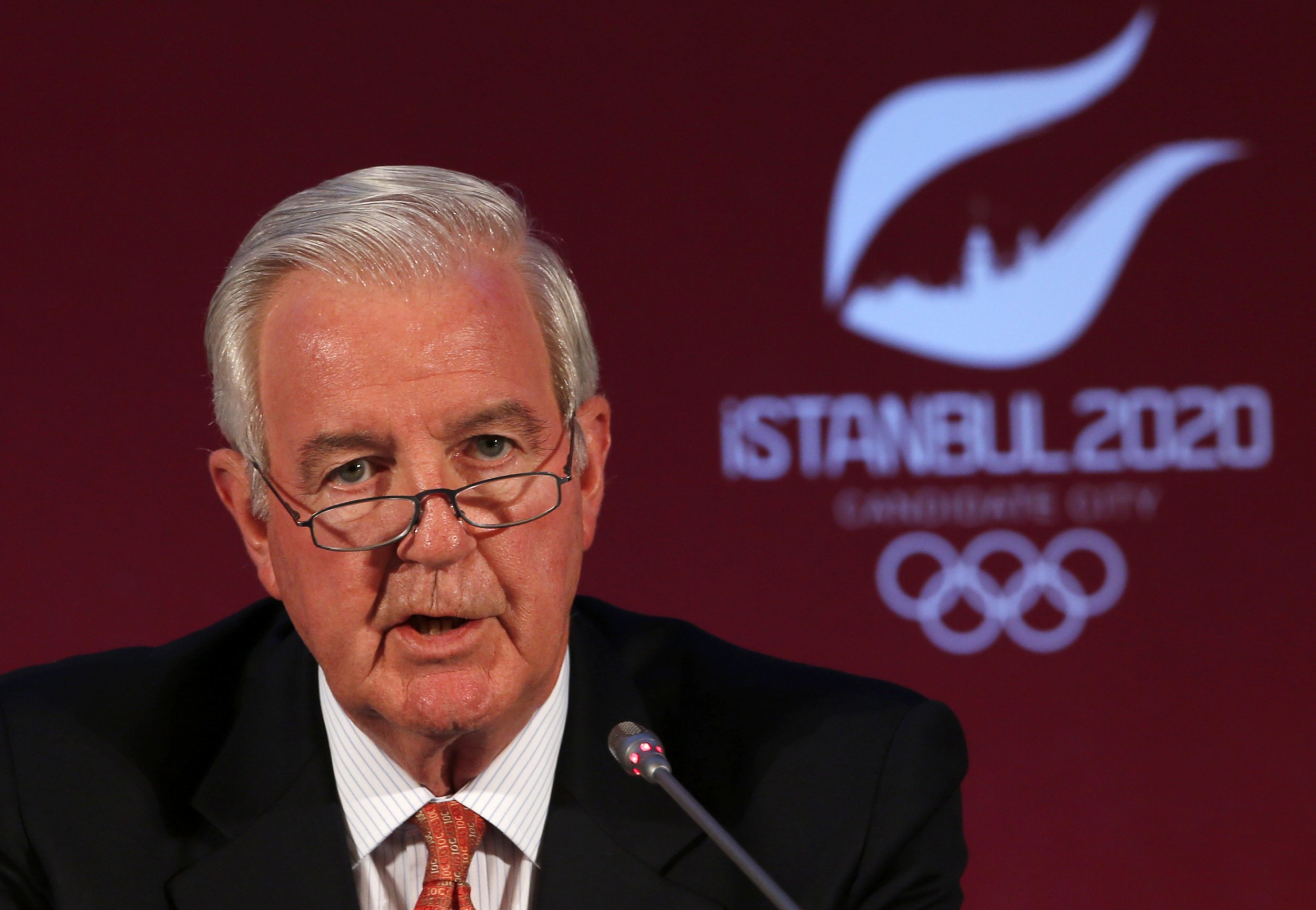 In the first part of Newsweek's exclusive interview with Sir Craig Reedie published yesterday, the World Anti Doping Agency (WADA) president spoke at length on the difficulties of admitting shamed Russia back into athletic competition before the Rio de Janeiro Olympic Games this summer, and how operating on the tightest of budgets constrains the work his organization can perform.
In this, Part Two, Sir Craig talks through WADA's challenges in keeping in front of the drugs suppliers, his desire for governments to play a more active role in the anti-doping effort, and his frustrations at the glacial progress of the Operacion Puerto investigation in Spain.
Are the life bans for doping as proposed recently by U.K. Athletics too drastic?
U.K. Athletics is not signed up to the WADA code, so WADA doesn't have direct responsibility for it. Our only observation has been that when we are responsible for sanctions, we take very careful note of the degree of sanction to be applied for a doping offence. We re-wrote the code in 2015, and sanctions for first-time offences went up from two to four years. That's about right for a doping offence. The legal advice we got was that life bans would not be proportionate. That was very high-level legal advice.
Going forward, UKA are saying that athletes have to sign a team agreement before representing them in competition, and as part of that you acknowledge that if you dope then you are not eligible to be picked again. I suspect that does not sit comfortably with the current WADA code, but it is UKA's suggestion. My guess is at some future date it might be challenged in front of the Court of Arbitration for Sport.
How difficult is it for WADA to keep in front of the suppliers and chemists?
It would certainly help if I had some more finance available for research. We also need the assistance of law enforcement, which we do get in some parts of the world. For example, there was a successful campaign in Britain recently to close down one or two completely rogue laboratories.
There is, however, the ability for an athlete to go onto the Internet and pick up an unregulated product. That is a very dangerous thing to do, because so many of these products have not been peer reviewed. We try and keep up but we need some help.
Every now and again we get it. We speak regularly with the authorities in China, which is the source of a lot of manufacture of unregulated substances. Effort goes into that on a day-by-day basis. But on a budget of $30 million you're limited with what you can achieve.
How can you get that budget higher?
You can lobby governments. At the last WADA board meeting in November in the U.S., when we had just received the first part of the Independent Commission report, there was a lot of interest from governments. We should do more investigation, they said. So I wrote to them and asked them for more contributions. We gave them plenty of time because governments don't take those kinds of financial decisions overnight. I said to them that once I knew the figure we would get from them I would happily go to the International Olympic Committee (IOC) and invite President Thomas Bach to match it, and hopefully that will give us a better basis for investigation.
Are some governments more compliant than others in giving up funds? Jamaica and Kenya have both suffered from much-publicized doping scandals in recent years, and both of those countries view sport as part of their national identity.
When Jamaica was in difficulty we helped them by sending people to reorganize their own national anti-doping organization (NADO), and they are now partnered with the centre for Canadian Ethics in Sport to act as a big brother to them. Kenya is moving far too slowly, but it is now clear that the government is prepared to establish a functional anti-doping organization. I'd rather they had done it three or four years ago but I'm not going to stop them now.
The issue is in many cases governments see international sport as being awash with money, so think sport should look after itself, without asking governments. Perhaps now with the results of the Independent Commission, which have clearly had a dramatic effect on the attitude to doping in sport in Russia and on the criminal behavior that was unearthed in the IAAF (International Association of Athletics Federations) it is possible that governments would say, there is a problem here, so perhaps we will deal with it rather more effectively now or else assist WADA to deal with it more effectively.
What is your frustration like when you see cases like that of Operacion Puerto in Spain, where the potential exists for 211 blood bags that have been sitting in a Barcelona freezer since 2006 to be destroyed without identification?
We have managed to insert ourselves in the Puerto case as an interested party, arguing for years that it would be good for the principle of clean sport if these blood bags were released by Spanish legislation and the proper research undertaken on them. I am aware there are steps towards that happening and I hope they do happen.
As for football, in 2014 FIFA claimed to do 32,000 tests. They actually did about 2,000 tests themselves, because the figure we take into account is when they are running their own competitions, in particular the 2014 World Cup. All those other tests are run by the national associations like the English FA. I don't think there is an absolutely level playing field: some countries are much more enthusiastic and better at anti-doping than others.
Tennis, as far as anti-doping is concerned, has had a good programme. The last time it came under pressure was from some of its highest-quality players. Rafael Nadal and Andy Murray and Roger Federer, those right at the top of the game, said OK, we hear you when you say we've got a good system but maybe you should test us more.
I don't think there can be a much better argument of a high-quality testing organization than when your best athletes turn around and say, "Please do test us more."
What would you say to an athlete like Paula Radcliffe, who says her reputation has been damaged by allegations made on the basis of her blood values?
Paula has been a pretty strong campaigner in favor of clean sport over many years and has actually become very knowledgeable about the matter. She became particularly incensed in August last year, when this presumed IAAF database appeared with allegations going back to the early 2000s. There were some allegations her name may have appeared. From there, it moved onto a Select Committee inquiry run by the British department for Culture, Media and Sport. She claims the chairman, Jesse Norman, effectively outed her by describing past British winners of the London Marathon.
I think she has effectively had an apology for that. I hope that she is at least satisfied she has made her point. She has spoken to me on a number of occasions and I would like to think I have been as helpful as I could be. In law, you cannot assume someone is doping from that level of evidence. Paula always wanted WADA to analyse her personal readings, and I'm afraid we can't do that. We have to do it in generality. But it's now clear that the allegations against her were unjustified.
Do you still believe in the biological passport as a system of weeding out cheats?
Yes I do, and WADA does. It is a living programme; people look at it on a very regular basis. The bad guys are looking to get round it. The good researchers and WADA are looking to make sure they can't do that. It will continue and get better. There is research being done on microdosing almost as we speak. The beauty the system has is that it gives you a relatively straightforward analysis over a number of years. I'm rather encouraged - there have been very few passport cases overturned by CAS (the Court of Arbitration for Sport). Almost all have been said to be justified.
Can viewers still believe in sport?
Yes, I hope so. But we live in a complicated world. The example I would give is in the run-up to the London Olympic Games, the IOC and UK Anti-Doping flushed out a fair number of people who didn't even appear in London. And during the Games there were a very small number of transgressions and they were relatively minor. I thought sport came out of London in as good a shape as it has been for a long time. Now OK, I accept that I was pretty closely involved in the promotion of the London Games and that I live in Great Britain. But the London Games gave sport a real uplift.
Even though the WADA report said that the London Games had been totally discredited due to Russian doping?
That is why it is a good thing WADA now has investigatory powers. Because we didn't catch that [the Russian doping]. But not many of the athletes were in London and it didn't spoil the overall impact of the Games. But this is an ongoing exercise that is attended to day in, day out by good people. That's what WADA does; that's what lots of NADOs do the world over, it's what almost all the major sports federations do as well. I'm not quite sure if we will ever be able to say, 'That's the last drugs cheat, no more,' but I think we are getting better.
Is anti-doping a fight that can be won?
It is a case of pushing a boulder up a hill. I'd like to think we don't slip up much so that it rolls back. Every now and then that happens, for example in the horror stories identified by the Independent Commission. But it is an ongoing struggle. My colleagues at WADA believe what we're doing is well worth it and we will do it to the very best of our ability.
Are you the man who can save sport from itself?
What do you want me to say to that? The answer is that sport is challenged constantly. People who cheat is the area I am involved in. It is quite obvious that there are other areas — match fixing, for example.
The whole integrity of sport is being examined in a way that I don't suppose it has been for some considerable time. It's not just about me. I would like to think WADA is a competent, authoritative and good organization. I am equally aware of the huge efforts made by the IOC. The battle goes on across the board. And I don't think anyone involved with it will turn around and say I'm the man to save sport. But there's a whole lot of us trying,. And increasingly these efforts are accepted and acknowledged.
What is your one wish for anti-doping in 2016?
I would like every one of our stakeholders—federations, governments and above all athletes—to understand the new independent compliance group we have put together. It will insist that not only are they compliant with a set of rules but also a set of standards. So that people understand that anti-doping is not a question of lip service.
The report from Dick Pound was really unsettling and troubling for sport. But it indicates that in one sport and one country there has been a problem and a willingness to resolve it. And it indicated that those people at the top of one particular sport were behaving in a way that was absolutely unacceptable. Hopefully, that will encourage all our other stakeholders to understand that standards have to be maintained.