Punk Legend Exene Cervenka of X Talks 40th Anniversary Exhibit, Still-Growing Legacy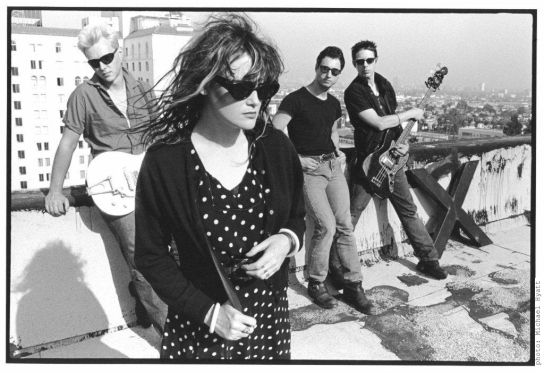 If X had formed in New York City rather than Los Angeles, would it have been as big as the Ramones? The band (co-songwriters Exene Cervenka and John Doe, guitarist Billy Zoom and drummer D.J. Bonebrake) was every bit as influential. X's country-inflected punk was the equivalent of an aural speedball—somehow manic and nuanced—with Cervenka and Doe trading hyper-literate lyrics like deranged noir lovers. Yet X still gets marginalized as merely "L.A.'s seminal punk band." X was, in fact, among the greatest bands anywhere, as evidenced by the group's first two studio albums, Los Angeles and Wild Gift, and an upcoming exhibition, "X: 40 Years of Punk in Los Angeles," at L.A.'s Grammy Museum. (The opening, on October 13, will include a performance by the band.)
The fiercely gifted Cervenka spoke to Newsweek about the early years (the band formed in 1977) and a still-growing legacy (it is finishing up a 40th anniversary tour). "I've been hearing two responses from people about X," she says. "Who?" and "That band changed my life."
You were a poet before joining X. How did that get you into songwriting?
What happened was, I wrote this little piece, and John said he wanted to take it to Billy and see if they could work up a song. X hadn't formed yet. I realized, if it was that good, I'd better hang on to it because it was all I had. We were kids. I didn't own anything. I had no money. My writing was the only thing of value in my whole world. I kept saying, "No, you can't. No, you can't." And John said, "Well, why don't you sing it?" And I said, "OK," and then immediately thought: Wait a minute, I don't sing. Uh-oh.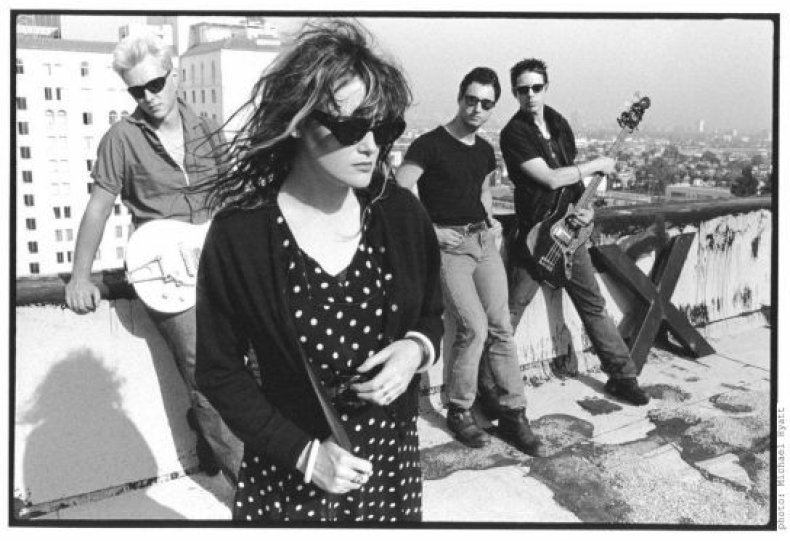 As a frontwoman, were you aiming to present the female viewpoint?
Oh, God no. I was just me. Remember, this was not the time of political correctness or a media-managed diversity campaign. We were just boys. We were girls. We were men. We were women. We were gay. We were straight. We were black, white, Chinese, Asian, Latino. Nobody made a badge out of their hyphenated being. No one was sensitive to anything, you know? They were just people dressing weird, having fun. You could say anything you wanted, and if they didn't like it, they could tell you whatever they thought. But then, in the end, you would always hug each other.
How is the 40th anniversary tour going?
Every year we play a lot of shows, as many shows that will book us, so it isn't different in that regard. I think what's different is the level of excitement from people. A lot of parents had been bringing their kids, and now, the kids are bringing their parents.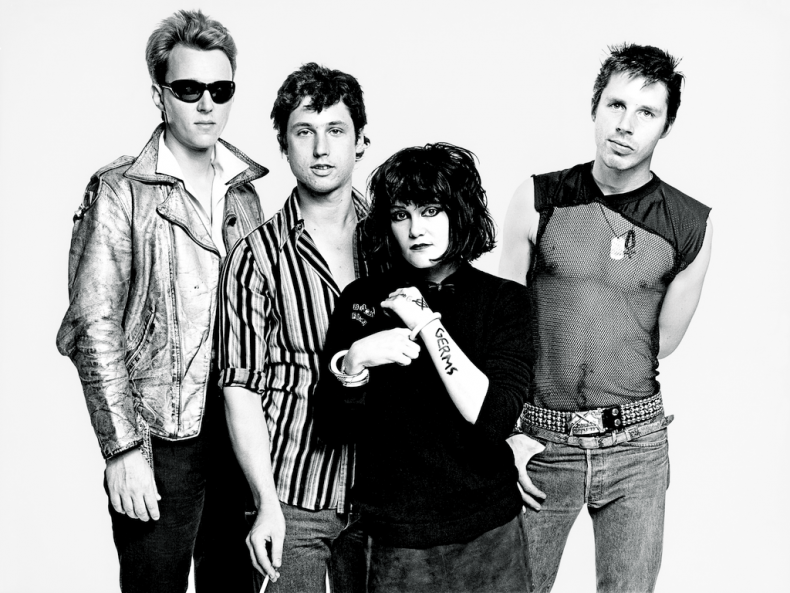 What can we expect to see at "X: 40 Years of Punk in Los Angeles"?
Well, it's funny because all four of us have contributed to the exhibit. But I don't know what Billy put in exactly and what D.J. put in, and Billy doesn't know what I put in, because it's all our own personal stuff. So it's going to be interesting. Over the years you lose a lot of the stuff. You lose the fliers. The clothes wear out. You give stuff away. John and I split up [as a married couple], he got some stuff. But one thing I did keep that I'm really happy about is I kept all the handmade band buttons from the time, from all the local bands and ones that came through, like the Plugz, the Controllers, the Weirdos, the Gogos. So part of the exhibit is from my personal collection of buttons. It's pretty cool.
During the early days of X, was the band influenced by any particular performers?
Billy really loved the Ramones. John and I had similar musical tastes. We'd listen to Hank Williams and Chuck Berry and Carl Perkins. When people like Carl Perkins would come to town, we'd all go. But our musical range between the four of us really encompasses all recorded music, you know, ever. '20s music, Django Reinhardt, big band music, jazz, blues, country obviously and especially with me, bluegrass, and it went all the way up to what was happening right at that moment.
X's first four albums were produced by the Doors' Ray Manzarek. What was it like working with him?
Ray was great. It was wonderful knowing him, working with him. The first record [Los Angeles] was nine songs that were done really quickly, really cheaply. And he played on it.
You know it's funny because it seemed like there was a rivalry between classic rock and the punk bands, and there was, but if you think about it, we're talking a six-year difference between the Doors and X. That's all. And it's so weird to think how quickly, you know, things had gone from Buddy Holly to Dylan to the Rolling Stones. We all did have a lot in common because we were all really part of the same strain.