Exhausted Russia Awakening to Putin's Flaws—British Intel Chief
People in Russia are noticing how Vladimir Putin has "misjudged" his invasion of Ukraine, a U.K. intelligence chief will say on Tuesday.
Jeremy Fleming, director of the British GCHQ (Government Communications Headquarters) intelligence agency, is to say he believed the mobilization, which has caused an exodus of hundreds of thousands, was part of a picture of the Russian president's "flawed" decision-making.
In a lecture to the London think tank, the Royal United Services Institute (RUSI), which has been provided to the media, Fleming is to say on Tuesday that Putin's botched draft of 300,000 reservists "speaks of a desperate situation."
Russians can now see "just how badly Putin has misjudged the situation," according to Fleming. "[T]hey're fleeing the draft, realizing they can no longer travel."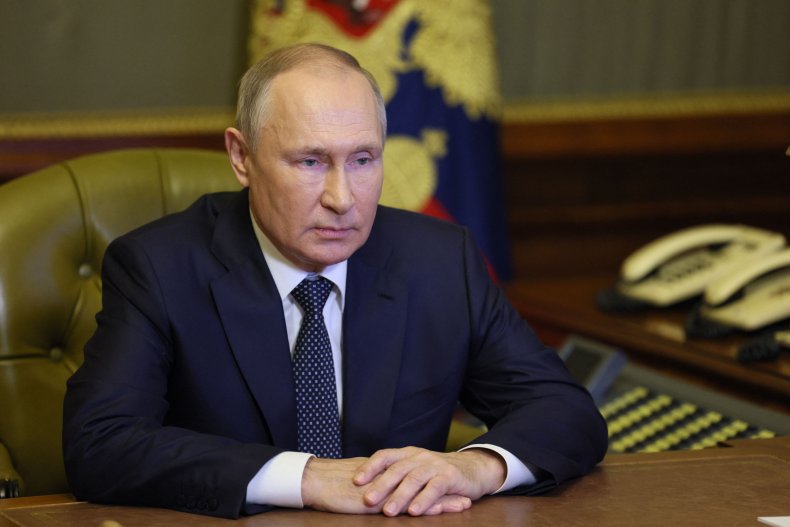 "They know their access to modern technologies and external influences will be drastically restricted," Fleming will say, according to the BBC. "Russian commanders on the ground know that their supplies and munitions are running out."
"With little effective internal challenge, his decision-making has proved flawed," he will say, adding that Russian forces are "exhausted" and that the costs to Russia in both troops and equipment has been "staggering."
This "high stakes strategy" is leading to "strategic errors in judgment," he will add. Fleming also told the Today program on BBC's Radio 4 it was "pretty clear Russia and Russia's commanders are worried about the state of their military machine" and "the word I've used is desperate."
Ben Hodges, former commanding general of the United States Army Europe said that he agreed that Russia faced problems with its supplies of ammunition. "We know that due to the sanctions the Russians are unable to replenish their precision munitions," he told Newsweek. "These depend on imported components."
On Monday, Russia launched its biggest aerial assaults on Ukrainian cities since the beginning of the war, with emergency services saying that at least 19 people were killed and 105 wounded. Commander-in-Chief of the Ukrainian Armed Forces, General Valeriy Zaluzhnyi said that Ukraine intercepted 41 of 75 missiles launched.
Hodges said that it was "interesting that the Ukrainians are able to shoot down so many of these Russian missiles. Ukrainians are very good at air missile defense with what they have."
"They just need a lot more to protect innocent civilians from deliberate targeting by Russia," he added.
On Monday, President Joe Biden pledged continued U.S. security assistance during a call with Ukrainian President Volodymyr Zelensky, "including advanced air defense systems."
It comes as the British Ministry of Defense (MOD) said that the appointment of General Sergei Surovikin as overall commander of Russia's Joint Group of Force "likely reflects an effort by the Russian national security community to improve the delivery of the operation." Surovikin had previously commanded the Russian Aerospace Forces and the Southern Grouping of Forces on operations in Ukraine.
British defense officials said on Tuesday that "he will likely have to contest with an increasingly factional Russian MOD which is poorly resourced to achieve the political objectives it has been set in Ukraine."
Newsweek has contacted the Russian Defense Ministry.