No place in the Arab world could be more different from the Gaza Strip than Abu Dhabi. The affluent emirate on the Gulf has shimmering skyscrapers, a Grand Prix racetrack and its own Louvre. Yet Mohammed Dahlan, the 53-year-old Gaza native and exiled political leader, seems comfortable here. His home is a glossy mingling of marble and glass, with chandeliers hanging from high ceilings and framed paintings on the walls. On a sunny winter day recently, he worked in his garden dressed in jeans and soft loafers, then greeted me on his waterfront patio.
But for all its luxuriousness, Abu Dhabi is only temporary, Dahlan says—a staging area where he now plots his comeback. He's lived in this city for four years, ever since Palestinian President Mahmoud Abbas expelled him from the governing Fatah party and charged him with corruption and defamation. The rift between them cut short a political career that seemed brimming with promise. Over a 20-year period, Dahlan served as the powerful security chief of Gaza, an adviser to Yasser Arafat, a negotiator with Israel and Abbas's minister of interior. Now he's trying to succeed his rival and become the next president of Palestine. "I have a nice life here, but believe me, my heart is there," he tells Newsweek. "If there's an election tomorrow, I'll go back."
Though elections aren't expected anytime soon, Dahlan's maneuvering is getting attention because of a larger question troubling people both in the Palestinian territories and abroad: How much longer can Abbas hold on? The Palestinian leader, who took over after Arafat's death in 2004, turns 80 next month. He's a heavy smoker and has a history of medical problems, including cancer. Yet he's never named a deputy and has no natural heir. For Palestinians, that adds another layer of uncertainty in an existence rife with it. For the U.S. and Europe, it raises the possibility of a political vacuum, one that Hamas, the Islamic Palestinian organization, could exploit in order to extend its rule from Gaza to the West Bank.
In his interview with Newsweek, Dahlan positioned himself as a counterweight to Hamas, one of the few political figures with enough clout and muscle to defeat the Islamists. He made clear that he was using money and political connections—two resources he seems to have in abundance—to regain relevance in the territory he left behind. "The Gazan people are victims of Hamas, the Israelis and Abbas," he says. "They all talk about the suffering of the people, but none of them are doing anything."
For the past year, Dahlan has been raising money in Gulf countries and distributing it to needy Gazans, in part through a charity run by his wife. He's also been pressing Egyptian President Abdel Fattah el-Sissi to open the border between Gaza and Sinai so that Palestinians can get some relief from the punishing Israeli cordon. When Egypt did just that recently (though only for a few days), Dahlan took credit on his Facebook page. "The opening of the Rafah crossing…is a first step in a series of measures adopted by the Egyptian leadership during my recent visit to Egypt and meant to ease the burden on our people," he wrote. The Egyptian government did not comment in time for publication.
Whether Palestinians are willing to embrace Dahlan is far from certain. His critics portray him as a political thug who jailed opponents and enriched himself through kickbacks from big financial deals between Israelis and Palestinians (he disputes the characterization). Others associate him with the Oslo peace accords of the 1990s, which raised hopes for greater Palestinian freedom and independence but delivered neither. While Dahlan still believes in the two-state solution, many ordinary Palestinians have simply moved on. Fifty-eight percent believe the idea is no longer practical, according to a poll published in January by the Palestinian Center for Policy and Survey Research.
And yet it would be a mistake to write Dahlan off. Among a handful of figures who are pushing themselves as presidents-in-waiting, he stands out for his charisma and political savvy. He has a cadre of loyalists in the Palestinian territories, many of them members of the security agency he once ran. A rally they staged in December in Gaza drew several thousand people, a significant turnout in an area controlled by Hamas, where political dissent can sometimes be met with brute force. And while opinion polls have revealed no clear front-runner (except maybe for the long-jailed Marwan Barghouti), Dahlan's trend line over the past few months seems to be rising.
"There's a feeling that he's doing things for Gazans," says Nabil Kukali, who runs the Palestinian Center for Public Opinion, which conducts regular surveys in the West Bank and Gaza. "It's bringing him more support."
In and Out of Israeli Prisons
For people steeped in the Palestinian narrative, Dahlan's life story has all the familiar plot points: displacement, resistance, soaring hope and crushing disappointment. The son of refugees from an area now part of Israel, Dahlan grew up in one of Gaza's poorest quarters and eventually joined the Fatah Hawks, a militant group that organized attacks against Israelis. He spent his 20s in and out of Israeli prisons, where he mastered Hebrew and came to be recognized as a prominent resistance leader. When the Palestinians launched their first uprising in the West Bank and Gaza in late 1987, Israel deported him to Jordan along with other organizers of the intifada.
Dahlan returned to Gaza triumphantly in 1994 with the implementation of the first Oslo agreement. In his exile, he had worked his way up the Palestine Liberation Organization's (PLO) hierarchy and grown close to Arafat, who tapped him to head the main security agency in Gaza. The PLO chief also gave Dahlan a role in the negotiations with Israel, which many Palestinians believed would culminate in statehood within several years.
By the mid-1990s, he was at the peak of his power. Dahlan's security force numbered 20,000 in Gaza, and his connections across the region made him an asset to both Israeli and American security agencies. President Bill Clinton, in his memoir My Life, described him as one of "the most forward-leaning" figures in the Palestinian leadership. CIA chief George Tenet cultivated a personal relationship with Dahlan.
But the eroding peace process undermined his position. Hamas, whose suicide attacks killed scores of Israelis, accused Dahlan of jailing its activists arbitrarily and having them tortured in prison, a charge he denies. To other Palestinians, his cozy relationship with Israel and the U.S. came to be seen as suspect.
Dahlan blames Israel for wrecking the peace process through relentless settlement expansion in the Palestinian territories. "By their actions on the ground…they are killing the two-state solution," he says, putting forth a view that the Israeli government rejects. But Dahlan also conceded there were Palestinian missteps. One of them was Arafat's rejection of the Clinton peace plan in late 2000, a proposal that offered Palestinians statehood in more than 90 percent of the West Bank and Gaza Strip. "It was a mistake," he says, "not to accept it."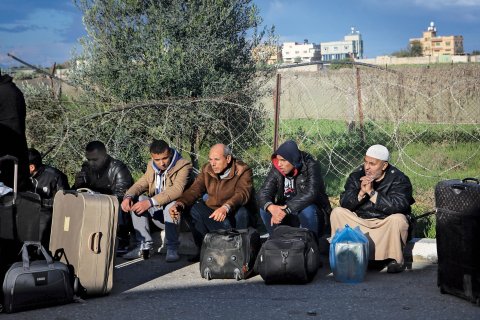 'Abu Mazen Hates Me'
The turning point for Dahlan came in 2007 when Hamas routed Fatah in a weeklong civil war in Gaza and wrested away control of the territory. The group had won a parliamentary election in the Palestinian territories the year before but faced international isolation and failed to consolidate political power. Though Dahlan was in Germany for knee surgery during the fighting, the defeat of troops he had commanded for years amounted to an embarrassing failure—compounded by the fact that many of them had been trained by the U.S. It also caused a rupture between him and Abbas, a quiet trading of accusations that escalated into a public feud.
In the years since, the row has grown increasingly rancorous, exposing a slice of ruling-class intrigue that usually remains hidden from average Palestinians. Abbas fired Dahlan from the PLO's highest leadership body, charged him with stealing millions in public money and sent troops to raid his home in Ramallah. In a closed-door meeting last year, he suggested that Dahlan might have played a role in Arafat's death, though Abbas admitted he had no proof. The PLO chief died in a Paris hospital of unknown causes. Many Palestinians believe Israel conspired with collaborators inside Arafat's circle to poison him. Dahlan says he has his own suspicions about Israel, but laughs off the idea that he was involved in a plot there.
Dahlan has been no less sharp in his attacks against the Palestinian president. He told Newsweek that Arafat initially balked at getting treatment in Paris during the last days of his life because he feared Abbas would try to take over in his absence. Dahlan also raised questions about the finances of Abbas's two sons, both businessmen who have won U.S. government aid contracts for work in the West Bank during their father's time in office. "Because I know the facts, Abu Mazen [Abbas] hates me. I understand that, by the way. But it doesn't give [him] the right to claim that I'm corrupted like [he is]."
In response, an official speaking for Abbas denied any wrongdoing and said Dahlan is trying to deflect attention from his own misdeeds. He said the allegation that Arafat feared a takeover by Abbas was "not even worth a reaction." Regarding Abbas's sons, the official said Dahlan's insinuations reflected his vendetta against the Palestinian leader and nothing more.
What do Palestinians make of the dispute? Ghassan Khatib, a former member of Abbas's government who now teaches politics at Birzeit University near Ramallah, says the smearing and counter-smearing has been so salacious, it's hard for people to turn away. But he believes that a plain old power struggle lies at the core of the conflict. "The accusations have become irrelevant because there's no way to verify what's right and what's wrong," he says. "It's a competition over…authority, over roles and responsibility."
'It's Just an Excuse'
Whether Dahlan can return to the West Bank and Gaza, much less participate in elections, is now in question. A Palestinian court convicted him in absentia last year of defamation (he alleged in an interview that Palestinian security forces help protect Israeli settlers in the West Bank) and sentenced him to two years in prison. In a second trial, now under way, he's accused of stealing $17 million in public funds. Dahlan has hired a French lawyer to fight the charges but says the courts are tools of the regime and insists their verdicts are irrelevant.
Even if he does go back, elections are not on the Palestinian agenda. Abbas's four-year term as president ran out in 2009, and the Palestinian parliament reached its expiration a year later. But Abbas has said no new balloting can be conducted until Hamas and Fatah make a deal to reunite the West Bank and Gaza. While several reconciliation agreements have been reached over the years, all have unraveled before elections could be held. Khatib, the politics professor, says the division has become convenient for Fatah and Hamas. "The two main factions are not serious about the election because their public standing is not good. They argue that you can't have elections because of the split, but I think it's just an excuse."
For Dahlan, that might be sufficient reason to stay in Abu Dhabi and direct his energy elsewhere. From his perch here, he's been running a consultancy that does business across the Arab world and apparently in Europe as well. Last year, Serbia granted him and his family citizenship, reportedly for facilitating large Arab investments in Belgrade.
But Dahlan insists his main preoccupation is the plight of the Palestinians. After years of animosity, he's been holding meetings with old rivals from Hamas—in Abu Dhabi and Egypt (he denied reports of engaging with Israeli officials, including Foreign Minister Avigdor Lieberman). He even has a plan for breaking the deadlock: a joint government between Fatah and Hamas based on the principles of the Arab Peace Initiative and elections within six months. "I told them we have bloodshed but what we have in common is trying to help Palestinians survive," he says.
On the patio overlooking the garden, his words sounded promising. In the wretchedness of Gaza, however, they might sound different.