Surging Infections Among College Students Fuel Rumors of COVID Parties
Increasing numbers of college students are being diagnosed with COVID-19 while claims continue to be made that some of the students are becoming intentionally infected by taking part in "COVID parties."
Reports of college students contracting the virus have become more frequent as officials in multiple states report that the virus is increasingly being seen among younger populations. The increase among young people was also recently confirmed by Dr. Robert Redfield, the director of the Centers for Disease Control and Prevention.
While experts have expressed concern that campuses potentially reopening in the fall could lead to further outbreaks, there have been multiple accounts the virus spreading among students even before classes are in session.
On Thursday, the University of Washington reported that at least 105 students living in 15 fraternity houses had tested positive for the virus.
Daniel Leifer, a doctor studying at the university, told The Seattle Times that he had personally witnessed students engaging in at least a dozen parties without wearing masks, while also sharing images of some of the parties to his Twitter account.
"I don't hold it against college students that they're partying with each other and getting to know each other, because that's everyone's college experience. It just doesn't make for a safe campus," Leifer told the paper. "A lot of college reopening plans are premised on students wearing masks and social distancing. This crystallized for me that that doesn't seem very realistic."
Although the parties cited by Leifer appear to be typical social gatherings, elsewhere so-called "COVID parties," which are said to be large gatherings organized with the intention of infecting attendees, are being blamed for outbreaks among young people.
While rumors of the parties have circulated since the pandemic began, there has been a shortage of evidence that could confirm whether they have taken place.
Recent claims from city officials in Tuscaloosa, Alabama suggested that the alleged parties could be a factor in the state's surge of cases, with over 10,000 new cases being confirmed in the last two weeks.
"They put money in a pot and they try to get COVID. Whoever gets COVID first gets the pot. It makes no sense," Tuscaloosa City Councilor Sonya McKinstry told ABC News on Wednesday. "They're intentionally doing it."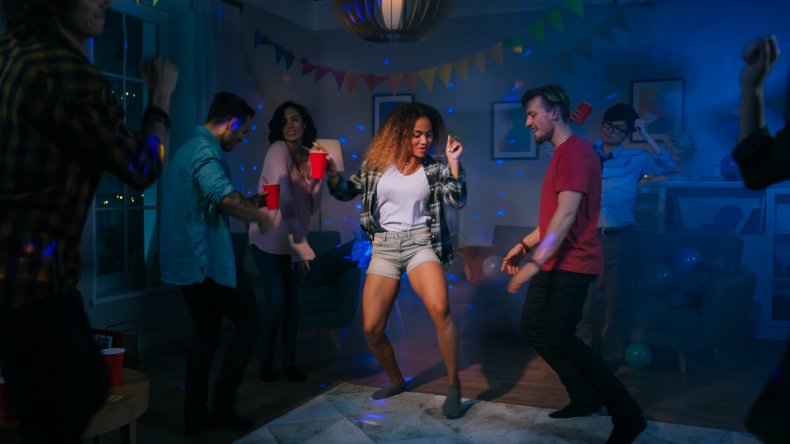 Similar parties had been mentioned at a city council meeting one day earlier, although without the explicit claim that the parties were organized with the intention of spreading the virus.
"We had seen over the last few weeks parties going on in the county, or throughout the city and county in several locations where students or kids would come in with known positive," Tuscaloosa Fire Chief Randy Smith said at the meeting.
"We thought that was kind of a rumor at first," he added. "We did some research. Not only do the doctors' offices confirm it but the state confirmed they also had the same information."
The Alabama Department of Public Health (ADPH) told NBC News that they could not confirm the parties had actually taken place.
The Tuscaloosa officials did not indicate which schools or universities might be involved in the alleged parties.
However, officials at the Tuscaloosa-based University of Alabama issued a statement on Thursday indicating that are continuing to investigate rumors or their students taking part in the parties, but had found no evidence to support that the parties exist.
"We have been aware for weeks of the rumors about COVID parties," the statement read. "We conducted a thorough investigation, and although we have been unable to identify any students who may have participated in these types of activities, we will continue to follow up on any information we receive and educate our students about essential precautions."