'An Existential Threat': Catholic Group's Anti-Biden Ad Campaign Targets Swing State Voters
A Catholic voting group said on Tuesday that it is investing $9.7 million in campaign ads to draw attention to Democratic presidential nominee Joe Biden's alleged lack of support for Catholic issues.
CatholicVote, a non-profit political group based in Madison, Wisconsin, said it is striving to reach at least 5 million swing state voters with the campaign's messaging before Election Day. The group said on its website that, though it does not belong to any one political party, it is willing to endorse candidates.
"Joe Biden's record makes clear he will not protect our Catholic values or defend our way of life," CatholicVote President Brian Burch said in a news release. "For Catholics who cherish the Faith and their freedom to live it, a Biden presidency represents an existential threat."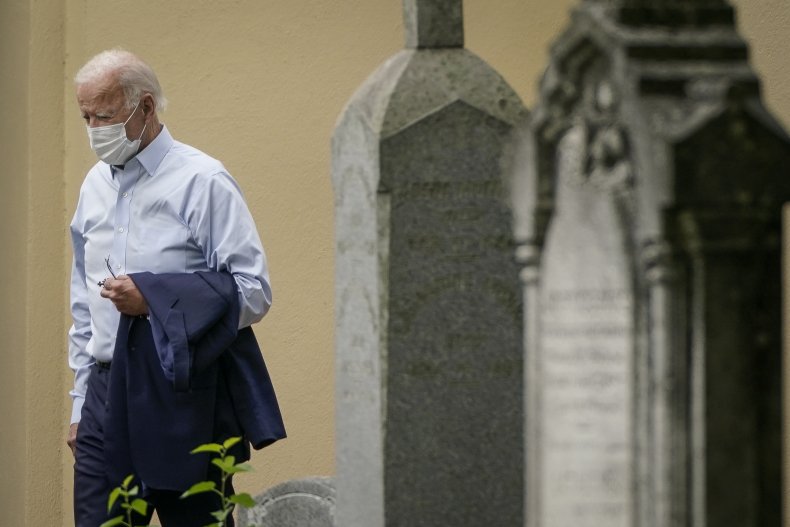 Biden identifies as a practicing Catholic and said on his campaign website that he believes faith is "a gift." Newsweek reached out to Biden's campaign for comment.
CatholicVote said its ad campaign will feature digital advertising, flyers sent to voters by mail and direct communication from more than 2,000 people leading parishes in key swing states. The campaign started this week as the organization spent $350,000 on digital ads in Pennsylvania and Michigan, the release said.
In addition to announcing the campaign, CatholicVote released a 30-second video on the country's debate about abortion. The video included clips from the speech that Sister Dede Byrne delivered at the Republican National Convention last month. In one brief clip, Byrne said that Biden matched with vice presidential candidate Kamala Harris is "the most anti-life presidential ticket ever."
"Joe Biden would force American Catholics to pay for abortions, sacrificing his Catholic values, to kneel before the leftist mob," the ad's narrator alleges.
In addition to the video and digital ad purchases, CatholicVote published a voter guide assessing the two presidential candidates' stances on seven issues: abortion, American workers, education, health care, immigration, judges and religious freedom. The organization said it approved of Trump's policy positions for all topics except immigration, on which it did not side with one candidate over the other. The organization said in the news release that it intends to send the report to its 5 million targeted swing state voters.
On Tuesday, Pew Research Center published a new analysis of Catholic voters that said they tend to be divided politically, with nearly the same percentage of Catholic voters identifying as Republican as those that identify as Democrat.
According to a 2018 survey conducted by Pew Research Center, Trump won 52 percent of the Catholic vote in 2016. Former President Barack Obama won the Catholic vote by a greater margin in 2008, and former President George W. Bush won the Catholic vote four years earlier.