Expanding the Circle of Peace | Opinion
At a moment when so much of the world seems to be splintering apart, it is especially remarkable to see historic adversaries come together. One year ago, leaders from the United Arab Emirates, Bahrain and Israel signed normalization agreements known as the Abraham Accords, ushering in a new chapter of Arab-Israeli relations. This historic achievement has helped advance peace, prosperity and security in the Middle East by eliminating decades-old barriers that had inhibited cooperation between Israel and the two Gulf countries. Morocco and Kosovo followed with their own agreements, while Sudan has also committed to normalizing relations with Israel.
These agreements have opened new avenues for prosperity and peaceful coexistence in the region. They are unquestionably in the strategic interests of the United States and our international partners, and that is why the Biden administration has embraced them. As Secretary of State Antony Blinken said, "The relationship that Israel is developing with other countries in the region [is] a very important development, and one that we look forward to help build on."
To advance these efforts, the Biden administration is focused on deepening ties between countries that have recently established relationships; strengthening longstanding relationships between Israel, Jordan and Egypt; and working with additional countries to normalize relations with Israel—a goal that is entirely consistent with continued advocacy for Palestinian rights.
The tangible results are clear. The UAE-Israel relationship has blossomed. Tourism is thriving, particularly in the UAE, as direct flights ferry sizable numbers of Israeli tourists to support Emirati businesses. Trade is booming, with a $1.1 billion UAE-backed investment in Israeli natural gas extraction and a joint high-tech zone that will support innovation and entrepreneurship in both countries. Beginning in October, Israel will also participate in Expo 2020 in Dubai as a means of showcasing its technology to new markets.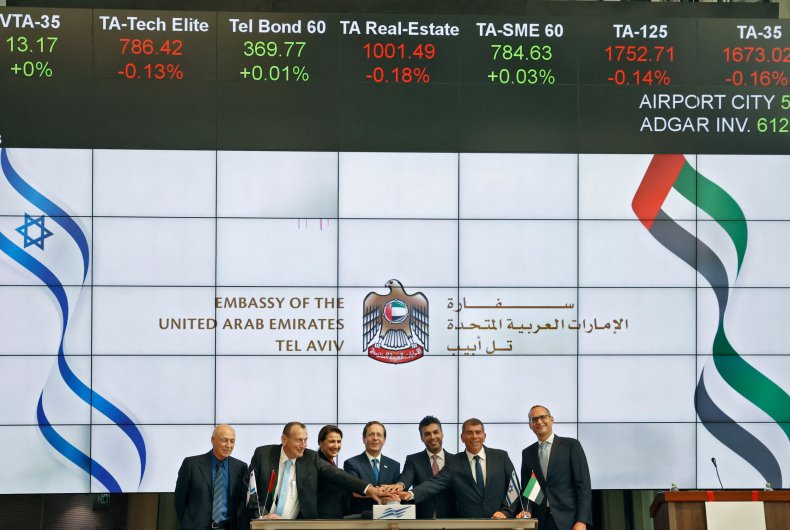 Diplomacy is thriving as well. We saw the historic opening of the Israeli embassy in Abu Dhabi—the first Israeli embassy in a Gulf state—and the visit to the Emirates of Foreign Minister Yair Lapid—the first by an Israeli minister. Likewise, we applauded the opening of the UAE Embassy in Israel and the efforts of Emirati diplomats to strengthen diplomatic ties.
Bahrain has also made remarkable headway this past year. The kingdom's first ambassador to Israel arrived on August 31, and Israel has named its future ambassador to Bahrain. The two nations are working on higher education and health care exchanges, and are developing agreements to stimulate bilateral trade and investment. Bahrain's Gulf Air announced it would launch two direct flights a week to Israel starting on September 30.
In 2021, Israel and Morocco revived historical diplomatic ties and announced plans to upgrade their respective liaison offices to full embassies. Business ties are growing rapidly, and direct flights have started (with more to come), making it easier for hundreds of thousands of Israelis of Moroccan descent—many of whom still speak Moroccan Arabic dialect at home—to visit the land of their ancestors. In April, Sudan decided to repeal an economic and diplomatic boycott of Israel that had been in place since 1958 to facilitate a closer relationship between the Israeli and Sudanese people, a step we hope will lead to full normalization soon.
We also have worked towards deepening the relationships between Israel and both Egypt and Jordan. These relationships are important not only for the people of these three nations—they also have helped reduce conflict and bring improvements to the lives of the Palestinian people, albeit not as much as any of us would like. The normalization effort cannot be a substitute for tangible progress towards a negotiated peace between Israelis and Palestinians.
Progress made towards normalization during the first year, across two administrations of two different parties, is only the beginning. Expanding the circle of peace between Israel and other countries—in the Middle East and beyond—brings prosperity and security to all. And it will remain a priority for the United States.
Derek Chollet is counselor of the U.S. Department of State.
The views expressed in this article are the writer's own.