On Thursday, The Expanse cast member Cas Anvar—who plays Alex Kamal, Martian pilot of the legitimately salvaged warship Rocinante—hinted at a coming surprise, telling fans to "keep their eyes and ears peeled." And on Friday, Anvar delivered: He unveiled a video fulfilling a promise made years earlier, after the science-fiction series was cancelled by Syfy but before its season 4 renewal on Amazon Prime Video.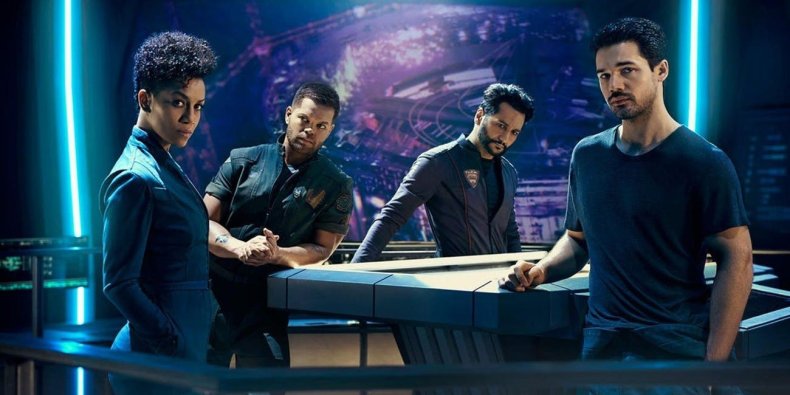 "A long time ago, in a galaxy not so far away, a little sci-fi show got cancelled," Anvar says in the opening to the new video. "I made a promise to y'all. I said, 'If you all get the show picked up, I'd do something very special for you.' And lo and behold, the show got picked up."
That promise was to sing a cowboy song while upside down—a suitably cowboy thing to do for a character that spends a lot of time in zero-g, but still remembers fondly his birthplace in Mars' Mariner Valley, where swaggering, terraforming settlers all speak with Texas accents.
The video—presumably taken on-set before The Expanse crew wrapped filming on the show's fifth season in February—features Anvar in the pilot's seat of the Rocinante, singing Toby Keith's "Should've Been a Cowboy."
The clip's debut on social media immediately prompted calls from fans for a musical episode of the show. Unfortunately, the author of The Expanse novel series, James S.A. Corey, quickly shut down talks of a singalong space saga.
Sure, this is joking between colleagues—song-and-dance sequences are unlikely to ever fit into the sprawling extra-planetary galacto-politics of The Expanse—but don't give up hope just yet, because the show's writers are still rallying behind the scenes for a dance number:
Corey is the joint pen name for The Expanse authors Ty Franck and Daniel Abraham, who will continue to collaborate on future projects, even after The Expanse is over.
In a Friday interview with Tor.com, Abraham hinted at what they'll be creating once The Expanse novels are complete. While Abraham wasn't able to share details about the next science-fiction series credited to James S.A. Corey, he was able to reveal a little by analogizing it to other sci-fi authors.
"The way The Expanse was playing in the same part of the sandbox as Alfred Bester, Larry Niven, and Arthur C. Clarke, the new books are reaching more toward Frank Herbert's and Ursula Le Guin's territory," Abraham told Tor.
In novels like Bester's The Demolished Man, Niven's The Mote in the Eye of God and Clarke's Childhood's End (and 2001: A Space Odyssey, of course), confrontations with new technology and/or strange alien races forces humanity to re-conceive of how it sees itself and its societies. This is also a central theme in The Expanse.
As a generalization, Herbert and Le Guin focus less on the effects of technology and instead delve into alien cultures to explore the philosophical and moral expansion of humanity. They are often less space-hopping and more planet-bound. In novels like The Dispossessed and her novella The Word for World is Forest, Le Guin portrayed alternatives to our modes of living, as anarchist utopians and forest-dwelling humanoids confront the depravities of capitalism and colonialism.
Fo now, it's unclear what this distinction means for the Corey series coming after The Expanse.
But there's no need to dwell, because The Expanse is far from over. Principal photography on season 5 was completed before TV productions began shutting down in response to the coronavirus pandemic, which means writers and producers have now seen early cuts of upcoming episodes.
"It's changed how I watch and understand television and film, and it's deepened the way I understand storytelling in general. Hopefully, we'll be able to do it for years to come, but even when it's over, I'm going to be grateful for the chance," Abraham told Tor, when asked about his experience working on the TV adaptation of The Expanse series. "Also, having seen the early cuts of season 5, we got better at this."
In the interview, Abraham also talked about wrapping up the novel series, which is planned as a nine-book saga. The final, as-yet-untitled book in the series is expected out some time in 2020. The latest, Tiamat's Wrath, was released in March, 2019. (The fourth season of The Expanse TV show covers events from the fourth novel, Cibola Burn.)
"I'm reading a book right now that opens with a quote from Sophocles: 'One must wait until evening to see how splendid the day has been.' The end of a story is kind of the moment when you find out what the story has been the whole time," Abraham said of The Expanse closer. "When Ty and I started in on The Expanse, we had a mission statement in mind, and now we're going to get there and folks will be able to see what kind of project it's been. I'm looking quite forward to it."