"Hopefully Amazon people have lunch," was one of many anxious comments in a group chat filled with fans of The Expanse Tuesday afternoon. A devoted bunch of the cancelled SyFy show's thriving fanbase watched in awe as a Gofundme-sponsored plane trailing a #SaveTheExpanse banner circled Amazon Studios in Santa Monica. The target? Jeff Bezos.
"I believe space exploration to be the most important goal of our species," Vincent Buyssens, who started a Change.org petition with more than 100,000 signatures to save The Expanse, told Newsweek. "Jeff Bezos believes this as well, hence why we appealed to him personally." Well, that and there was chatter on Facebook from Expanse staff that Amazon was interested in a meeting with series owners Alcon Studios.
"Normally, I would have just vented my anger on Twitter, but for this show I decided to try everything," said Buyssens. By everything, he's referring to joining a larger campaign. An online focus group not only organized the flyby, but #SaveTheExpanse trailers, a website, the moderation of various fan communities across the internet, Jim Holden-inspired coffee care packages to employees at Amazon Studios, press releases and letters to Netflix painstakingly edited by a fleet of fans in Google Docs, and paid ads on social media.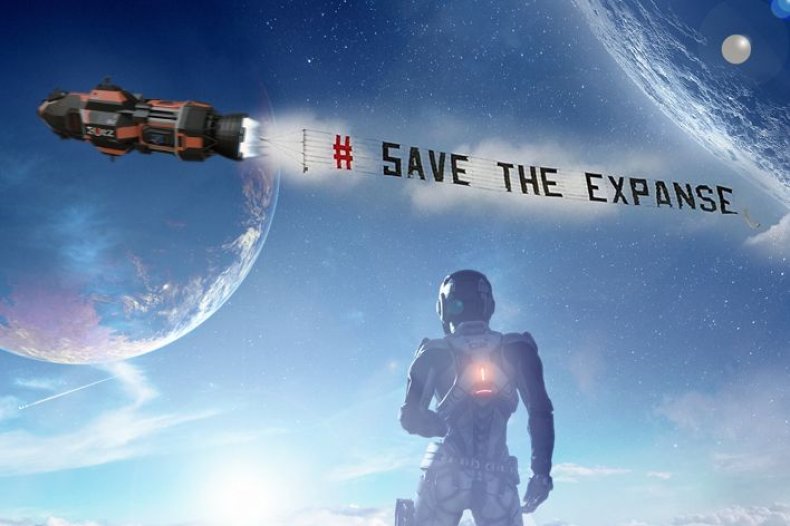 Many folks went out of their way to contribute. "If I'm the only one who sends coffee, I'm gonna be so mad! I'm so broke right now," one user wrote in the fan chatroom. All of these steps were discussed and voted on inside Discord, a fast-growing online chat service that celebrated its third birthday last month. "Internet strangers who are doing guerilla marketing via a chat app used by gamers is one hell of a sign of the times," said Buyssens.
It sure is. Fans from all across the world have mobilized, raising thousands of dollars to hire the plane (fun fact: it was almost an hot-air balloon). The Greenpeace-inspired idea, credited to U.K. reddit user Tim, was scaled down to a more approachable financial goal.
From there, Murilo Silva of New Jersey took the initiative. "I thought the idea was brilliant, but would be difficult to pull off as quickly as we needed it to happen," he told Newsweek. The Expanse sets in Toronto were rumored come down on Wednesday, after the prop master revealed on Facebook that Star Trek Discovery might be interested in some of the pieces.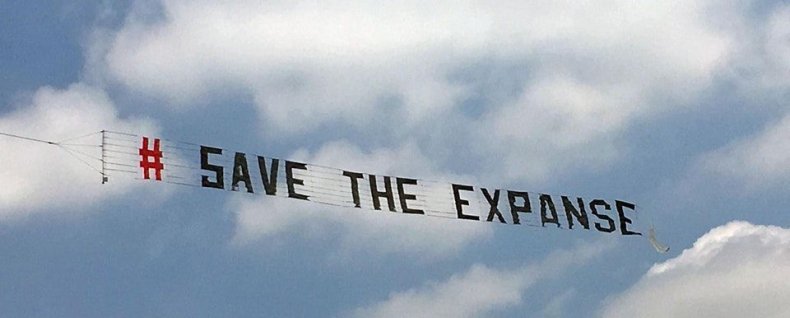 The campaign now had a deadline. "I kicked off a GoFundMe page with little idea of whether people would contribute or not. It's always hard to hand out cash to a stranger on the internet," said Silva.
Turns out, thousands of people were willing to do precisely that. It wasn't until his financial campaign gained momentum Silva realized the extent of fan efforts to save the series. "The real magic happened when a few uber-fans invited me to an Expanse Discord channel I didn't even know existed," he explained. The group consisted of people with a broad range of skillsets—web design, publicity, PR and advertising. "Everyone works really well together," Silva said.
Call it what you want… desperation, love, the novelty of sending a plane flying over Amazon headquarters—but it actually happened. Thousands of donations poured in, averaging $20 each. The campaign has seen considerable support from fans outside of the United States, proof there's a significant number of viewers without the opportunity to watch live and contribute to Nielsen ratings. The Expanse has always been fighting an uphill battle when it comes to live viewership, with many discovering the show only after complete seasons arrived on Amazon Prime.
"Here is yet another excellent show that simply happened to be on the wrong platform," Ed Akselrud of New York City, who edited the trailer for the #SaveTheExpanse campaign, told Newsweek. "The Expanse has a huge international audience, and most fans opt to watch online through services like Amazon or Netflix—so in the majority of cases, their viewership simply doesn't count towards SyFy's perception of the show's success, which is extremely unfortunate and inaccurate."
Akselrud pulled two all-nighters during the work week to focus on the campaign. "My hope was to express how the show makes me feel, what I think it's really about and what I believe makes it so worth everyone's attention: The complexities, flaws, emotions and ambitions that humanity continues to exhibit and brings with it far beyond our gravity well in the near future, despite all the monumental advances in technology in the show's universe."
To the uninitiated, going through all of this demanding work to save a show might sound a bit silly. But everyone involved with #SaveTheExpanse has come to the conclusion there's not anything else like it on television. "It's the most effective commentary on how we are now as a species: how we interact, our religion, our politics," said Buyssens.
Whether it's the characters, the science, the ingenious special effects or the politics, each episode of The Expanse leaves you with something more tangible than a cliffhanger. "More than the entertainment, it's a thought exercise of where we are going as a species," Silva explained. "Any piece of great fiction that explores, with real science, what our options in space might be in a generation or two, is worth all the support it can get. If we can inspire our future engineers and explorers, and have fun with some great political intrigue and character development, why not? I am having a daughter in two months, and I want her to grow up watching complex, smart characters like Naomi, not Disney princesses. That's worth the fight."
George R.R. Martin, whose adaptation Nightflyers premieres this season on SyFy, even aired his grievances on Twitter, continuing the message on his personal blog. "It's a damn shame, especially for fans of space science fiction... of which I count myself one. It was the best space show on television, far and away. I hope its producers can find another home for it."
We do too. So what can you do to help? Make noise on social media and watch The Expanse Wednesdays at 9 p.m. on SyFy. If you haven't seen the series before, it is rated 100 percent fresh on Rotten Tomatoes, so binge it all on Amazon Prime this weekend. Do you think the show will find a new network? Let us know in the comments.