'The Expanse' Season 4 Will Premiere Months Before Release Date at New York Comic Con
The Expanse Season 4 will have its world premiere at New York Comic Con in October, more than two months before the scheduled release date for new episodes of the science fiction series.
New York Comic Con announced on Thursday that Amazon Prime Video will be taking over the Main Stage of the Javits Center in New York for world premiere screenings of The Expanse and Jack Ryan.
In Season 4 of The Expanse, based on the novel Cibola Burn by James S.A. Corey (the joint pseudonym of authors Daniel Abraham and Ty Franck), the crew of the salvaged Martian gunship Rocinante will journey through one of the wormholes opened in the Season 3 finale.
While previous seasons of the series have been largely shipbound, or limited to the asteroid colonies and space stations of the "Belt," The Expanse Season 4 will move the action to the alien world of Ilus, which colonists are rushing to settle after the Ring Gates opened up hundreds of new worlds to human exploitation.
"While Earthers, Martians and Belters maneuver to colonize Ilus and its natural resources, tensions rise between the opposing nations, but these early explorers don't understand the true threat of this new world and are unaware of the larger dangers that await them," the New York Comic Con description for the upcoming Expanse season reads.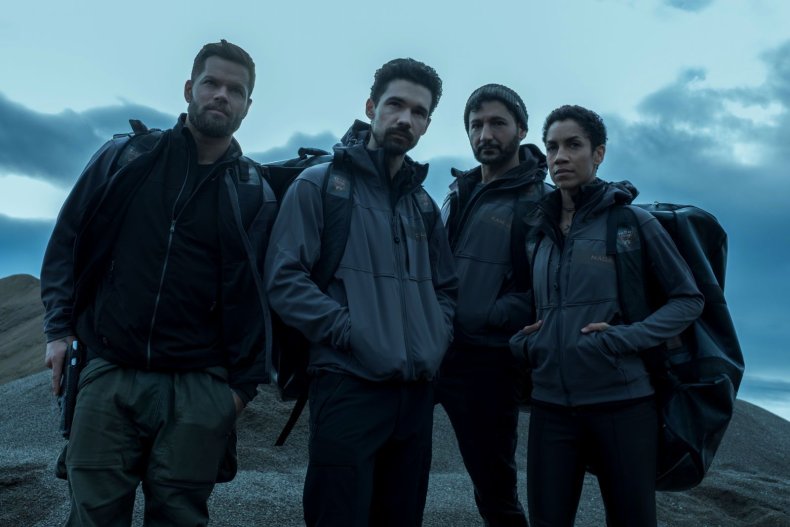 The planet is rich with natural resources, but it harbors dangerous technology left behind by a fallen alien civilization, similar to the protomolecule that overturned the political situation throughout the solar system in the first season of the series.
"It's the first season that we've done a substantial amount of location work," The Expanse showrunner Naren Shankhar told The Crash Couch podcast in August. "We haven't really spent this much time on a planet before. So just being outside in weather, that was a huge difference for us."
After the world premiere screening of the first episode of The Expanse Season 4, the showrunner and cast will appear for an "in-depth conversation," along with more updates about the upcoming season.
The Expanse stars Steven Strait as captain Jim Holden, Cas Anvar as pilot Alex Kamal, Dominique Tipper as ship's engineer Naomi Nagata, Frankie Adams as Martian soldier Bobbie Draper and Wes Chatham as the indescribable Amos Burton. Shohreh Aghdashloo will return as ruthless U.N. leader Chrisjen Avasarala. Also returning, despite his death in Season 2, will be Thomas Jane as Joe Miller, a detective whose consciousness is absorbed into an extraterrestrial computer.
The Expanse Season 4 will premiere on Saturday, October 5, at 10:45 a.m. Eastern time on the New York Comic Con Main Stage.
All 10 episodes of The Expanse Season 4 will be released on Amazon Prime Video on December 13.