We expect to learn a lot about The Expanse Season 4 on Saturday, during the San Diego Comic Con panel to be held at 1:00 p.m. PDT, including a release date, but a few details have slipped in advance of the SDCC blowout, including our first look at an alien world.
On Twitter, The Expanse premiered an interactive exhibit to open at San Diego Comic Con, which appears to give convention attendees a look inside the show's central setting, the commandeered Martian gunship Rocinante. It also includes a mission brief on the first alien world expected to appear in the series, which was contained within our solar system for its first three seasons. The end of Season 3 of The Expanse opened hundreds of wormhole "Ring Gates" to star systems around the galaxy, which is sure to complicate the tenuous alliances between Earth, Mars and the Belters caught between.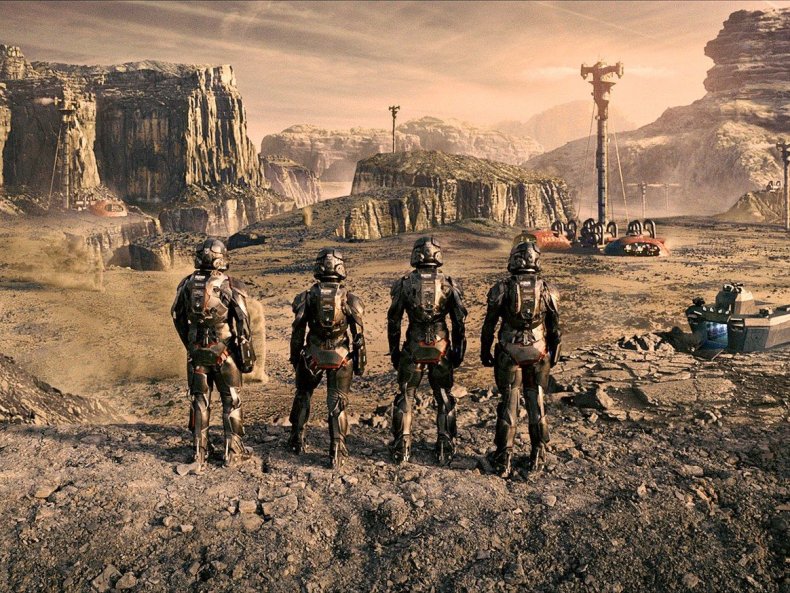 "Good morning, crew. I trust you all had a good rest, because we're all heading into trouble," an unidentified voice says in the SDCC announcement. "With the Ring Gates open, there are a lot of new systems out there. This one is called Ilus. And the situation here is already dire." It could either be an audio clip from The Expanse Season 4, or something created for SDCC.
The video includes a quick look at the new planet, with its surface of tooth-shaped spires. More remarkably, it looks like Amazon Prime has reproduced the alien landscape in a San Diego backlot.
While no details have been released about Ilus in The Expanse Season 4, the star system is the main setting for Cibola Burn, the fourth novel in The Expanse book series by Daniel Abraham and Ty Franck, who together write under the pen name James S.A. Corey. Ilus is a star system with six planets, but it's Ilus IV that becomes a crucial part of the new galactic order when humans begin colonizing its surface, renaming the planet New Terra. Ilus IV has one giant continent, plus a massive ocean scattered with islands.
To say more would be to get into potential spoilers for The Expanse Season 4. So it's probably just sufficient to say that the Rocinante crew will face both political and extraterrestrial threats—the classic Expanse signature.
Another indicator in the lead-up to San Diego Comic Con could have implications for the series' Season 4 release date: it appears post-production is complete, or near complete. Canadian visual effects team Rocket Science VFX announced they've wrapped on Season 4 of The Expanse, completing 304 special effects shots, including new "'spaceships, planets and environments."
The Expanse panel at San Diego Comic Con is at 1:00 p.m. PDT Saturday, in the Indigo Ballroom at the Hilton San Diego Bayfront and will include cast members Steven Strait, Wes Chatham, Shohreh Aghdashloo, Frankie Adams, Cas Anvar and Dominique Tipper, plus executive producers Naren Shankar and Franck. A trailer and release date announcement for The Expanse Season 4 is expected.