Expect a Fight at the FEC Over That Stormy Daniels Payment
As the cost of U.S. elections has risen in recent years, the Federal Election Commission's view of its own enforcement role has grown sharply divided along ideological lines. In this context, the question of whether longtime Trump attorney Michael Cohen's $130,000 hush money payment to adult actress Stormy Daniels was an illegal campaign contribution is unlikely to be settled soon, or smoothly.
"It was very different when I was there," Larry Noble, who served as the commission's general counsel from 1987 to 2000, told Newsweek. "There were always partisan differences. But they would try to reach a compromise. Now, splits are ideological. Republicans vote against enforcing anybody. Democrats vote to enforce against everybody."
Congress formed the FEC after the Watergate scandal to regulate campaign finance. Lawmakers ensured it would remain a bipartisan referee by mandating that neither party could control more than three of the six seats. Four votes are required to take action, including opening investigations and assessing civil penalties.
But there are only four commissioners remaining after Republican Lee Goodman left the commission last month, and all of them are serving long after their six-year terms expired. The office hasn't had a permanent general counsel in over four years. And current and former Republican and Democratic commissioners have engaged in public sniping in recent years, creating an atmosphere of distrust.
"As an enforcement agency, it doesn't work," said Noble, who is now general counsel for the nonpartisan Campaign Legal Center.
Now, the nondisclosure agreement signed by Daniels (whose given name is Stephanie Clifford) has brought the internal issues of the FEC to the forefront.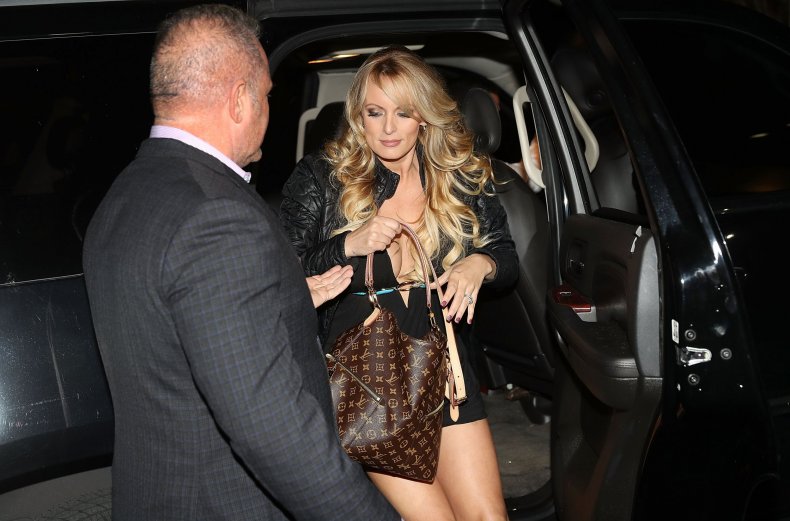 In January, independent government watchdog Common Cause filed a complaint with the Justice Department and the FEC alleging Cohen's payment to Daniels, which occurred in the final days of the 2016 presidential campaign, was an undisclosed campaign contribution because it was made to influence the election. (Common Cause also filed a similar complaint about a $150,000 payment to former Playboy Playmate Karen McDougal in February.) The FEC is still working through old cases and is expected to take a year or longer to decide on Common Cause's complaint, NBC News reported.
If the Daniels payment is considered a contribution, Cohen could face fines from the FEC and potentially criminal charges because the size of the payment is far above the $2,700 limit on federal campaign contributions. It could also spell trouble for Trump since his campaign didn't disclose the payment as a contribution.
Although it does have subpoena power, the FEC cannot file criminal charges. But the Justice Department can—and it indicted former vice presidential candidate and North Carolina Senator John Edwards in 2011 for breaking campaign finance law in an analogous situation. Prosecutors said payments to Edwards's mistress counted as campaign contributions because they were made to keep his affair secret and his 2008 presidential bid afloat. A federal jury declined to find Edwards guilty. The FEC never took any enforcement action in the case.
The current makeup of the FEC, however, means it is unlikely to recommend any action on the Daniels case.
In recent years, deadlocked 3-3 votes on enforcement matters have increased, according to an analysis released last year by outgoing Democratic FEC Commissioner Ann Ravel. In 2006, the commission deadlocked on just 2.9 percent of "substantive" enforcement votes, but in 2016 that figure increased to 30 percent. Ravel's analysis found that fines assessed by the commission over the same period dropped from $5.5 million to $595,425. A 2016 NBC analysis of more than a year's worth of commission votes found that Republicans almost always voted as a block, and that the Democrats and the one independent on the commission weren't far behind.
But Caroline Hunter, a Republican who serves as the current FEC chair, told Newsweek Democrats' complaints of a broken commission stem from their inability to advance their pro-regulatory agenda.
"We've been working on the enforcement docket diligently this year and moving along at a good clip," Hunter said. "We agree on the vast majority of enforcement cases. There are some places where we have ideological differences on interpreting the law. The Republicans have generally been reluctant to read the law too broadly, and the Democrats, generally speaking, are more regulatory. That's just a difference of opinion."
Under the current makeup of the FEC—two Republicans, a Democrat and an independent—any action on the Daniels case would require a unanimous vote. Common Cause attorney Paul S. Ryan, who brought the Cohen complaint to the FEC, said it's a "slam dunk" that the commission should open an investigation based on the available evidence, but acknowledged the FEC has not always worked as it should.
"We're talking about an agency that has a pretty poor track record in recent years of doing its job and enforcing the law," Ryan told Newsweek. "I would be embarrassed if I was an FEC commissioner who voted against the very low bar of opening an investigation."
Others see a more complicated legal question.
"It looks like Trump has made these kinds of payments to people before unrelated to his campaign or as a candidate," former Republican FEC Chair Bradley Smith, who is the founder and chair of the Institute for Free Speech, a nonprofit advocacy group, told Newsweek. "It's hard to show this payment was made solely because he was running for election."
While current commissioners are not authorized to talk about ongoing cases, Ravel, who wrote a New York Times op-ed in February last year calling the commission "dysfunctional," questioned the motivations of her former Republican colleagues. Ravel said it was common knowledge at the FEC that Hunter was angling for a position in the Trump administration.
Hunter declined to answer questions about claims she was seeking a job while at the FEC. The other Republican commissioner, former FEC Chair Matthew Petersen, was already tapped by Trump for the federal judiciary. Despite a "qualified" rating from the American Bar Association, Petersen failed to answer basic legal questions from Republican Senator John Kennedy during a confirmation hearing. He consequently withdrew his nomination and returned to the FEC.
Commissioners are usually nominated in pairs, one by each party. Last year, the White House nominated former Trump campaign lawyer Trey Trainor to the FEC. Republicans say they are waiting for a Democratic nominee, but Democrats in Congress have yet to put one forward. Minority Leader Senator Chuck Schumer's office did not respond to questions about his party's plan to nominate a Democrat to one of the open commission positions.
Some critics say both parties are to blame for abandoning campaign finance regulation and the FEC.
"Yes, it's bad under the Trump administration, but it fell into this disrepair during the Obama administration," Common Cause's Ryan said. "Both parties share the blame. Both parties share a responsibility to fix it."