Expectant Mother Attends Baby Shower in Tent After Testing Positive for COVID
A video has gone viral after an expectant mother posted a TikTok showing how she attended her recent baby shower—in a tent.
In the video, now viewed nearly 1 million times, TikToker @amberlache94 shows footage of herself sitting in a clear tent. In text overlaid onto the video, she writes that she tested positive for the coronavirus the day before her shower.
"I was not going to let covid kill my baby shower," she captioned the video.
In the comment section of the video, Amber explains that she tried to reschedule the party but there were no available dates before her due date. So she decided to proceed with the party as planned, although she alerted her guests of her test result so "they could come at their own risk."
"I basically went at the end and sat in a bubble and watched my baby daddy open the gifts," she writes.
In December, a video went viral depicting a similar scene where a family decided to include a relative who had tested positive for the coronavirus.
Now viewed 11 million times, the video posted by @cristalarock shows her sister sitting in a plastic bubble while eating Christmas Eve dinner with the rest of the family, Newsweek reported.
Like the commenters on Amber's video, the commenters on the Christmas Eve video had mixed feelings about the family's decision to include the coronavirus-positive girl in their dinner plans.
Crista LaRock told Storyful at the time that everyone in the video lived together and that no extended family was present.
Some commenters pointed out that Amber's baby's father would have been a close contact, in turn possibly exposing those who did attend the baby shower.
She explained that he had been out of town for the week and got back the day of the shower.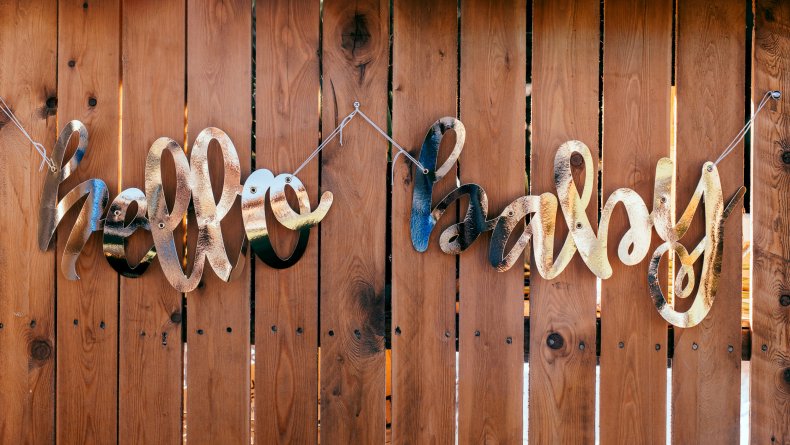 Many commenters were supportive of the idea, with some saying they would have done the same thing in her position.
Others said that decisions like Amber's are the reason "this sh** is never gonna end."
"I hope you're safer and use better judgment when baby gets here," another commenter said.
Amber told Newsweek in an email that no one she knows thought her decision was a bad idea.
"And so far everyone that attended is healthy and [COVID] free," she said. "So I'm hoping it stays that way and that my [COVID] bubble worked."
Amber responded to some commenters asking about how she was feeling. The Centers for Disease Control and Prevention says that pregnant women are at increased risk for severe COVID-19-related illness.
Amber wrote that so far her case is mild. She said the only reason she got tested was because she knew the shower was the following day and she did not want to "intentionally get people sick."
She said some guests went to the shower and left before she arrived, while others stayed to open gifts.
"Even though it wasn't ideal, I thought the shower was perfect considering the circumstances," she told Newsweek. "I'm glad I went, and people that went are glad they got to see me and say hi, even if it was through a tent."
Updated 1/14/22, 11:35 a.m. ET: This story was updated to include comments from Amber.