Expectations Low as Egypt Heads Into Elections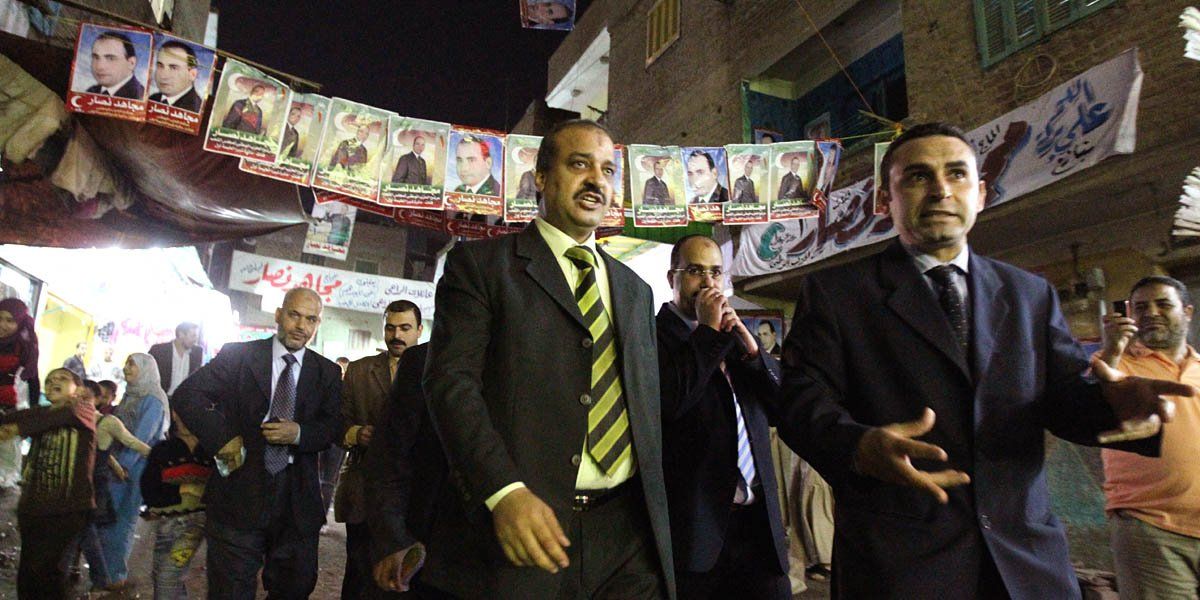 Mohammad Beltagy made his big push at the Thousand and One Nights café. Dozens of residents from Cairo's Shubra al Khaimah slum sat in plastic chairs and listened intently as Beltagy, decked out in a crisp pinstriped suit and purple tie, wooed them with promises of stamping out corruption and improving delivery of government services to the area. Trays of hot tea were passed around and the sweet smoke from nargila water pipes wafted over the crowd. A dozen or so young men handed out a highlight-reel DVD of Beltagy's best tirades in Parliament, where he's hoping to return after elections this Sunday.
What sets Beltagy, 48, apart from other politicians is his membership in an illegal movement: the Muslim Brotherhood. Despite an official ban, he and his colleagues in the Brotherhood—the biggest opposition group in Egypt—are allowed to run as independents, though the government harasses them constantly. Beltagy, a trained doctor, has a clinic in Shubra al Khaimah. But this campaign run was the first time in five years that the government had allowed him to reach out to constituents. And there were unexpected reactions when the mike was handed over to the crowd. One young man said an electric cable had lain exposed next to his house for more than two years. Another complained about garbage collection, pointing to a big mound of trash nearby. Beltagy laughed nervously. A third man said he had voted for Beltagy in the last elections but hadn't seen any improvements in the neighborhood. "Who is left for us to vote for?" he asked. The crowd broke out in applause.
The Muslim Brotherhood is in a tough spot. When it ran candidates in Egypt's 2005 parliamentary elections the group surprised nearly everyone: its candidates swept the votes and took 20 percent of the seats. It's unlikely to repeat that success in the parliamentary elections coming up Sunday. The government has done its best to sway the odds: since early October, 1,200 members of the Brotherhood have been detained and others have been threatened and beaten, according to senior officials in the group.
But the movement is also facing a serious internal rift. After having a recent vote on whether to participate in the elections, the group announced that an overwhelming majority had supported running. The group will run roughly 130 candidates, including 13 women. But at least one senior member broke ranks and claimed that the internal vote was much closer, with roughly half the group's members questioning what they had gained by serving in Parliament for the past five years. Some—along with several other opposition groups—favored boycotting as a sign of protest. "The movement, unlike 2005, is highly divided," says Amr Hamzawy, an associate at the Carnegie Middle East Center who follows Egypt closely. "There are a group of leaders doubting whether the movement should continue as it has in recent years." One sign of that dissent: a quarter of the candidates who served in Parliament for the past five years are not running for reelection.
Many Egyptians are cynical about elections. President Hosni Mubarak has ruled the country for nearly 30 years without any serious electoral challenges, and there are widespread rumors that his son, Gamal, 47, may take over if he opts out of presidential elections next year. Mubarak's health (he had gallbladder surgery in Germany earlier this year) is a favorite topic of speculation. But so far, the 82-year-old hasn't shown any sign of wavering. A senior member of his National Democratic Party (NDP) has said he will run for president again, which has led many analysts to conclude that the parliamentary elections may be rigged to pave the way. There are other developments that have alarmed observers. After the success of the Brotherhood in 2005, judicial oversight of elections was stricken from the books. And so far the government has refused to allow international monitors in to observe the elections this week.
One big change since the last elections that many observers have applauded is a quota of 64 seats for female candidates, many of whom struggle in Egypt's male-dominated political arena. Still, opposition groups claim the quota is yet another tactic the government uses to pad its list and get more seats in Parliament. The bulk of Egypt's most serious opposition groups have decided to boycott the elections. "I expect a 100 percent rigged election," says Ayman Nour, the head of the Al Ghad Party. who spent more than three years in jail after running in the 2005 presidential elections. "We are expected to give legitimacy to this rigging." The person who pushed hardest for the boycott was Mohammed ElBaradei, the former chief of the International Atomic Energy Agency, who many saw as a potential challenger to Mubarak. But ElBaradei's political-reform campaign has fizzled in recent months and he's kept himself off the scene. "Some among the political opposition are disappointed," says a Western diplomat in Cairo. "They were looking for a knight on a white horse. It didn't happen and there's a reason it didn't happen: Baradei was not going to be that person."
These opposition leaders have criticized the Muslim Brotherhood for deciding to participate. They've also asked pointed questions about what the group has been able to accomplish during five years in Parliament. For their part, the movement's leaders argue that the government has boxed them out and wouldn't let them run any candidates for local councils, which are more directly involved in providing services to communities. The Brotherhood tried to register roughly 10,000 candidates for the local council elections in 2008. Only 22 were allowed to run, and they lost. So the NDP holds the majority of seats on those councils as well as the Parliament. "We were the minority in Parliament and didn't have [the ability to make] decisions at all," says Essam al Erian, a Brotherhood spokesman.
Beltagy, a father of five, is one of the Brotherhood M.P.s who fought hard for their constituents. During a parliamentary hearing in May on renewing the Emergency Law, the measure that gives Egyptian security forces broad powers of detention, search, and seizure, Beltagy confronted the law's supporters while holding a copy of the Constitution. After several minutes of shouting, he collapsed: Beltagy had a heart attack. The Emergency Law was renewed after that session. Beltagy has recovered but the harassment continues. At least half a dozen of his supporters have been detained recently.
Some opposition members argue that the United States should play a more active role in pressuring the Egyptian government. But it's clear that the U.S. isn't focused only on Egypt's domestic issues: the Mubarak government is one of the few in the region that have peace treaties with Israel. And that's why there isn't stronger criticism of Egypt's human-rights record, opposition members claim. For its part, the Brotherhood wants the U.S. to stay away. "We don't want help from anybody. We have Allah," says Erian, the Brotherhood spokesman. Even before the polls open on Sunday, many Egyptians are convinced their vote won't matter. There is a widespread sense of frustration and discontent. "I believe the people of Egypt deserve much better than what they have now," Beltagy says.
With Mandi Fahmy in Cairo