Experimental Ebola Treatment Trials to Begin in West Africa Next Month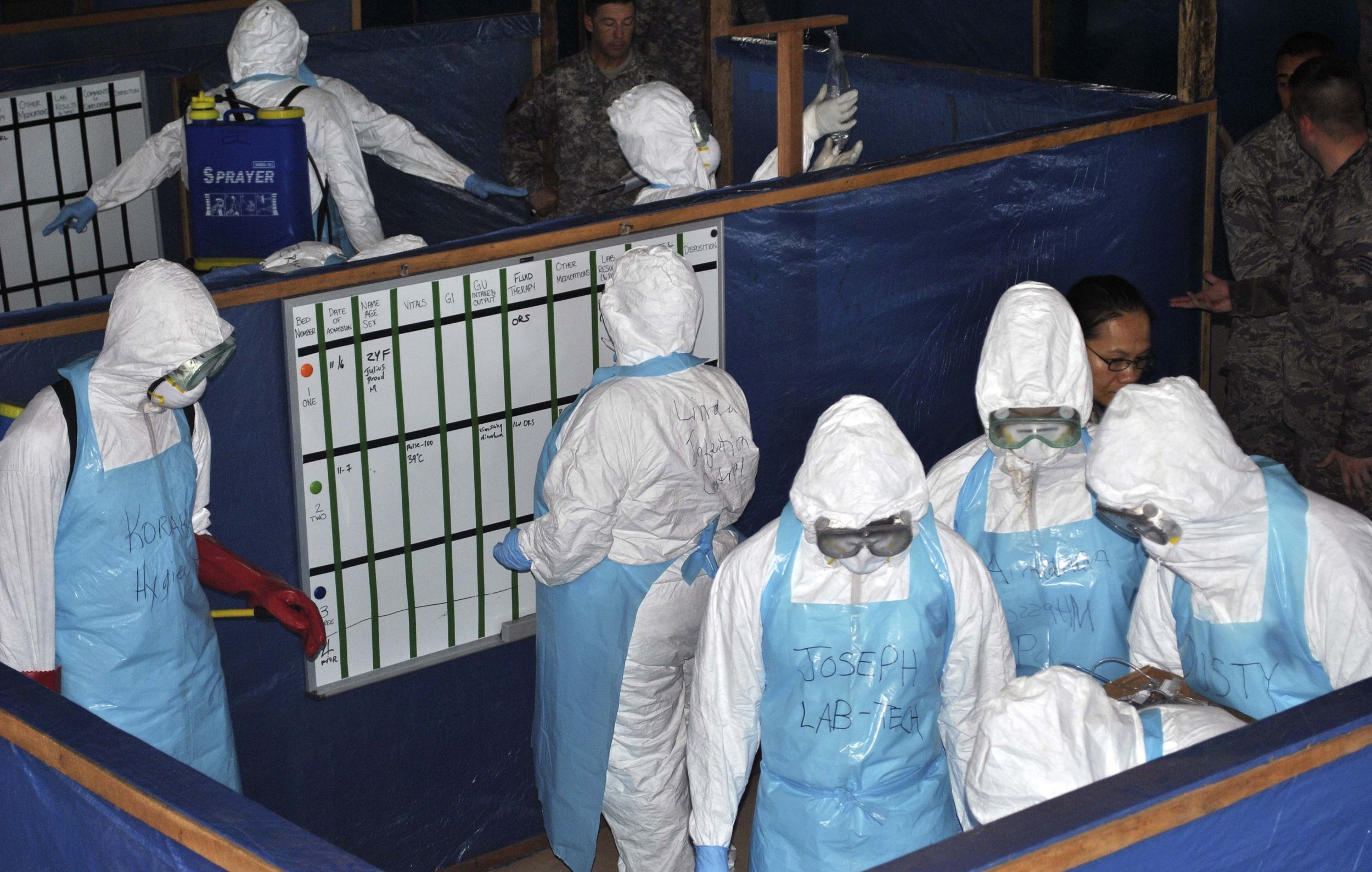 Médecins Sans Frontières, the international humanitarian and medical aid organization, announced Thursday that it will host experimental treatment trials for Ebola patients at three of its treatment centers in West Africa beginning in December.
A group of international researchers will conduct the clinical trials in Médecins Sans Frontières (MSF) Ebola treatment centers in Guinea and Liberia. There are no vaccines available for Ebola patients, but the trials are aimed at "quickly finding an effective therapy against the disease," the group said in a statement.
MSF, also known as Doctors Without Borders, will undertake trials of blood and plasma therapy as well as two types of experimental drugs and hope to have preliminary results by February 2015. One drug, the antiviral brincidofovir, will be tested by the University of Oxford on behalf of the International Severe Acute Respiratory and Emerging Infection Consortium (ISARIC) in a Wellcome Trust-funded trial at an undetermined site.
The antiviral drug favipiravir, will be tested at a treatment center in Guéckédou, Guinea, by the French National Institute of Health and Medical Research (INSERM). Favipiravir was initially developed for fighting the flu.
Both drugs were on a World Health Organization (WHO) shortlist of potential Ebola treatments and were chosen after a review of their safety, efficacy, availability and ease with which they could be given to patients.
There isn't any substantial proof yet that either of the two drugs work, Derek Gatherer, a researcher of the Ebola virus and lecturer in the Division of Biomedical and Life Sciences at Lancaster University, told Newsweek.
But, said Gatherer, "both have the advantage of being safe, having been through phase 1 trials."
The third treatment trial is for blood and plasma therapy, which involves administering blood or plasma (the liquid component of blood) with antibodies from survivors to patients. It will be run by the Antwerp Institute of Tropical Medicine (ITM) at the Donka Ebola Center in Conakry, Guinea.
When the antibodies found in the blood of an Ebola survivor are imported into the body of an Ebola patient, it's highly likely those antibodies can help the sick person fight off the virus.
Gatherer said that blood and plasma therapies have been shown to be effective, but "there is the danger of transmission of other viruses if the blood isn't screened and prepared properly."
The blood and plasma therapy trials will be undertaken to determine how effective and safe they are, and if they can be scaled up to reduce deaths, Johan van Griensven of the Institute of Tropical Medicine said of the therapy in a statement.
"Close communication with people who recovered from Ebola, and the community at large, will be vital for a successful trial," van Griensven said. "We hope that recovered patients donating blood and plasma to help sick people could reduce fear of the disease and reduce stigmatization of those who survived."
WHO and the health departments of the affected countries will also collaborate with researchers in the three trials. They are part of the first phase of research for finding the best treatment for Ebola patients, Professor Denis Malvy, who will lead the INSERM trial, said in a statement.
Some of the therapies have already been used in the treatment of Ebola. Dr. Kent Brantly, the first American diagnosed with Ebola after developing it while caring for patients in Liberia, donated plasma to three Ebola patients in the U.S., ABC News reported. All those patients survived.
Thomas Eric Duncan, the first person to die from Ebola in the U.S., didn't receive any transfusion as his blood type was incompatible with donors, according to media reports. He was treated with brincidofovir, one of the drugs MSF will start trialing next month, but died.
In October, U.S. health officials issued a "task order" to three laboratories asking them to increase production of the experimental Ebola drug ZMapp, which is grown in tobacco plants. Stocks of ZMapp ran out after being given to healthcare workers in West Africa. Both Brantly and Nancy Writebol, an aid worker who became infected with Ebola in Liberia, took ZMapp and survived the disease.
Dr. Senga Omeonga, a Liberian surgeon who was stricken with Ebola, spoke to Newsweek in October about the experience of having the virus and taking ZMapp.
"ZMapp may have speeded my healing," Dr. Senga Omeonga told Newsweek, adding, "maybe I would have survived anyway."
Other experimental drugs include TKM-Ebola and the VSV-Ebola experimental vaccine, which was developed by Canada's National Microbiology Laboratory.
While there is no concrete guarantee the therapies will be "the miracle cure," MSF says it needs to do all it can to make them available and increase the chances of finding one that works. While the trials are underway, MSF is asking the developers of the drugs to scale up production to ensure there's no shortage of medicine if one is found to be effective.
Gatherer says the survival rate of American patients is largely a result of the quality intensive treatment they've received at health care facilities such as Emory University Hospital in Atlanta and Nebraska Medical Center in Omaha.
Dr. Josh Mugele, an emergency physician and assistant professor of clinical emergency medicine at Indiana University's School of Medicine, also says it's largely a question of resources.
"In the U.S. and other Western nations, we have a greater ability to do this aggressive support than in poorer nations," Mugele told Newsweek via email. "We have more personnel, more IV fluids, better vasopressors (for blood pressure support) and the ability to do quick and routine radiologic and laboratory analysis."
The Centers for Disease Control and Prevention (CDC) agrees, stating that recovery from Ebola depends on the immune response of the patient and the good supportive care available in U.S. hospitals, which have seen eight Ebola patients recover from the virus. Overwhelmed health care systems in West Africa have been struggling to provide the same level of care.
Mugele, who returned from Monrovia in June, where he assisted in the care of one Ebola patient, said the patient's baseline health could also explain why Americans have survived; they tend to be healthier and better nourished than those living in West Africa. Americans who contracted Ebola were also likely to have been exposed to a much lower levels of the virus than those in Guinea, Liberia and Sierra Leone, Mugele said.
"A family member who bathes and dresses a patient with Ebola may be exposed to much higher doses of the virus than an American health care worker who is wearing [personal protective equipment] and has a small incidental exposure and therefore have a much worse clinical outcome," Mugele said.
The Obama administration asked Congress for $6 billion in emergency Ebola funding on Wednesday as Senate Republicans grilled White House officials on Ebola, The Hill reported.
On Wednesday, Sen. Tom Harkin (D-IA) and Sen. Lamar Alexander (R-TN) introduced a bill to encourage the Food and Drug Administration (FDA) to develop Ebola treatments and vaccines by adding it to the organization's priority review voucher program. The program is designed to speed up the development of drugs for neglected tropical diseases. A hearing on the bill is scheduled for next Wednesday.
"With the release this week of Dr. Craig Spencer, the doctor who contracted Ebola in West Africa before returning to New York City and who is now Ebola-free, Americans are seeing real progress in the U.S. response to this deadly virus," said Harkin, who is chairman of the U.S. Senate Committee On Health, Education, Labor & Pensions (HELP), in a statement.
"But we know we must do more in the weeks and months ahead to help keep Americans safe and deliver much-needed vaccines and treatments to those who need them," he said.
More than 5,100 have died and 14,098 have been infected during this Ebola outbreak, according to the latest figures from WHO.