The U.S. Geological Survey (USGS) said that an "experimental explosion" registering as a magnitude 3.9 earthquake took place off the coast of Florida on Friday, near a site of a similar blast caused by a Navy test last month.
On June 18, Navy aircraft carrier USS Gerald R. Ford conducted the first of a series of "Full Ship Shock Trials," events that are intended to test whether ships are ready to withstand battle conditions. USGS reported that the June test also registered at magnitude 3.9. It is not yet clear whether Friday's explosion was the next in the series of tests.
Newsweek reached out to the Navy for comment.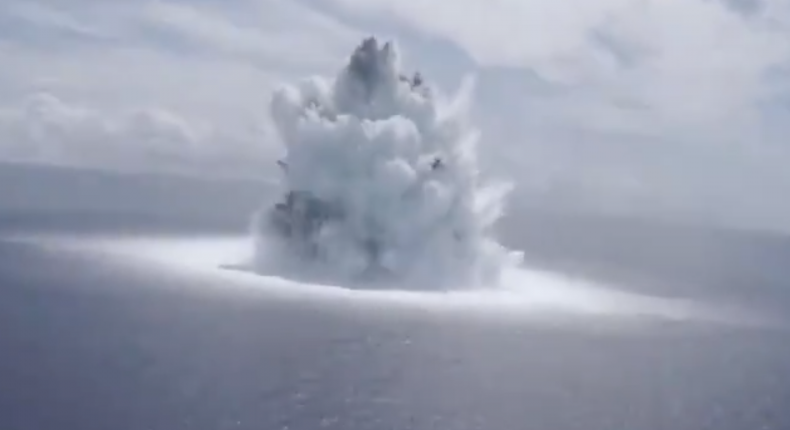 The Navy placed a 40,000-pound bomb into the Atlantic Ocean and detonated with the aircraft carrier nearby during the June test. The official USS Gerald R. Ford Twitter account posted footage of the test which had been viewed over 1.4 million times as of Friday.
Although full ship shock tests have historically been conducted by the Navy with some frequency, the current trials are the first since 2016 and the first for a nuclear-powered aircraft carrier in 34 years. It was the first of three scheduled explosions. The explosives are placed closer to the ship with each new test.
Navy Lt. Cmdr. Desiree Frame, spokeswoman for the Ford, told Defense News that the first test had been timed "within a narrow schedule that complies with environmental mitigation requirements, respecting known migration patterns of marine life in the test area."
Crew were aboard the ship during the test to respond to any damage that may have been caused by the explosion, such as leaks in the hull or fires. The Navy said that the tests had been "successfully completed" but did not release information about what damage, if any, had been sustained.
Tom Douglas, who is the Navy's environmental impact director for the shock trials, told Military.Com that planning for the trials had started in 2016 because taking care to avoid killing marine wildlife with the explosions "takes quite a bit of effort." The location off the coast of Florida was specifically chosen to minimize negative impacts, as was the decision to time the explosions during June and July.
"We have gone back and looked at the past 50 years of wind and weather data to determine that June and July are the most optimum time of the year," Douglas said.
The Ford is the largest aircraft carrier in the world. It was delivered to the Navy in May 2017 and, after a maintenance period of six months following the completion of the shock tests, could leave for its first deployment as early as next year.