Joe Biden's Plan to Extend Russia Nuclear Treaty Praised by Arms Control Groups
Experts and arms control groups have reacted with praise to reports that President Joe Biden was set to soon extend a nuclear weapons agreement with Russia.
Citing senior U.S. officials, The Washington Post, CNN and Politico reported Thursday that Biden was planning to renew the New Strategic Arms Reduction Treaty (New START), the last remaining nuclear non-proliferation agreement between Washington and Moscow, before a Feb. 5 deadline that would allow the accord to expire.
The move limits the number of strategic warheads and launchers in the arsenals of the world's two top nuclear powers, and allows them to inspect one another's stockpiles. The news was later confirmed by new White House Press Secretary Jen Psaki.
"The United States intends to seek a five-year extension of new START as the treaty permits," Psaki said during a press conference.
Biden is reportedly opting for an immediate and unconditional five-year extension, echoing offers made by the Russian side as recently as Wednesday, earning the new administration applause from a number of analysts and activists.
"Extending New START for the full five years allowed under the terms of the agreement is the right decision," John Tierney, executive director of the Center for Arms Control and Non-Proliferation, said in a statement sent to Newsweek.
The former Massachusetts lawmaker noted the historical impact of New START, the third installment of a trilogy of treaties first established in 1991, during the final months of the Soviet Union.
"New START has effectively reduced the world's two biggest nuclear arsenals and allowed for much-needed transparency between the United States and Russia," Tierney said. "Every day that New START is in force is another day we avoid the unconstrained deployment of nuclear weapons."
Tierney emphasized the strategic importance of the treaty.
"New START is critical to U.S. national security, and it is clear that the Biden administration understands that," he said. "This extension will also give the United States and Russia time to pursue further arms control agreements."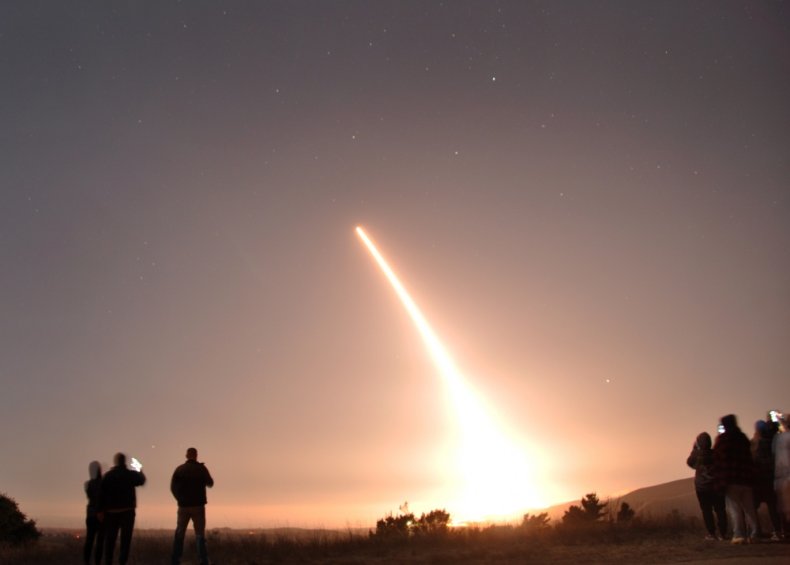 Derek Johnson, chief executive officer of the Global Zero group advocating for the elimination of nuclear weapons, called the extension of New START "a hugely consequential first move by the Biden administration."
He noted the key role the treaty plays in preventing another superpower arms race.
"The treaty is an essential guardrail against nuclear arms-racing that imposes equal limits on U.S. and Russian strategic nuclear weapons," Johnson said in comments sent to Newsweek. "Both countries are in full compliance with the agreement, and its intrusive verification provisions ensure neither side can cheat without detection."
He said his organization "urges Moscow to immediately accept this clean, unconditional offer of extension" of a treaty that "has a proven record of success and serves the national security interests of both countries — and the world."
He said abandoning the treaty could have dire consequences.
"Allowing the agreement to expire risks unleashing a full-blown nuclear arms race that exposes the whole world to an intolerable level of risk," Johnson said.
The Trump administration had also emphasized the importance of nuclear arms control measures in public messaging, but felt New START was too inadequate in scope to be extended without additional negotiations. Representatives from Washington and Moscow held successive rounds of talks, but they were plagued with false starts, and a final agreement was never reached.
Trump administration officials had argued that a new deal involving modernized weapons platforms and additional countries, especially China, would have to be reached. Beijing roundly rejected any participation due to its far smaller nuclear arsenal.
Defense Priorities think tank fellow Daniel DePetris called this strategy "dead on arrival" in a statement sent to Newsweek.
"China, with an arsenal a fraction of the size of the U.S. and Russia, was never interested in such an arrangement. Russia was highly unlikely to negotiate a stronger agreement without the U.S. putting missile defense systems on the table," he said. "Keeping New START avoids these pitfalls and gives the U.S. and Russia more time to explore other possibilities."
The U.S.-Russia stalemate ultimately outlasted the Trump administration, leaving Biden with about two weeks to take action before the collapse of New START. The agreement represents the last nuclear treaty left between the two nations after the Trump administration's abandonment of the Intermediate-range Nuclear Forces (INF) Treaty in August 2019, and the earlier U.S. withdrawal of from Anti-Ballistic Missile Treaty in 2002 under the George W. Bush administration.
Marshall Billingslea, the Trump administration's State Department arms control envoy, offered a rebuke on social media of Biden's anticipated decision.
"Hope this is not true. If so, shows stunning lack of negotiating skill," Billingslea tweeted, still using the official "@USArmsControl" account. "Took just 24 hours for Biden team to squander most significant leverage we have over Russia."
He offered an alternative based on a discussion point in the last U.S.-Russia talks, a short-term renewal with added conditions.
"A far better approach would be a short, 6 month extension conditioned on finalizing the warhead cap to which Putin agreed," Billingslea tweeted. "That would stop the massive Russian build-up of "non-strategic" warheads & also keep the world focused on China. Instead we are getting nothing for extending."
But Paul Kawika Martin, senior director for policy and political affairs at Peace Action, criticized the Trump administration for having held out so long, letting bilateral arms control tensions get to this point, and hailed the move by the incoming president.
"After years of Trump putting Americans in harm's way by decimating international agreements, we can all breathe a bit easier now that he cannot start a nuclear war within minutes, and the Biden-Harris administration will extend the New START treaty by five years," Martin said in a statement sent to Newsweek. "The treaty caps the number of deployed nuclear weapons between the two countries with the largest stockpiles: The United States and Russia."
He also noted that the reports of Biden's upcoming announcement come on the eve of a landmark United Nations treaty banning nuclear weapons coming into effect, and the possible ramifications for following the inflated U.S. nuclear weapons budget advocated by the Trump administration.
"A day before tens of thousands celebrate in hundreds of events around the world the entry into force of the Treaty on the Prohibition of Nuclear Weapons," Martin said, "we all wonder will the new administration's budget reduce Trump's skyrocketing nuclear weapons spending at amounts that could fund several Departments of State?"
In comments sent to Newsweek by Moscow's embassy in Washington, Russian ambassador to the U.S. Anatoly Antonov also criticized the Trump administration's approach to New START negotiations, telling the state-run Rossiya Segodnya outlet that U.S. officials "turned the only existing Russian-US agreement on nuclear arms control into a political bargaining tool."
He blamed the Trump administration for the failure of the U.S.-Russia talks.
"Unsurprisingly, this position ultimately led the bilateral consultations on the fate of the New START treaty to a dead end," Antonov said. "This is in spite of us offering to meet Washington halfway on a range of issues. We hope that the incoming administration will proceed from a more sound and realistic standpoint."
The Russian envoy emphasized that his country "is open for a substantive dialogue on New START," adding that "there are still chances of reaching this agreement before the treaty expires on 5 February 2021."
Using the same language being employed by other world leaders commenting on their relationship with the U.S., Antonov said he is waiting to see what the Biden administration does.
"The ball is in Washington's court," he said. "We are waiting for constructive proposals."
The securing of arms control measures was described as a mutual U.S-Russia priority by former Russian Foreign Minister Igor Ivanov, who now serves as president of the Russian International Affairs Council.
"Extending the New START Treaty without any additional conditions meets the security interests of both sides," Ivanov said in a newly-published article shared with Newsweek. "All that is needed for this is the political will of Moscow and Washington."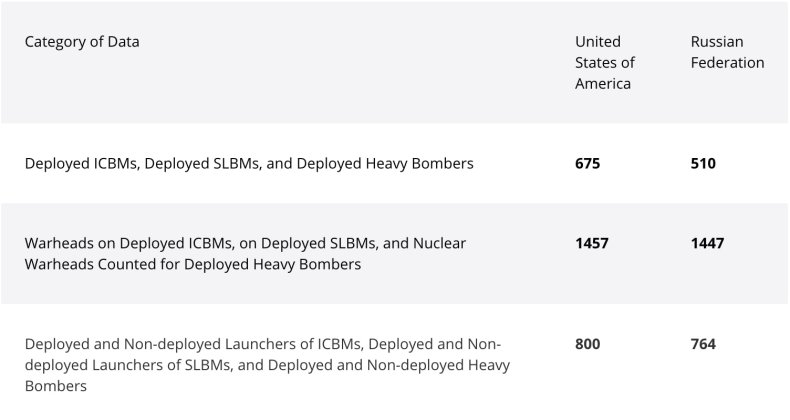 Biden's decision may mark his first major foreign policy move, as well as set a cooperative tone with a country he has deeply criticized. The former vice president has accused Moscow of colluding with Trump in an attempt to influence the 2016 election in his favor, and of suppressing political dissent at home.
Psaki framed Biden's decision on New START as part of an effort to counter, no cooperate with Moscow.
"The president has long been clear that the New START treaty is in the national security interest of the United States," Psaki said, "and this extension makes even more sense when the relationship with Russia is adversarial as it is at this time."
The Defense Department later backed up Biden's decision in a statement.
"Russia's compliance with the treaty has served our national security interests well, and Americans are much safer with New START intact and extended," Chief Pentagon spokesperson John Kirby said. "We cannot afford to lose New START's intrusive inspection and notification tools. Failing to swiftly extend New START would weaken America's understanding of Russia's long-range nuclear forces."
Kirby addressed both hopes and reservations regarding the country's relationship with Russia.
"Just as we engage Russia in ways that advance American interests," Kirby said, "we in the Department will remain clear-eyed about the challenges Russia poses and committed to defending the nation against their reckless and adversarial actions."
Andrew Albertson, executive director of Foreign Policy for America think tank, agreed that renewing the treaty was the right move, whether Russia was a friend or foe.
"By moving quickly, President Biden erased any doubt about his intent to renew America's diplomatic engagement with our adversaries and allies alike, and to lean more on negotiations and less on our military to solve problems internationally," Albertson said. "It's clearly in the national security interest of the United States to extend this treaty, and we welcome the administration's pursuit of additional arms control negotiations."
Russia, for its part, is still seeking to improve ties between the two longtime rivals, not just on arms control but on a range of issues that divide them.
"We hope that the team that has come to the White House will adhere to a more balanced course," Russian Foreign Ministry spokesperson Maria Zakharova said Thursday during a press briefing, "without aggravating the already excessively confrontational—not through our fault—Russian-American relations."