Experts Slam Trump for 'Halting Legal Immigration' With Planned Closure of Overseas Immigration Offices
Experts have criticized a plan by President Donald Trump's administration to close overseas immigration offices currently assisting foreigners applying for visas to come to the United States legally.
Citing unidentified individuals familiar with the matter, The New York Times and Politico reported Tuesday that the director of U.S. Citizenship and Immigration Services (USCIS), L. Francis Cissna told senior staff this week that the agency's international division would close down by the end of the 2019. Currently, the division operates in more than 20 countries, serving as an important support system for individuals to legally apply to travel to the U.S.
"Change can be difficult and can cause consternation," Cissna wrote in a memo to senior staff, Reuters reported. But she added that the agency is committed to ensuring "as smooth a transition as possible."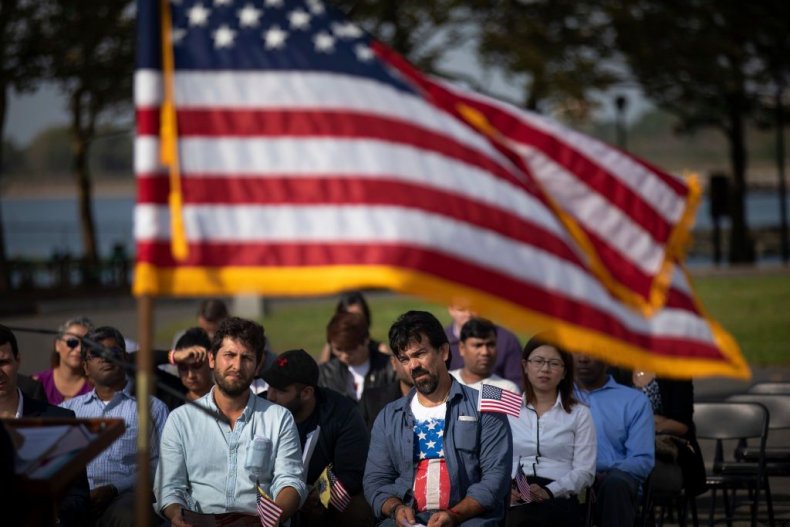 Jessica Collins, a spokesperson for the agency, downplayed the news in comments to the Times, suggesting the agency was still in "preliminary discussions" about the closures. Other staff members disputed that characterization.
"The goal of any such shift would be to maximize USCIS resources that could then be reallocated, in part, to backlog reduction efforts," Collins said.
Experts argued the changes would only make legal immigration more difficult, something the Trump administration has already been accused of doing.
"Closing these immigration offices abroad is just another example of the Trump Administration's hypocrisy. After complaining that migrants need to 'come in legally,' President Trump is eliminating yet another [avenue] for people to apply for entry and to unite with their family members," Catherine Tactaquin, the executive director for the National Network for Immigrant and Refugee Rights told Newsweek. "We see this as yet another attempt to shift funds toward border enforcement and controls—rather than using the resources to efficiently manage immigration requests."
Margaret Stock, a former U.S. Army lieutenant colonel who currently works as an immigration attorney, told The Times that this "is another instance of the Trump administration halting legal immigration by denying people the opportunity to file for immigration benefits in the most expedient manner."
Barbara Strack, who retired last year as the chief of the Refugee Affairs Division at the agency, also criticized the reported decision. "It will be a great blow to the quality and integrity of the legal immigration system," she told the newspaper, saying it would "throw that system into chaos around the world."
Mark Hetfield, president of the U.S. refugee assistance organization HIAS pointed out that the decision would actually contradict Trump's promise to make legal immigration easier.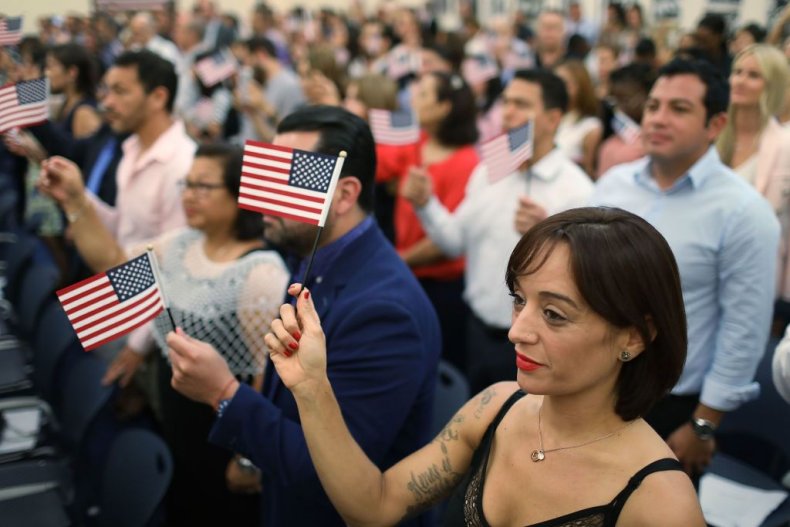 "It is not consistent with what President Trump said in the State of the Union, which is that he wants immigrants to come here, that he wants them to come here legally," Hetfield told Reuters. "This is another example of the administration pulling up the drawbridge."
In his February national address, the president said, "Legal immigrants enrich our Nation and strengthen our society in countless ways. I want people to come into our country, but they have to come in legally."
But Trump's hard-line policies have already been correlated with an overall slump in legal immigration to the U.S., Politico reported in December. State Department data reviewed by the news site showed that visa issuances have declined since Trump took office in 2017. Visas for temporary stays dropped by 13 percent last year compared to Obama's final year as president. And immigrant visas, which allow individuals to later apply for green cards, dropped by 14 percent. The process to apply for H-1B visas for skilled foreign workers has also reportedly become more complicated and time consuming.
Many of those working on behalf of immigrants believe closing the USCIS offices will only contribute to these problems.
"There seems to be no expressed concern that closing these offices can mean significant delays and long term separation of families for U.S. citizens, permanent residents, refugees and others needing access to these offices abroad," Tactaquin told Newsweek.