Experts Urge Early Holiday Shopping—What to Know About Return Policies at Major Retailers
American consumers are being advised to do their holiday shopping early because of concerns about limited inventory, but return policies aren't always conducive to advanced planning.
Pandemic-induced disruptions to supply chains and labor shortages are driving up the prices of goods and leaving store shelves bare as deliveries are delayed. With experts anticipating the problem will worsen before it gets better, Americans are being advised to purchase holiday gifts before Halloween because it's possible they won't be available come Black Friday, the common start date for holiday shopping.
Some major retailers, including Amazon and Macy's have extended their return policies to accommodate for a longer holiday shopping season. In 2019, both retailers allowed for people to return most items that were purchased after November 1 until January 31. Amid the pandemic, Macy's and Amazon extended their January 31 return deadline to include purchases made after October 1.
Amazon once again is offering returns for many items purchased after October 1, but Macy's policy requires the purchases to be made after October 5. There are always exceptions to policies so customers should verify the return policy before making a purchase.
Most items at Target have a 90-day return window, so consumers will have a few weeks after Christmas to decide if they want to keep or return an item even if it's purchased in October. However, electronics and entertainment items have a 30-day window, Apple products have a 15-day refund period and mobile phone must be returned within 14 days. To help accommodate consumers shopping for the holiday season, the refund period on those items will begin on December 26.
Walmart also has a 90-day return window for many items and its holiday policy is to not kick-start the 90-day period until December 26 for items purchased after November 1.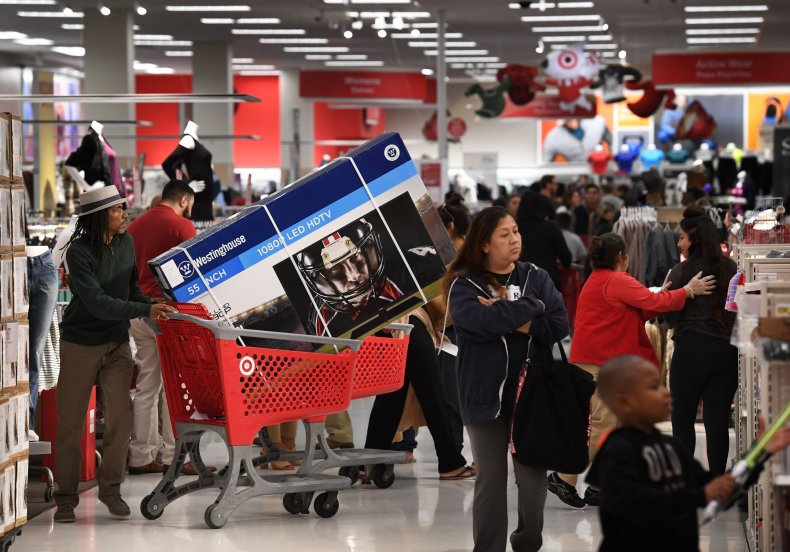 Backlogs at American ports are helping fuel shortages of products and California's ports are seeing pent up imports that need to be unloaded while East Coast ports have faced record high levels of imports. It's been a point of criticism for President Joe Biden's administration and on Wednesday, he announced the Port of Los Angeles would move to 24/7 operations, the first of multiple "key steps" in addressing supply chain disruptions.
Biden also announced he spoke with FedEx, UPS and other private companies about ramping up operations to help move goods from ports to shelves faster.
While products across the board are being impacted by supply chain disruptions, experts believe electronics could take the biggest hit because of a semiconductor chip shortage that's required for many video games consoles.
Buying a video game now or other electronics could mean securing it for the holiday season, but as of Friday, Best Buy's return policy is still only 15 days for most members. That may change, though, because last year, Best Buy implemented a holiday return policy that allowed purchases made after October 13 to be returned through January 16.
GameStop also hasn't updated its return policy to account for early holiday shopping, yet. Currently, GameStop offers a 30-day return policy, but last year they allowed customers to return products bought between November 1 and December 24 until January 15.
Newsweek reached out to BestBuy and GameStop for comment but did not receive a response in time for publication.
Costco, Dick's Sporting Goods and Bed, Bath & Beyond all have standard 90-day return policies for many products, making early holiday shopping not a major issue. Kohl's offers a standard return policy of 180 days and Sam's Club has no limit on returns for many items, but electronics have a 90-day window.
Warnings about potential problems with items arriving in time for the holiday season aren't new and in September, UPS president Scott Price told AFP he believed disruptions in the supply chain wouldn't end this year.
"I half-jokingly tell people 'Order your Christmas presents now because otherwise on Christmas day, there may just be a picture of something that's not coming until February or March,'" Price said.
Moving imports quickly from ships is only part of the problem and Moody's Analytics predicted in a Monday report the "weakest link" in resolving supply chain disruptions would be a shortage of truck drivers. While Moody's predicted "dark clouds" ahead, others have taken a more optimistic view of the situation and JPMorgan Chase CEO Jamie Dimon thinks America is in the "worst part of it" and there won't be an issue "next year at all."
Along with returns, some companies offer price matches on products. So, if a person purchases a gift early and it goes on sale, they may be able to get a refund to account for the lower price. Those policies vary by store, though, so consumers aren't guaranteed a refund if the price of the product drops.