Experts Warn of Inauguration Threat to Soft Targets, 'Fully Expect Violence'
With President-elect Joe Biden's Inauguration looming on Jan. 20 amid one of the most serious political crises in the country's modern history, experts expressed concern to Newsweek that the event itself may not necessarily be the primary focus for President Donald Trump loyalists seeking to disrupt the transition of power by attacking more vulnerable targets around the nation.
"Soft targets, crowded places, and critical infrastructure remain an attractive target to domestic terrorists and to those who wish to embarrass the government," Brian Harrell, former Assistant Secretary for Infrastructure Protection at the Department of Homeland Security, told Newsweek.
Five people died and dozens more were injured when pro-Trump protesters stormed the Capitol in an attempt to overturn the certfication of Biden's electoral victory on Wednesday. Lawmakers managed to finish the vote following scenes of violence and mayhem, and now whispers of further turmoil surround Biden's impending ceremony to become president of the United States.
As the date approaches, former officials with expertise in tackling domestic terrorism offered words of warning and caution.
"While we should be celebrating the peaceful transition of power," Harrell said, "vigilance is critical during this now heightened period of concern."
Harrell, a Trump appointee who resigned last August after serving nearly two years at the newly created post of the Cybersecurity and Infrastructure Security Agency, said law enforcement likely learned from the mistakes that made the Capitol siege possible.
"Given the significant security failures of Jan. 6th, law enforcement will be ready this time for extremists and bad actors to return," Harrell said. "Layers of security, standoff distancing, and 'surge' teams will be used to minimize violence near the inaugural events."
But even with these measures in place, he predicted bloodshed.
"I fully expect violence in the streets," Harrell told Newsweek. "The biggest concerns will be the introduction of weapons, mob violence outside of the secure perimeter, and the deliberate targeting of critical infrastructure (electric substations, etc). However, as with any NSSE [National Special Security Event] event in D.C., the Park Service, Secret Service, DHS, and the Capitol Police will have a significant security presence 'inside' the event to keep the peace. "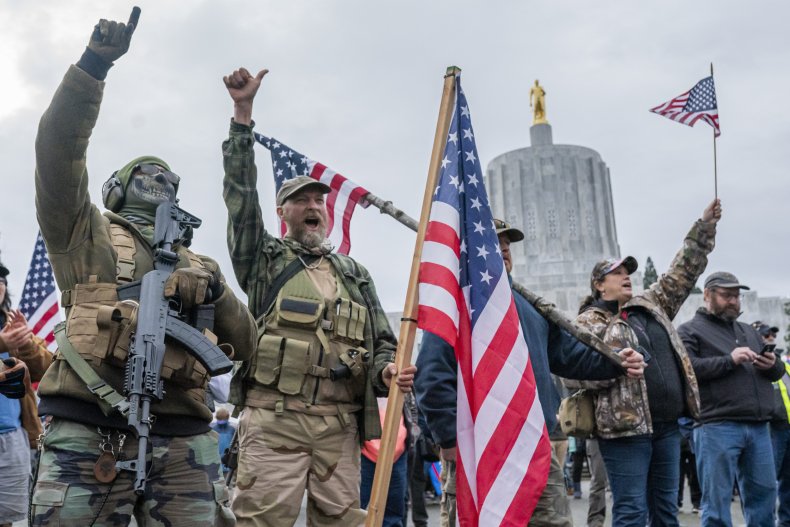 The Department of Homeland Security initially declared a National Special Security Event, or NSSE, between Jan. 19 and 21, tasking the Secret Service with running security, in collaboration with other federal entities on high alert. The period was revised to begin Wednesday, January 13, after a public plea from D.C. Mayor Muriel Bowser.
Bowser is among the public officials who have called for even more stringent measures, including the extensions of the NSSE, a pre-disaster declaration and daily intelligence briefings.
Reached for comment, the Department of Homeland Security referred Newsweek to a statement issued Monday by Acting Homeland Security Chad Wolf, who said he extended the NSSE in "light of events of the past week and the evolving security landscape leading up to the inauguration and at the recommendation of Secret Service Director James Murray."
"Our federal, state, and local partners will continue to coordinate their plans and position resources for this important event," Wolf said.
However, shortly after the statement was released, Wolf—who never received congressional confirmation since taking over in a November 2019 shuffle recently deemed unlawful by a federal judge in California—announced his resignation.
"Unfortunately, this action is warranted by recent events, including the ongoing and meritless court rulings regarding the validity of my authority as Acting Secretary," Wolf wrote in a statement. "These events and concerns increasingly serve to divert attention and resources away from the important work of the Department in this critical time of a transition of power."
Pete Gaynor, administrator of the Federal Emergency Management Agency, is set to assume Wolf's position. He is a certified emergency manager and a 26-year veteran of the U.S. Marine Corps who coordinated combat operations in Iraq and retired with the rank of lieutenant colonel.
Gaynor will be the sixth person to hold the position of secretary (or acting secretary) in the four years of the Trump administration.
As for the FBI, a bureau of the Justice Department, Russel L. Honoré, a retired Army lieutenant general who served as commander for Joint Task Force Katrina in the wake of the 2005 hurricane and on the U.S. Army Joint Staff in Washington D.C., is concerned that willful ignorance of a growing far-right, white nationalist threat has left federal authorities ill-equipped to act.
"The FBI's hands are pretty much tied when it comes to surveilling white terrorists, because they have not been declared terrorists," Honoré told Newsweek. "And they're American citizens, which the FBI is supposed to honor, but unless they do something bad, they do not have a routine mission to monitor those groups."
He argued that the storming of the Capitol was only possible because Capitol Police leadership was "complicit" in allowing the crowd to breach the iconic legislative building.
Honoré's list of concerns for the Inauguration included pipe bombs and lone snipers, but he's especially convinced of the vulnerability of critical infrastructure points outside the security zone, such as subways and power stations. If they were brazen enough to break into the Capitol, he said "they could go after anything."
As for violence, he echoed Harrell in expecting trouble, and said law enforcement must be prepared.
"If you're a police chief, if you're an FBI, if you are ATF, if you're the goddamn Army, you've gotta anticipate violence," Honoré said. "You can't wait till somebody puts it on a neon light to say, 'Oh, they might do something bad.' No, that's what you get paid for, goddamn it."
The FBI has tried to assure the public that it is actively addressing the situation.
"While our standard practice is to not comment on specific intelligence products, the FBI is supporting our state, local, and federal law enforcement partners with maintaining public safety in the communities we serve," an FBI spokesperson told Newsweek. "Our efforts are focused on identifying, investigating, and disrupting individuals that are inciting violence and engaging in criminal activity. As we do in the normal course of business, we are gathering information to identify any potential threats and are sharing that information with our partners. "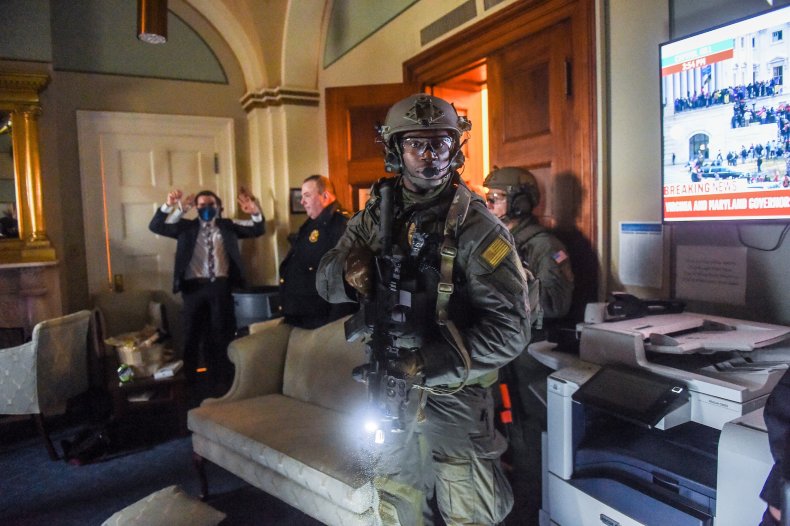 The bureau emphasized that it was differentiating between peaceful demonstrations and malign plots.
"The FBI respects the rights of individuals to peacefully exercise their First Amendment rights," the FBI spokesperson said. "Our focus is not on peaceful protesters, but on those threatening their safety and the safety of other citizens with violence and destruction of property."
CNN reported Monday on a FBI bulletin that indicated intelligence of armed protests being planned at the capitol buildings of all 50 states as well as Washington, D.C. The report also noted potential threats against Biden, Vice President Mike Pence and House Speaker Nancy Pelosi.
Even with Trump's silence since being banned on major social media platforms, chatter involving militant armed and determined actors continues to create a major security issue as the country attempts to navigate the transition between administrations.
"We got people now that would be willing to do anything to overthrow the government of the United States," Honoré told Newsweek, "and we got to start treating them like enemies."
Borrowing a controversial term used by Trump to describe countries that were a source of immigration he deemed undesirable, Honoré sardonically spells out the grave situation the nation faces over the coming nine days, and likely far longer.
"I can't comment on foreign countries because we're in that club now," Honoré said. "We're in the shithole club."