50 Years Ago a Whale Exploded in Oregon, Now There's Exploding Whale Park
Residents of a coastal city in Oregon have voted to commemorate eight tons of exploded rotten flesh with a new park: Exploding Whale Memorial Park.
The dead sperm whale that washed ashore near the coastal city of Florence, Oregon in November 1970 was starting to smell after more than a week, but the Oregon Department of Highways determined it was too large to bury. Instead they blew it up, using 20 cases of dynamite.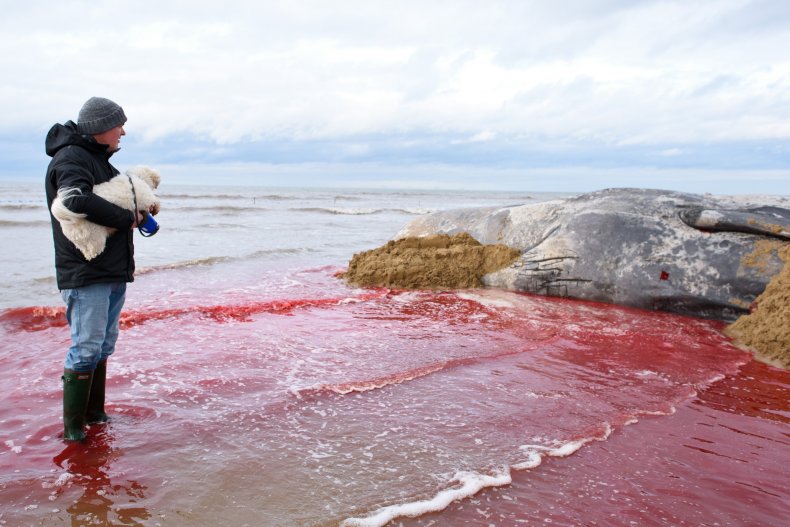 More than a hundred people showed up to witness the explosion, with officials hopeful that the dynamited whale would disintegrate into pieces small enough to be cleaned up by sea gulls. Instead, the whale blew apart in massive, stinking chunks—one large enough to crush local resident Walter Umenhofer's parked 1969 Oldsmobile nearby.
"When they touched that sucker off, let me tell you: that thing went up and it was the biggest mushroom cloud you've ever seen," Umenhofer recalled in an ABC7 news segment commemorating the event. "It was red and white and black and it was nothing but guts and blood and gunk."
Wind blew a mist of red gore over witnesses, who began to run away from the falling chunks of blubber.
50 years later, a new park will memorialize the event after opening under a temporary name last May. Florence voters opted for the name Exploding Whale Memorial Park in an online survey. 439 out of 856 voters, according to The New York Times, chose the name Exploding Whale Memorial Park over other candidates like Bridge View Park and Siuslaw River View Park.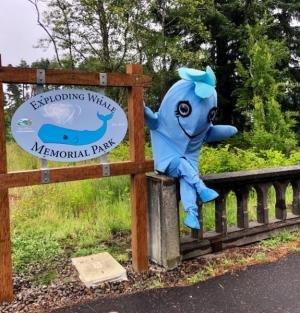 Exploding Whale Memorial Park mascot "Flo the Whale," making an appearance next to the new park's sign.
Megan Messmer/City of Florence
Exploding Whale Memorial Park, a name that will never be boring to type, has more to offer than a long-dissipated stink, with views of the Siuslaw River, its bridge and a sand dune habitat on the river's southern banks. Funded by two grants, the new park includes picnic tables, a shelter, bike racks and hiking trails, with river access for canoes and kayaks.
The park was originally set to have its grand opening during the city's Rhododendron Festival—the 2020 theme was "Blast from the Past"—but the event was cancelled in light of the ongoing coronavirus pandemic. But the destruction of the sperm whale's corporeal form will be memorialized in more than just name: the park's new sign features a whale, intact, spouting water in the shape of a heart.
"It's not gory," Florence's city project manager Megan Messmer told The Times. "It's a cute whale."