Exploring Extracurriculars with Zero Expectations. Except Perhaps, Joy | Opinion
As much as a piano can be an impulse buy, ours certainly was. Over a decade ago, I was out for a walk in the neighborhood when I spied a sign for a garage sale. The owners of the home had lived there for over 50 years—now all of their items were for sale, including an elderly, brown piano still nestled in their living room's shag carpeting.
Standing there, it occurred to me that my then 6-year-old daughter had mentioned wanting to learn to play. Within an hour, my kind husband and a few friends were hefting our several hundred pound impulse buy into the back of a borrowed truck.
The next day my husband's forearms were black and blue and my daughter was gleefully pounding away on the piano keys, accompanied by her enthusiastic 3-year-old brother.
Several years of piano instruction followed—lessons with a strict teacher, both children learning quickly and performing at recitals, smiles pasted on their faces, excited mostly I think for the cookies after the finale.
They did learn to read music, to hate practicing and to argue convincingly about all of it. When they wanted to quit, my husband and I anguished over the decision: What sort of parents would we be if we allowed them to quit something they were relatively good at, that might make them better, more well-rounded people with interests and passions?
Yet, we did.
My daughter, who in addition to piano, had also tried ballet momentarily at age 6 or 7, came to me at 12 with a burning question: Was it too late to try dance again?
I said, of course it's not too late, secretly wondering if it was. She started off in the level one class, but gamely made her way into the more advanced offerings and eventually onto a contemporary dance team at 16.
My son, who had been playing soccer since he was 4, at 13 was playing on a competitive team, as well as performing in musical theater at summer camp and in school productions.
Cue, the pandemic.
No dance class. No soccer. No theater. Sometime in March or April, my son found his back way to the piano and taught himself to play again. At first, he would play for only a few minutes. By summertime—three months into quarantine—he installed himself on the piano bench for three or four hours a day. While it wasn't always calming for the rest of the family, playing seemed a salve to him, my extroverted boy who'd been forced to trade a stimulating social life of middle school, soccer and theater for six hours a day of Zoom school.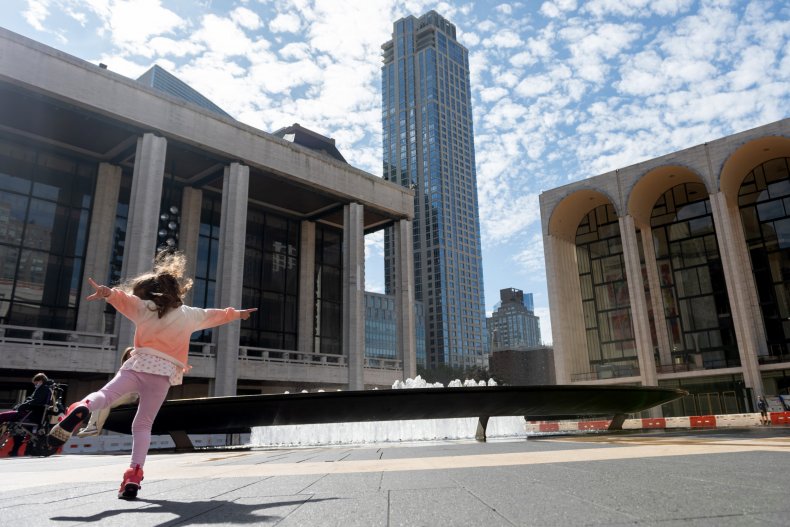 Almost a year later, even now that his soccer team has resumed socially distant play, he is still drawn to the keys each day and has become a soulful, beautiful pianist. I have had nothing to do with this. In fact, when I offer up lessons to keep growing his talent, he shoos me away. The piano is clearly his alone; he has no desire to "turn it into something big" or "consider his future." Yet—and maybe because of this—he continues to play with a look on his face that reminds me of when he was a little boy coming off the soccer field: pure joy.
My daughter was able to take her dance classes on Zoom soon after quarantine began—six hours a week. Juggling a rigorous academic load, managing her junior year from her bedroom, I worried dance might be too much. Three nights a week, she would log into her dance studio from our front room, pulling the curtains tight. I could hear the music, the instructor, her feet rocketing from one end of the room to the other. Most nights I didn't bother her, but I was concerned.
Eventually I suggested she take a break from dance, have some downtime. She rebuffed my suggestion; she would not give up dance, not for anything. One night, I peeked into her dance room during class to see what kept her coming back. I did not recognize the woman behind the curtain, this dancer: face radiant, neck extended, hands perfectly held, strong legs gracefully carrying her across our wood floors. Again, I had nothing to do with this. Dance belongs only to her. Even on the most challenging nights, when she needs to ice her knee, study for a test, figure out a math problem, she will still somehow dance—if only when she is brushing her teeth or passing through the living room.
When I think back to when we first brought home the piano, I wonder about the family who had it in their living room first, whether their children had played and quit and played again. Whether their children had found things that have become what piano and dance have become to mine: alternately sources of joy and comfort.
Maybe they would have told me what I tell parents of young children now: Do not worry that you are wasting your money, your time, your energy by signing your kids up for an activity they might only be interested in for a few weeks or months. And know—if and when they want to stop—they are not quitting, they are merely luckily exploring everything, which is fine and good.
It's what all children deserve the opportunity to do; it's why extracurricular equity programs like these are shining a light on the vital need to close the gap.
More than anything, if you are able to help open the doors to music, art, sports, theater for your children, let them walk in and out of those doors with no expectations, hoping they will discover a passion that speaks to them, that grounds them, that helps make the world make sense.
And, if you happen upon a garage sale one day with a bargain used piano, for the love of all that is good, trust your impulse and buy it—but perhaps locate a piano mover first.
Geralyn Broder Murray is a writer living in Northern California. She is the author/illustrator of several books for new parents.
The views expressed in this article are the writer's own. Her Twitter is @GeralynBMurray.