Explosion Knocks Over Firefighters Battling Massive Buffalo Fire
An explosion during a fire knocked over fire crews battling the flames in Buffalo, New York, on Wednesday.
The four-alarm fire broke out on the 700 block of Main Street, the city's theater district, at around 10:40 a.m., according to emergency officials. Forty pieces of equipment were used to fight the blaze, a city spokesperson told local TV station WKBW, adding that there was a partial collapse of the building.
Large clouds of smoke were seen billowing from the top of the building. Ash was reportedly floating above the downtown area as the building burned.
Video (below) of the flames shows an explosion that threw building debris down where crews were working, knocking at least one firefighter to the ground.
One firefighter was reported missing after the fire broke out. He was reportedly inside the building, and hours later he was found dead, at around 2 p.m.
"Unfortunately he did not survive the collapse of the structure," Buffalo Fire Department Engine 4 announced in a Facebook post.
Buffalo Mayor Byron Brown said it was a "heartbreaking day" for his city.
"Early this morning, a 37-year-old Buffalo firefighter showed his bravery and commitment to fire service by putting on his uniform and carrying out his sworn duty to protect and serve the residents of this city," he told Newsweek in a statement.
"Today, he lost his life protecting others. I share my deepest sympathies with everyone who knew and loved him. I ask all city residents to keep his family, and the entire Buffalo Fire Department, in your prayers during this difficult time," Brown said.
The mayor said he had directed all city flags to fly at half-staff beginning at 3:30 p.m. to honor the memory of the deceased firefighter.
At a press briefing, Brown said the city will not release his name. Both Brown and Buffalo Fire Commissioner William Renaldo have visited with his family.
Local officials shared their condolences, including Representative Brian Higgins, who represents New York's 26th Congressional District, which includes parts of Erie and Niagara counties.
Renaldo said the cause of the fire is still under investigation. Early reports suggested that the building was undergoing renovations when the fire broke out.
Reportedly, crews were working on the exterior of the building using blowtorches, Renaldo said. He added that there was a considerable amount of "fuel" inside the building, including paper productions and other incendiary material, that led to the fire being as large as it was.
Renaldo added that the explosion was likely a back draft, which he said happens when oxygen is introduced abruptly to a smoldering fire and air gets sucked into a building and is blown back out.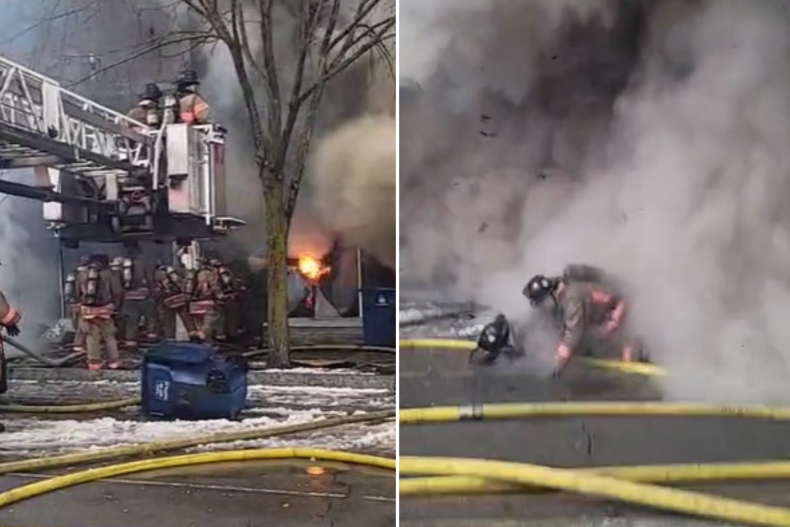 Renaldo told reporters earlier that there was a Mayday call shortly after crews entered the building ahead of the interior structural collapse. Officials do not yet know exactly how the firefighter died, but Renaldo said he was inside the building near the area of collapse and was unable to escape with other firefighters.
No other injuries were reported, and no civilians were inside the building at the time of the fire.
The building will undergo demolition soon because it is very unstable, the mayor said. Renaldo said that could happen as early as this evening or early Thursday morning.
New York Governor Kathy Hochul said her team was in communication with local emergency officials as crews worked to put out the fire.
"I am heartbroken by this devastating tragedy in Buffalo," she said in a tweet. "My prayers are with the loved ones of the brave fallen firefighter and the entire Buffalo Fire Department. I have spoken with Mayor Brown to offer any support that is needed."
Update, 3/1/2023, 4:05 p.m. ET: This story was updated with a statement from Mayor Byron Brown.
Update, 3/1/2023, 4:29 p.m. ET: This story was updated with comments from Mayor Byron Brown, Fire Commissioner William Renaldo and Governor Kathy Hochul.