Explosion Tears Through Lebanon's Capital, Where Residents Fear War
A massive blast tore through the Lebanese capital Tuesday, a city where residents already beset by an economic crisis amid a global pandemic also fear another war was imminent as tensions mount along the disputed border Israel and conflicting narratives build as to what caused the deadly explosion.
Initial reports by Lebanon's official National News Agency indicated that a series of up to two explosions, at least one of which citizens told Newsweek was heard from as far away as the southern cities Sidon, Tyre and Nabatieh, was the result of a fire at the wheat silos in Beirut's downtown port. The cause of the blast, which Lebanese health officials say has killed at least 73 people, remains unclear and other local media outlets have suggested the initial cause may have been the detonation of a fireworks factory or a facility storing explosive chemicals such as some form of nitrate.
One resident walking near the suburb of Ain el-Rammaneh was so shaken by the blast, he compared it to painful memories of the 2006 war, when Israel staged air raids. He said he couldn't explain what just happened but feared for the near future.
"I'm really scared this is the start of something much worse," he told Newsweek.
Another Beirut resident caught up in the chaos said it was "worse than 2006."
Hilal Khashan, a professor of political science and public administration at the American University of Beirut, cast suspicion on the incident, which he also said may signal more difficult times to come.
"I do not believe the explosion that shook the coast from Beirut to the South, resulted from an industrial mishap. I suspect an Israeli attack that targeted a Hezbollah weapons depot at the harbor," he added. "This explosion heralds ominous developments."
A senior Pentagon official told Newsweek that there were "no indications of a strike at this time," explaining that "the explosion's characteristics indicate it was an internal explosion, not an external one." Instead, "Initial reports are a fireworks explosion initially but secondary due to chemical storage and grain silos," the official said.
Doug London, a retired CIA operations officer and a non-resident fellow at the Middle East Institute, told Newsweek that "there's insufficient detail on which to render an informed judgment but the Israelis aren't going to strike the Christian side and they do have rules on collateral damage."
Another former CIA officer that served in the region also said an Israeli bombardment appeared unlikely based on current observations of the situation but that that could change as more information came to light.
"I've watched a lot of videos and haven't heard one aircraft, and you hope that the Israelis' planning even if there was a weapons facility, would take into account the collateral damage a strike would inflict, especially with COVID and serious economic issues in Lebanon," the former officer told Newsweek.
"If this wasn't an accident, it is a serious escalation," the former officer added.
An Israeli military official told Newsweek that the organization does "not comment on reports in the foreign media." The Israeli military later "offered to send humanitarian & medical assistance to Lebanon via security and international channels."
"This is the time to transcend conflict," the statement added.
White House spokesperson Kayleigh McEnany did not immediately offer details at a press briefing Tuesday but said that U.S. officials were "tracking it closely" but President Donald Trump later described the incident as a "terrible attack" as he pledged U.S. support for Lebanon.
"It would seem like it based on the explosion. I met with some of our great generals and they just seemed to feel that it was, that this was not some sort of a manufacturing explosion type of event," Trump told reporters. "They would know better than I would, they seem to think it was an attack, it was a bomb of some kind."
In a statement sent to Newsweek, Lebanese ambassador to the United States Gabriel Issa disputed this narrative.
"As far as the Lebanese government is concerned, we have no indication thus far that this was in any way caused by a deliberate attack or bombing of any kind," Issa said. "Initial indications are of a chemical storage massive explosion and investigations are ongoing to determine the cause."
The U.S. embassy in Beirut said it was "closely following" the situation and warned of "reports of toxic gases released in the explosion so all in the area should stay indoors and wear masks if available." The top diplomats of rival nations Iran and the United States both offered their condolences in separate statements, as did numerous regional and world powers.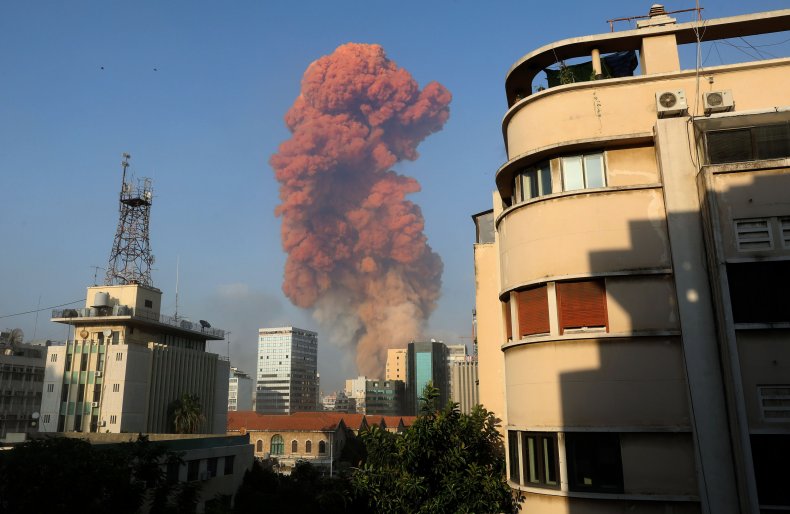 As regional tensions persist, however, the Lebanese military had just up until the time of the explosion continued to report near-daily flyovers of Israeli warplanes, some of which have staged strikes against targets associated with Iran and its partnered Lebanese Shiite Muslim movement Hezbollah in neighboring Syria. After Israel responded to a suspected infiltration attack attempt by the occupied Golan Heights.
Israeli staged retaliatory strikes near Syria's Quneitra province and Israeli Prime Minister Benjamin Netanyahu delivered a warning Tuesday to both Syria and Hezbollah.
"We will do what is necessary in order to defend ourselves," Netanyahu said. "I suggest to all of them, including Hezbollah, to consider this. These are not vain words; they have the weight of the State of Israel and the IDF behind them and this should be taken seriously."
The clashes come about a week after Israel claimed to have blocked another infiltration attempt, this one reported to be a Hezbollah operation from Lebanon. In statements sent to Newsweek, Israel and Hezbollah gave opposing views of these events late last month, with the former claiming to have successfully addressed an attempt to illicitly cross Lebanon's disputed border with Israel and the latter dismissing reports of any operation as an "anxious" attempt to invent false, imaginary victories."
The Lebanese military, however, reported shelling against the southern Lebanese village of Hebbariye, drawing local condemnation. The following day, Israeli forces again announced suspicious activity near the contested boundary with Lebanon, but claimed a false alarm, while Lebanon's state-affiliated National News Agency reported cross-border toward a site near the southern village of Kfar Kila.
This restive border, the venue for several wars and conflicts involving Israel and Hezbollah, is patrolled by a U.N. peacekeeping force known as UNIFIL. The force, whose spokesperson Andrea Teneti told Newsweek on Thursday that "calm had restored" to the border following recent tensions, put out a statement this Tuesday saying the blast left "some naval peacekeepers injured" as their ship was docked at Beirut's port.
Tensions in this part of the Middle East are rooted in decades of conflict but a recent uptick in activity has raised concerns of a new conflict that could involve Israel, Lebanon and Syria, as well as Iran potentially, as its allied Axis of Resistance operates across the region. Israel has frequently targeted positions and individuals associated with Iran in Syria and last month's incidents by the Lebanese border came about a week after a Hezbollah commander was killed by Israeli strikes near the Damascus.
Hezbollah Secretary-General Hassan Nasrallah vowed last August to retaliate against the targeting of its fighters anywhere in the Middle East after a spat of suspected Israeli strikes across Lebanon, Syria, Iraq and the Palestinian-administered Gaza Strip. He was due to deliver a speech Wednesday in which he was likely to address the recent escalations.
The blast, which prompted nationwide calls for blood donations and ambulances as officials gave still-early estimates of least 3,700 injured and potentially rising death toll, also comes at a sensitive time for the country's internal political situation. Lebanon's politics are governed by a sectarian system that occasionally devolves into fighting between factions and the National News Agency as reported the death of at least one senior party official, Nizar Najarian, secretary-general of the largely Christian Kataeb Party.
The country's 15-year civil war ended in 1990, with a Syria-backed administration taking power. This government ended with a 2005 revolution sparked by opposing mass demonstrations over the murky assassination of Prime Minister Rafik al-Hariri, an unsolved act for which four Hezbollah suspects face a verdict to be delivered Friday by a United Nations court.
This is a breaking news story. More information will be added as it becomes available.