Explosion at Oklahoma's Kerr Dam Kills Two Who Became Trapped Inside
An explosion at the Kerr Dam in Oklahoma killed two people, who were trapped for hours, a dam agency official said.
John Wiscaver, the executive vice president of the Grand River Dam Authority, told local news outlets in a statement that the explosion occurred at approximately 6 p.m. local time on Thursday.
Recovery crews were not able to recover the bodies of the two men until 4:30 a.m. on Friday. Wiscaver said the men were contractors and no Grand River Dam Authority (GRDA) employees were involved in the incident.
The names of the two men who were killed have not yet been released.
"A full investigation into the incident is underway. There are no other details related to the incident at this time," Wiscaver said. He added that the GRDA appreciates "the assistance it received from area emergency response and fire departments, including Tulsa FD's Technical Rescue team and Claremore FD's HazMat team, who helped with recovery."
There were three contractors who were doing routine core drilling at the dam when the blast occurred, Justin Alberty, a spokesman for the GRDA, told KJRH-TV. The third man, who has also not been identified, was able to make it out. He initially refused medical treatment but eventually went to an area hospital.
Alberty said the two men killed were trapped by debris and rubble about 80 feet from the top of the dam.
The spokesman also told KJRH-TV that the blast didn't cause any structural damage to the dam and that the instability was not a threat.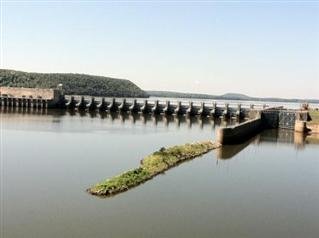 A photo of the Robert S. Kerr Lock and Dam and Reservoir. An explosion at the Kerr dam on Thursday night killed two workers who became trapped 80 feet below the top of the dam.
U.S. Army Corps of Engineers
Kerr Dam is located on Lake Hudson in Mayes County, Oklahoma. It's situated about 45 miles east of Tulsa, the state's second-largest city.
A photo shared by KTUL News early Friday morning showed rescue crews working to reach the two men who were trapped inside. Sunny Leigh, a reporter with the outlet, tweeted that at one point the medical examiner and coroner were on the scene early Friday morning.
GOP Representative Markwayne Mullin, whose congressional district includes Mayes County, extended his condolences to the families of the victims in a Twitter post on Friday morning.
"I am praying for the families of the two men who lost their lives during this difficult time. I am also grateful for the rescue efforts of the emergency crews and first responders," Mullin wrote.
Newsweek reached out to the GRDA for additional comment on the explosion and ongoing investigation but did not receive a response before publication.