Over 200 Casualities Reported After Explosions Rock Churches, Several Hotels In Sri Lanka On Easter Sunday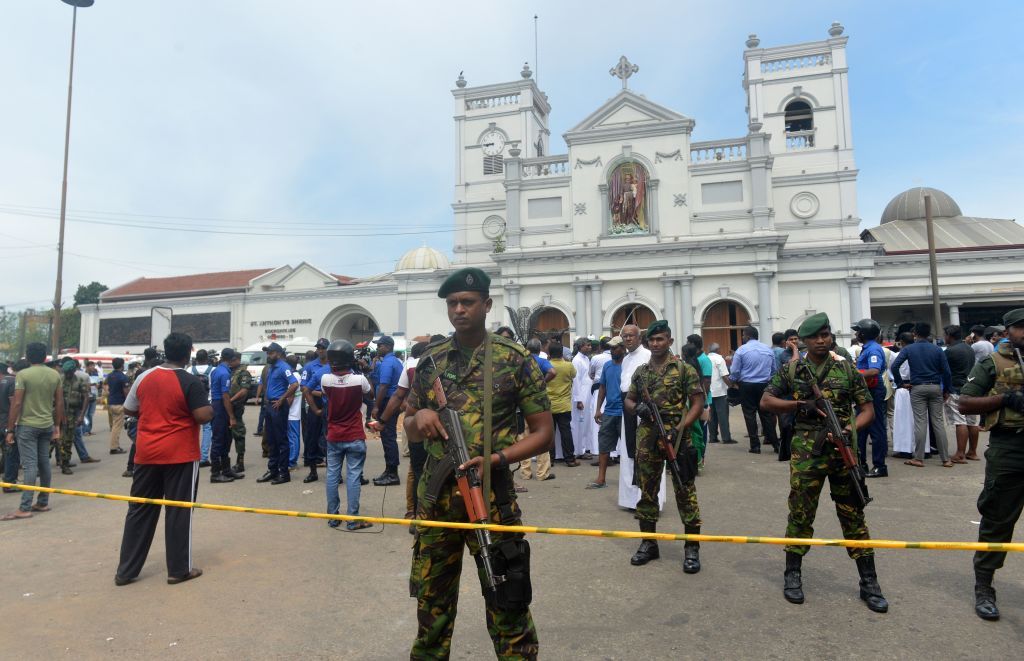 A total of eight explosions rocked Sri Lanka early Sunday morning, killing hundreds. Six near-simultaneous explosions occurred in the Sri Lankan cities of Colombo, Negombo and Batticaloa on Easter Sunday. Two subsequent explosions in and near Colombo followed later Sunday.
* Police report that three Colombo hotels favored by tourists, Shangri-La, Cinnamon Grand and Kingsbury, were hit.
• One of the explosions occurred at St. Anthony's Shrine in Kochchikade, a town located north of Colombo. The second church, St. Sebastian's, is also located north of the capital in the town of Negombo. Both were holding Easter Mass at the time of the explosions.
• The third church, Zion Church, is located in Batticaloa, a town situated on the eastern shore of Sri Lanka.
• Two subsequent explosions were reported. The first, at the New Tropical Inn hotel in the Colombo suburb of Dehiwala-Mount Lavinia. The second was at a house in Dematagoda, Colombo. It has been reported that this last bomb exploded while authorities attempted to search a suspected safe house. Three officers died in this blast.
• Over 200 fatalities have been confirmed. Over 400 people remain injured.
• A number of suspects were arrested, though it remains unclear exactly how many, and if they have been charged. Multiple reports Sunday evening claimed that 13 people had been arrested after the discovery of an apparent hideout.
----
2:01 p.m. EDT: Sri Lankan news outlet NewsFirst reported that an un-detonated improvised explosive device (IED) had been discovered by authorities near Bandaranaike International Airport — more commonly referred to as Katunayake Airport — near Colombo. The device as succesfully defused, according to an Air Force spokesperson.
1:30 p.m. EDT: Multiple reports out of Sri Lanka claim that police have arrested 13 individuals after discovering what they believed to be a temporary hideout for the suspects in the town of Panadura, about 15 miles south of Colombo. Police also reportedly seized a van in Colombo allegedly used to transport the attackers.
12:00 p.m. EDT: Sri Lankan Prime Minister Ranil Wickremesinghe reportedly said that the government may have received advance warning of an attack, but that he was not made aware. The PM called for an investigation but said that apprehending those responsible for the attacks was the highest priority.
9:30 a.m. EDT: Defense Minister Ruwan Wijewardene called on the media to not identify the attackers involved by name. "Don't give extremists a voice. Don't help to make them martyrs," he said, per a local reporter.
8:35 a.m EDT: The number of people arrested Sunday afternoon is unclear. Earlier reports stated that seven individuals had been detained, but newer reports now claim that this number is closer to three or four.
8:29 a.m EDT: Details on foreign deaths from the attacked are beginning to emerge. The government is reportedly confirming 27 non-Sri Lankans dead at the moment, according to one reporter. The government hasn't released country-specific numbers, but BBC is reporting that some Britons were among those caught in the deadly blasts, and the Dutch minister of foreign affairs said Sunday that at least one Dutch national was killed.
8:24 a.m. EDT: The Sri Lankan government confirmed, via its official online news portal Sunday, that it has indeed put a temporary block on social media.
"The government has decided to temporarily block social media sites including Facebook and Instagram," read a post to the site. "Presidential Secretariat said in a statement that the decision to block social media was taken as false news reports were spreading through social media. The statement added that security forces were conducting comprehensive investigations into the incidents of explosions and that the blockage would be effective until investigations were concluded."
8:18 a.m. EDT: The Sri Lankan government blocked access to social media platforms Sunday, reports the Washington Post and others. While Twitter appeared to be operating without problem in the area, users of other platforms, including Facebook and WhatsApp, noted they were being blocked.
It is believed that the goal of the social media restrictions was to stem the flow of false information in the wake of the bombings.
8:09 a.m. EDT: Officials in Sri Lanka have now reportedly put the death toll at 207, with 450 injured, according to local journalist Marianne David, citing statistics provided by a police spokesperson.
8:00 a.m. EDT: AFP photographers posted images of Sri Lankan authorities raiding a house in the Orugodawatta section of Colombo Sunday afternoon. It is believed the action is related to the bombings:
7:45 a.m. EDT: The total number of bombs is now believed to be eight, according to the Associated Press, which puts the current death toll at 140.
Multiple reports claim that seven suspects were arrested in Sri Lanka Sunday. A Colombo-based reporter for the New York Times tweeted that the government believes most of the attacks were carried out by suicide bombers.
3:02 a.m. EDT: Sri Lanka's state media has confirmed 139 deaths. According to the Associated Press, over 500 people were injured in Sunday's bombings.
"Government will take every possible action to contain the current situation," Sagala Ratnayaka, Sri Lanka's Minister of Ports & Shipping and Southern Development wrote on Twitter. Ratnayaka also cautioned Sri Lankans to be mindful of rumors posted to social media. "I kindly request the public to remain calm and cooperate with law enforcement authorities. Beware of rumours and unverified stories that may cause further trouble."
2:55 a.m. EDT: "I strongly condemn the cowardly attacks on our people today. I call upon all Sri Lankans during this tragic time to remain united and strong. Please avoid propagating unverified reports and speculation. The government is taking immediate steps to contain this situation," Sri Lanka Prime Minister Ranil Wickremesinghe said in a statement posted to Twitter.
2:35 a.m. EDT: Sri Lankan Airlines is recommending that all passengers scheduled to depart Bandaranaike International Airport in Colombo arrive at least four hours prior to their flight time due to increased security measures being implemented following the attacks.
Sri Lanka's Minister of Economic Reform, Harsha de Silva, tweeted that foreigners were among the casualties in the attacks and urged residents to stay indoors and to remain safe.
"Sec Defence and I am at Kochchikade church. Also was at Shangri-La n Kingsbury. PM is on his way from Bentota. Emergency meeting called in a few minutes. Rescue operations underway. Please stay calm and indoors. Many casualties including foreigners," he tweeted.
Hospitals working to treat the victims of the attacks are urging individuals to donate blood via posts to social media.
2:22 a.m. EDT: All government-run schools in Sri Lanka will be closed on April 22 and 23, Akila Viraj, Sri Lanka's Minister of Education has announced.
Death tolls continue to rise at the sites of the attacks with the latest numbers indicating that 40 people have died as a result of the three explosions in Colombo. In Negombo, 93 people have died and 27 deaths have been reported in Batticaloa.
Reports also indicate that 295 people have been admitted to the National Hospital in Colombo for treatment, and 73 people are being treated at a hospital in Batticaloa. Injury totals at other bombing sites are currently unknown.
1:52 a.m. EDT: In a statement to the country, Sri Lanka President Maithripala Sirisena expressed his sadness over the attacks, saying, "I am shocked and saddened by the situation that has occurred. Investigations have been launched to look into what conspiracy is behind these heinous acts. Please remain calm and do not be fooled by rumours."
No one has thus far claimed responsibility for the bombings.
The Associated Press reports that an official involved in the investigation, who spoke on the condition of anonymity, said authorities believe that at least two of the bombings were carried out by suicide bombers.
1:24 a.m. EDT: Police have confirmed 24 deaths at the National Hospital in Colombo, 50 deaths at the church in Negombo and 25 deaths in Batticaloa.
Sri Lanka Prime Minister Ranil Wickremesinghe has called an emergency meeting in response to the attacks.
Police spokesman Ruwan Gunasekera told local media that the explosions occurred at 8:45 a.m. local time. The Associated Press reports 283 people are injured.
1:13 a.m. EDT: Tamil Guardian reports that 10 people have been confirmed dead at the Zion Church in Batticaloa. In Colombo, the site of multiple explosions, 25 people have been confirmed dead, with at least 150 admitted to hospitals in the capital city.
Three churches in Sri Lanka's capital city of Colombo have reportedly been hit by explosions as worshippers attended Easter Sunday services.
Little is currently known about the cause of the explosions, but an Associated Press brief indicates that there are casualties. However, Sri Lankan news services are reporting that 150 people have been taken to local hospitals, but no deaths have been confirmed.
News 1st, citing local police, reports six explosions in Colombo. Three in churches and three in hotels, the Shangri-La, Cinnamon Grand and Kingsbury hotels, around the city.
This story will be updated as more information becomes available.