'Extinct' Giant River Otter Resurfaces in Wild as Several More Born in Captivity
A species of otter long considered to be extinct has recently resurfaced—literally.
Footage of the "extinct" giant river otter bobbing its head from the water while on an afternoon swim has excited the animal conservation community, which thought the species had died out in the wild.
According to a Facebook post from the Fundación Rewilding Argentina, conservation director Sebastian Di Martino spotted the species that was believed to be extinct while kayaking on the Bermejo River in the Impenetrable National Park in Argentina on May 16.
"Soon after hearing a splash in the water, it appeared to be a river [otter]," the post read. "[Di Martino] stopped to observe it as it wasn't usually a very frequent species, but a cry that [the animal] produced alerted [him].
"Now with [his] cell phone in hand, he started filming it and when this animal went into the water and showed his white breast, there were no doubts left. It was a giant otter specimen," the post added.
Video posted to Facebook shows the lone giant river otter swimming contently. Its head bobs up and down as the adventurous animal goes below the water surface and returns intermittently for air. At one point, it goes underwater and the camera turns to find it pop up again several hundred feet away in a matter of seconds.
Di Martino said in a statement to The Guardian that he was overjoyed with the sight of the giant river otter, scientifically known as the Pteronura brasiliensis.
"It was a huge surprise," he said. "I was incredulous. An incredible feeling of so much happiness. I didn't know if I should try to follow it or rush back to our station to tell the others."
According to a press release from the Fundación Rewilding Argentina obtained by Newsweek, the giant river otter is considered "the largest otter in the world." Adults can grow to be as tall as 1.8 meters, or nearly 6 feet, and weigh 33 kilos, or more than 72 pounds.
"In Argentina it is considered extinct and worldwide it is threatened with extinction," the organization reported. They also noted that the last sighting of one in the Bermejo River was "at least 100 years [ago]."
According to a report from Mongabay News, the giant river otter breed became endangered as a result of European colonization in Argentina, primarily "due to hunting pressure." While Fundación Rewilding Argentina does host some otters in captivity, the last time they were seen in the wild was in the 1980s in the Misiones Province.
Di Martino noted in a statement to The Guardian that it was not immediately clear where the lone otter came from. The closest known populations of giant otter, which is endangered globally, are in the Paraguayan Pantanal, which could connect with this river from a distance of over 1,000 kilometers.
"That's the simplest explanation," Di Martino told the outlet. "The other possibility is that there's a remnant population of the species in Argentina that's gone undetected. These animals live in family groups, and this was a solitary individual, which we think came from a group."
"Nature gives us moments like this almost every day," Fundación Rewilding Argentina added on Facebook. "[Nature] continues to give us surprises, showing us that [it] is resilient and that, if we help it a little, it can recover."
Coincidentally, days later, two giant river otters in the care of the conservation organization gave birth to three healthy cubs.
"After many years of work in the giant river otter reintroduction project in Argentina, Alondra and Coco, the couple from Iberá Park in Corrientes, gave us the best news: they produced three beautiful cubs!" Fundación Rewilding Argentina posted on Wednesday.
"These are, for sure, the first giant river otters to be born in Argentina after many decades of extinction."
Matías Greco, the veterinarian in charge of the giant otters in the foundation's care, said in a statement to Newsweek that their healthy birth is a very big deal for the species' survival.
"It was not the first time that Alondra gave birth, but the two previous times the cubs had been born dead or had died immediately," Greco said. "It is not uncommon for this to happen in first-time parent couples like Coco and Alondra. We knew that we had to give them time and that at some point they would be able to keep the cubs alive and breed them."
The organization reported that the cubs were born in the early hours of May 19, and that while their arrival is wonderful news, their first few weeks of life will be critically monitored.
"Alondra and Coco are excellent parents, but it's too soon to confirm that the cubs will thrive because of their inexperience," the group wrote. "Even so, this is fantastic news, and we expect to see them swimming in the pre-release pen soon."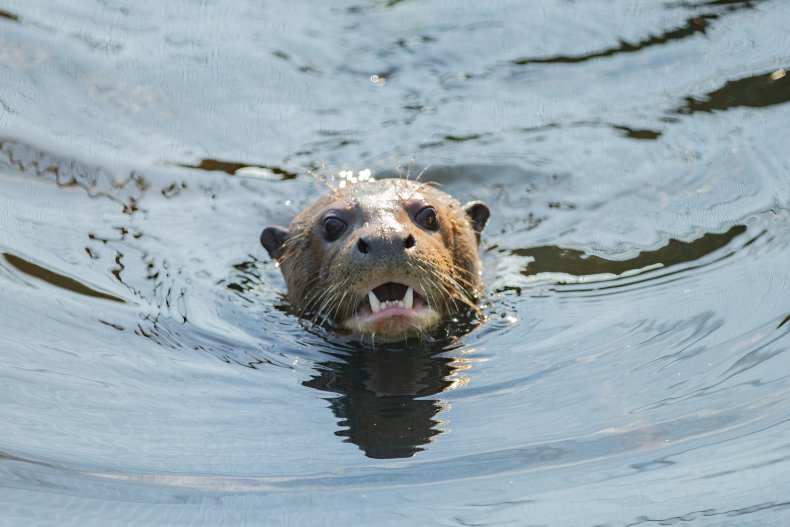 Biologist Talía Zamboni told Newsweek that the family of five giant river otters is a part of a "reintroduction" project aimed at repopulating Argentina with the species. The project has been in the works since about 2018 and focused primarily in Argentina's Iberá wetlands.
"The project being carried out in Iberá is the only one of its kind, never before has there been an attempt to return the giant otter to a place where it had disappeared due to man-made causes," she said. "These three cubs are the first that were born in our country in decades and represent the hope to recover a species in Argentina."
Overall, Di Martino is optimistic about the future conservation efforts of the giant otter species, which is considered a "regulatory influence in the aquatic ecosystem," after its rediscovery in the wild.
"For us, the importance of this sighting is that we're reminded that we have to protect more of this gem of biodiversity that is [in the] Impenetrable National Park," Di Martino told The Guardian. "The Bermejo River, where this otter was found, is full of illegal hunting and fishing activity....The importance of seeing this otter here again is that it tells us that nature is resilient. If we can help it, there's hope."
Similarly, in Madagascar, a thriving population of an "extinct fossil fish" was recently rediscovered. And in the ocean's "twilight zone," an "extinct" and highly venomous sea snake species was found once again.
Updated 05/28/2021, 4:20 p.m. ET: This story has been updated to include comments the Fundación Rewilding Argentina.