Video: Angry Commuters Drag Climate Change Protesters From Roof of Train, Attack Them After Major Disruption
Dramatic footage has emerged showing the moment furious commuters physically dragged an Extinction Rebellion protester off the top of a London Underground train during a demonstration from the climate change activists.
The protesters targeted London's public transport system during morning rush hour, scaling trains at Canning Town station, as well as gluing themselves to the train doors at Shadwell's Docklands Light Railway (DLR) station.
Further disruption also took place at Stratford station. All three transport hubs are located in the east of the capital.
Footage from the scene, recorded by ITV News, shows hostile members of the public shouting and throwing items at the protesters who were holding a "Business as usual=death" banner while on top of the train at Canning Town.
One man then jumps up and grabs the feet of a male protester and drags him off the train onto the platform. The protester appears to then be kicked several times while on the ground.
Transport for London (TfL) staff and other members of the public then intervene to stop the activist being further attacked.
Extinction Rebellion, who have staged a series of protests in London this month, warned commuters that they plan to target the Tube network with their next stunt.
"We sincerely apologize to all those who may be affected as a consequence of this disruption. In any other circumstances these groups would never dream of disrupting the Tube but this is an emergency," the group said in a statement.
Phil Kingston, an 83-year-old protester who glued himself to a train at Shadwell DLR Station, said he is taking part in the demonstration "for my grandchildren."
"Because I've learned what they're heading towards at the moment is an increase in temperature by three degrees centigrade," he added.
"That is suffering and death of an enormous scale. I'm just here to ring an alarm bell."
British Transport Police (BTP) said that eight people have been arrested on suspicion of obstructing the railway with attempt following the simultaneous action by Extinction Rebellion. They also condemned the violence which broke out at the Canning Town station.
Acting Cheif Constable Sean O'Callaghan, of BTP, said: "Despite our countless warnings, we are frustrated that Extinction Rebellion put people at risk to obstruct services on London's rail network.
"Those who obstructed services are in custody and will be dealt with robustly. This type of action is completely at odds with what Extinction Rebellion are campaigning for and we will continue to urge them to not target any rail network.
"However, it was also concerning to see that a number of commuters took matters into their own hands, displaying violent behaviour to detain a protester at Canning Town.
"Understandably, the delay to passengers' journeys would have been annoying, but this level of response was unacceptable."
The protest was met with heavy criticism, with many questioning why climate change activists would target a public transport system used by millions of people every day.
Labour politician Jim Fitzpatrick, whose constituency of Poplar and Limehouse was affected by the protests at Canning Town, tweeted: "So what point is Extinction Rebellion making shutting down East London's PUBLIC Transport system preventing ordinary people getting to work/school/hospital etc?"
Sadiq Khan, the Mayor of London, said: "I strongly condemn the Extinction Rebellion protesters who have targeted the London Underground and DLR this morning.
"This illegal action is extremely dangerous, counterproductive and is causing unacceptable disruption to Londoners who use public transport to get to work.
"It is also an unfair burden on our already overstretched police officers. I urge demonstrators to protest peacefully and within the boundaries of the law."
This chart by Statista shows the general public's perception of Extinction Rebellion.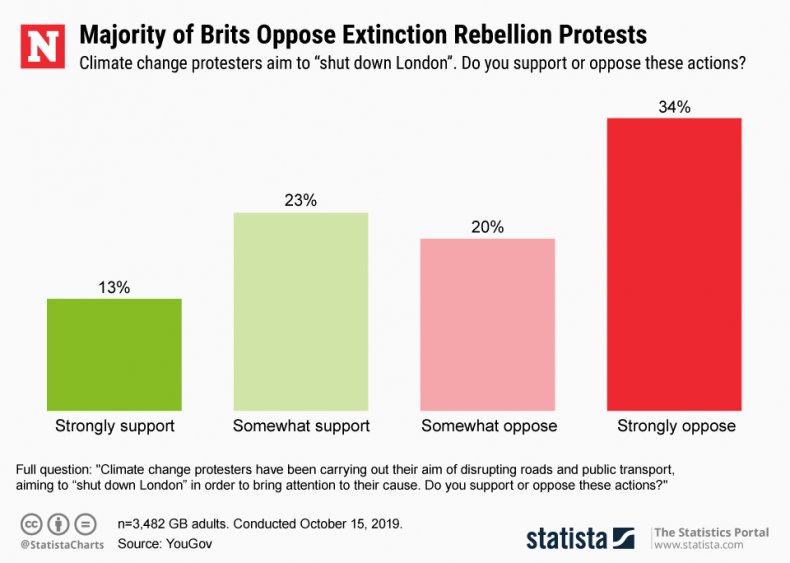 In a statement, Extinction Rebellion spokesperson Valerie Milner-Brown said: "This is disruption with a purpose since we will all encounter far greater disruption in the future if we don't radically change our society.
"We can already see the horrifying early effects of the Climate and Ecological Emergency in parts of the Global South and it's clear that this will be coming our way soon."
London's Metropolitan Police said they have so far made a total of 1,642 arrests in connection to the ongoing Extinction Rebellion protests across the capital.
"The policing operation continues, and we will continue to take action against anyone engaged in unlawful protests at locations targeted by Extinction Rebellion," a spokesperson added.