Displaying its symbol, a stylized hourglass inside a circle, the group Extinction Rebellion has organized some of the biggest climate change protests of the last year. They claim to have over 400 groups in 72 countries, including the United Kingdom, U.S. and Australia.
What is Extinction Rebellion and what is its goal?
According to its UK website, Extinction Rebellion (XR) is "an international movement that uses non-violent civil disobedience in an attempt to halt mass extinction and minimize the risk of social collapse."
While demanding change concerning the climate change crisis, other human rights issues are included in the protests.
The group's first protest took place on November 2018 in London, England. XR protestors blocked five major bridges across the Thames River. The action led to the arrest of 85 protestors.
Through social media and international news coverage, XR's ideology spread rapidly. With a growing global base, XR started its "international rebellion" in April 2019.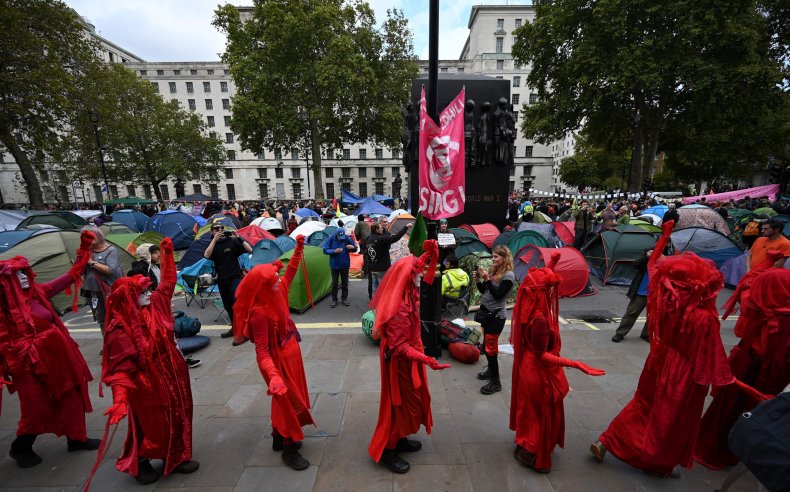 In London, XR occupied Piccadilly Circus, Oxford Circus, Waterloo Bridge, Marble Arch and areas near Parliament Square for 11 days. This time, according to The Telegraph, over 1,100 arrests were made.
New York website Patch reported XR activists in New York City climbed light poles and waved banners while some lay in the streets, demanding that a climate emergency be declared.
Large-scale attention grabbing scenes like this are part of XR's philosophy.
"We are promoting mass "above the ground" civil disobedience – in full public view," states the group's UK website. "This means economic disruption to shake the current political system and civil disruption to raise awareness. We are deeply sorry for any inconvenience that this causes."
The group is in the news again with a week of climate protests taking place this October. According to The Guardian, London police began clearing away the tents of XR protestors as they began enforcing an order banning demonstrations across central London on the morning of October 8.
WLNY reported that protestors threw a red liquid resembling blood on the famous Charging Bull statue on Wall Street in New York City. Dozens were arrested.
Both the U.S. and UK branches of XR share a core set of principles and values. These include using non-violent tactics to bring about change, bringing about a world that is fit for future generations and mobilizing 3.5 percent of the population to achieve systemic change.
These protests have a different meaning to Metropolitan Police Assistant Commissioner Nick Ephgrave, who worries that mass protests like the ones XR organizes take away from situations that could require law enforcement.
"The same amount of work is going to have to be done by fewer people working longer shifts with fewer breaks," Ephgrave said. "That makes life much more difficult for our people. It means they might have to make compromises around which things they go to, how long they spend at incidents."
XR plans on carrying on this round of protests until October 20.