Extinction Rebellion Protests May Expedite Search and Seizure Laws in Queensland
Climate change protests in Australia by the group Extinction Rebellion (XR) have caused the Queensland government to expedite consultation on laws designed to be stricter on protesters, according to The Guardian.
The laws, announced in August, give police search and seizure powers over anyone they suspect of carrying locking devices which would make the removal of protesters difficult or impossible. Queensland premier Annastacia Palaszczuk said she had seen evidence that such devices were equipped with dangerous traps, such as glass shards or gas containers.
"Police will have the power to search those they reasonably suspect ... of having those devices," Palaszczuk told the parliament. "They will be illegal."
However, when asked by a member of parliament to show evidence that such devices existed, Palaszczuk declined.
"I received a briefing by the Police Commissioner and the Assistant Police Commissioner in relation to operational Police matters," she wrote. "It would not be prudent to publicly disclose the contents of that briefing."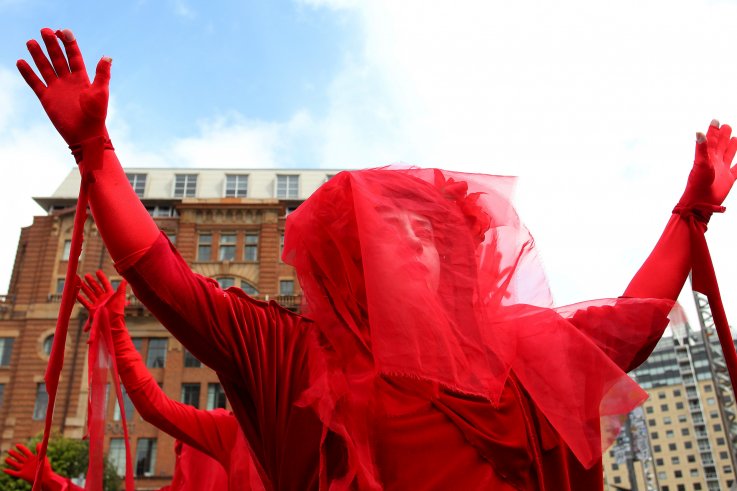 XR protests have disrupted daily life in major metropolitan areas of Australia, such as Melbourne and Brisbane. October 8, 29 XR protesters were arrested in Brisbane for blocking roads and attaching themselves to objects like cement-filled drums, according to news.com.au.
"It's gone beyond a joke now," said Palaszczuk.
The protests are no laughing matter to XR protesters.
"Life on Earth is in crisis," reads the homepage of XR's Australian website. "Our climate is changing faster than scientists predicted and the stakes are high. We are running out of time, and our Government has failed to act. We have a moral duty to rebel—whatever our politics."
In response to the climate change crisis, XR protesters are engaged in worldwide displays of protest. While peaceful, these acts of civil disobedience have been disruptive.
The Australian Broadcasting Corporation reports that a man with a mobility disability was mocked by protesters who had blocked an intersection in Melbourne.
"I tried to say: 'Hey look, I care about climate change, I really do," said the man, who identified himself only as Matt, "but I also care about my job and trying to get to work especially when I've had a lot of disruption this year due to illness.'"
Matt claimed protesters told him that in light of the climate change, he didn't matter.
Protest supporter Tanel Jan Palga said he was unaware of any abuse leveled at Matt although he was present for the incident.
"At one point Matt did state that he had a disability and it was very hard for him to walk long distances and he really needed to catch a bus," Palga said. "We were very understanding to that but under the circumstances of the protest there wasn't much that we could have done to help him."
XR spokesman James Norman apologized for the interaction.
"We aim to cause disruption in order to make a point about the climate emergency," said Norman, "but we certainly don't want to cause any kind of threat to public safety."
The quick passage of the new laws and their relationship to public safety seem to be one of Palaszczuk's main concerns.
"Every single minute our [emergency services] spend dealing with these types of protesters, is a minute they are spending not helping others," she said. "It will not be allowed to continue."
Extinction Rebellion Protests May Expedite Search and Seizure Laws in Queensland | World