NRA President Oliver North Steps Down From Gun Rights Group Amid Extortion Allegations from CEO Wayne LaPierre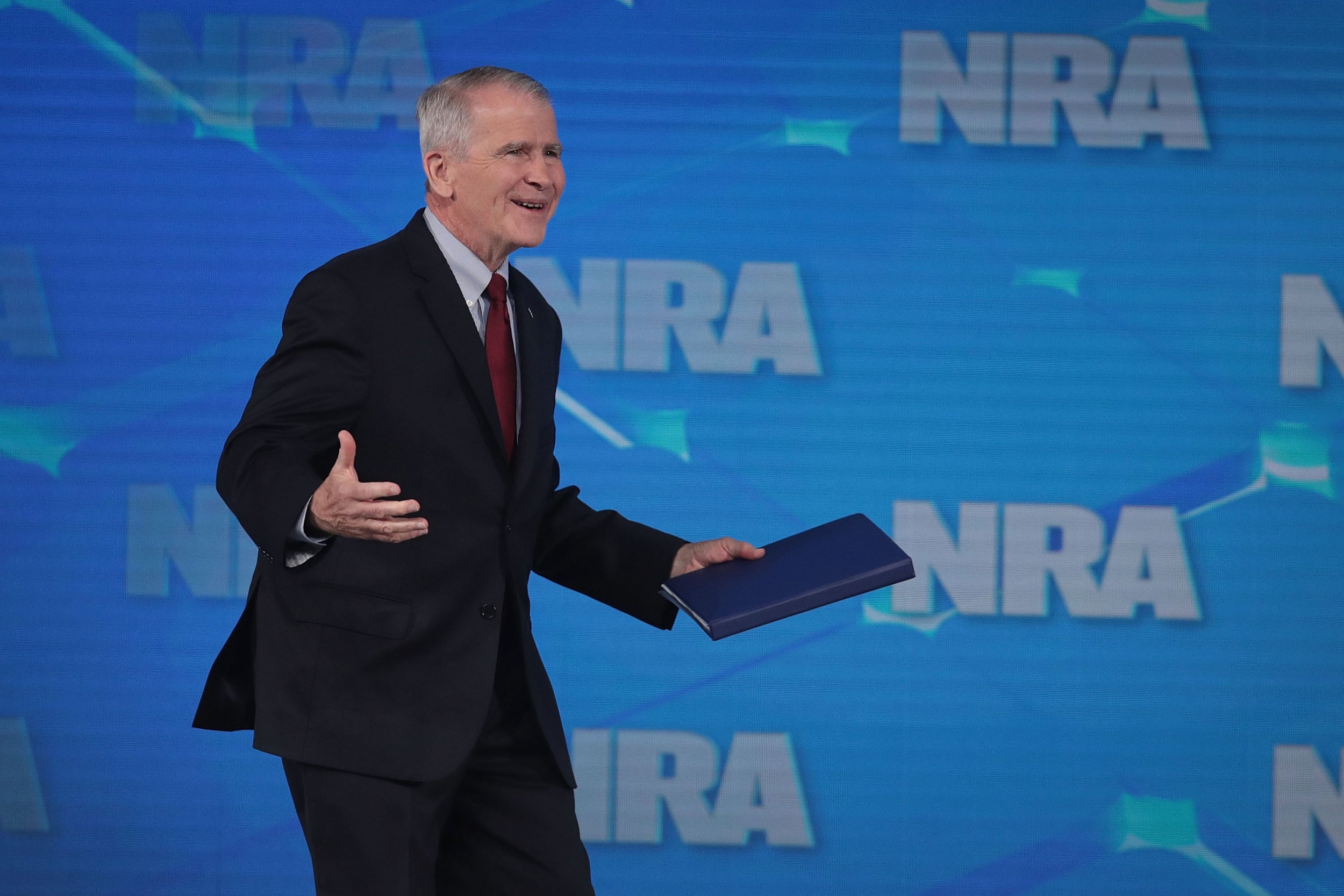 Amidst infighting between leaders of the National Rifle Association and allegations of extortion, the gun rights organization's president Oliver North announced Saturday that he will not seek a second term and is effectively stepping down from his leadership position.
"Please know I hoped to be with you today as NRA president endorsed for reelection," North wrote in a letter, which was read aloud at the group's convention in Illinois by NRA second vice-president Richard Childress. "I'm now informed that that will not happen."
The sudden announcement from North, who served less than a year as the organization's president after leaving a post at Fox News, came after reports in The New York Times and The Wall Street Journal about an alleged attempt by North to extort longtime NRA CEO and Executive Vice President Wayne LaPierre, according to a letter LaPierre wrote to the group's board that was reported by The Journal.
"I am now informed that will not happen," North said in his letter about being renominated for president. His term ends Monday, meaning his tenure as president is effectively over. "In spring of 2018, NRA EVP and CEO Wayne LaPierre urged me to retire from my job at Fox News, become the president and [accept] a salary position with Ackerman McQueen, so I agreed to do so in order to help build the NRA membership and resources."
The revelation comes in stark contrast to how North was once viewed by LaPierre as "hands down, the absolute best choice to lead our NRA Board." But LaPierre's accusations that North was trying to extort him and demand he step down for reportedly making hundreds of thousands of dollars in wardrobe purchases from advertising agency Ackerman McQueen has apparently all but diminished North's support as president.
North reportedly defended his actions to the board by telling them he was forming a crisis committee to investigate the "allegations of financial misconduct"; part of an effort to do what's in the non-profit's best interest.
"I did this because I am deeply concerned that these allegations of financial improprieties could threaten our nonprofit status," North told the board.
Earlier this month, the NRA filed suit against Ackerman McQueen, alleging that the company, which runs an NRATV documentary program that North hosts, had not been transparent in billing the organization.
LaPierre alleged that an agreement between North and the company provided the former Marine colonel "millions of dollars annually" and that North allegedly issued a warning that Ackerman McQueen would release an "allegedly damaging letter to the entire NRA board,"—unless LaPierre step down.
"The letter would contain a devastating account for our financial status, sexual harassment charges against a staff member, accusations of wardrobe expenses and excessive staff travel expenses," LaPierre wrote, according to The Washington Post. "But then, Col. North explained that the letter would not be sent — if I were to promptly resign as your Executive Vice President. And, if I supported Col. North's continued tenure as president, he stated that he could 'negotiate' an 'excellent retirement' for me."
LaPierre added that the timing of such false allegations was "conveniently" timed with the lawsuit.
North rose to public prominence in the 1980s as a lieutenant colonel in the U.S. Marine Corps who became a controversial and divisive figure in the Iran-Contra scandal during the Ronald Reagan administration. He subsequently ran, unsuccessfully, for a U.S. Senate seat before eventually settling into a career as an author and conservative political commentator.
Father-turned-gun-violence-activist Fred Guttenberg told Newsweek in an email that he was "truly pleased to see the internal struggles of this organization and I hope for it's demise." Guttenberg lost his 14-year-old daughter, Jaime, during the mass shooting at Marjory Stoneman Douglas High School last year that left 17 people dead. Since then, he's become a fierce activist against the gun lobby, advocating for stricter gun control legislation in an effort to prevent future mass shootings.
"The NRA has existed to spread chaos and fear in our streets with the sole purpose of selling guns. They have harassed and lied about victims of gun violence," Guttenberg said. "What we are seeing now is that the indecency of those who would harass victims of gun violence and the chaos that these NRA leaders lived by is now being used against themselves. I often say I would like to see the NRA become as irrelevant as the tobacco lobby is now and so I am truly pleased to see the internal struggles of this organization and I hope for it's demise."
Gillian Edevane contributed to this report. This story has been updated to include comment from Fred Guttenberg.