Extra $600 in Unemployment Is Ending This Month—Here's What We Know About Future Payments
Millions of unemployed Americans are likely to continue receiving additional financial help as the coronavirus pandemic enters its fifth month, and the payment amounts are in the hands of congressional negotiators.
Following the March passage of the Coronavirus Aid, Relief and Economic Security (CARES) Act, people filing for unemployment received an extra $600 a week. The measure is set to expire at the end of July, and with 17.8 million people still out of work, lawmakers on both sides of the aisle agree that continued federal assistance is needed. But Republicans are pushing for measures that incentivize people to return to work.
Treasury Secretary Steve Mnuchin told CNBC on July 9 that he expects the forthcoming economic relief package to extend unemployment benefits. He wouldn't share specifics about what enhanced unemployment will look like in August but said it will be less than it is now.
"You can assume it would be no more than 100 percent [of what a person was earning at their job]," Mnuchin said. "Enhanced unemployment is intended for people who don't have jobs, particularly in industries that are harder to rebound."
Newsweek subscription offers >
While the CARES Act passed unanimously in Congress, lawmakers and members of the Trump administration have since criticized the measure for allowing people to profit from being out of work. University of Chicago economists found about 68 percent of people who were out of work received more in unemployment than they did at their job.
Mnuchin told CNBC the technical problem that allowed people to receive benefits worth more than 100 percent of their earnings would be fixed the next time around. He noted that it's possible the extended unemployment benefits won't fully compensate people for their lost paychecks because the goal is to have people return to work if their jobs are available.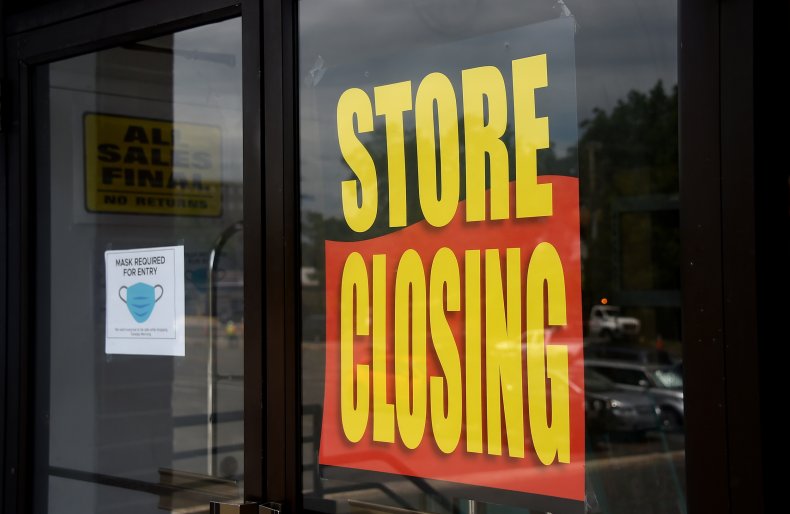 By the time the next bill passes, Mnuchin said, the White House will figure out a plan that works for both employers and those who remain unemployed because of the pandemic.
Newsweek subscription offers >
Balancing helping those bearing the financial burden of the pandemic with pro-economic growth incentives is shaping the White House's approach to the next economic relief package. On Monday, National Economic Council Director Larry Kudlow told Fox Business unemployment reform was needed and floated the idea of return to work bonuses.
Kudlow said there would "conclusively" be another relief package, and Senate Majority Leader Mitch McConnell expects to unveil the details within the next few weeks. Since Republicans have been vocal about what they want in a bill, House Speaker Nancy Pelosi said passing new legislation before the August recess is entirely doable.
Within that package must be a compromise on unemployment benefits, Pelosi told CNN's State of the Union on Sunday, because an extension is necessary.
The Health and Economic Recovery Omnibus Emergency Solutions (HEROES) Act, which was passed nearly entirely along party lines in the Democratic-controlled House in May, would extend the $600 payments until January 2021. Another proposal, which Senate Minority Leader Chuck Schumer introduced, would extend the benefits until a state's three-month average total unemployment rate falls below 11 percent. Once that target is hit, the expanded unemployment benefits would be reduced by $100 for every percentage point decrease in the jobless rate, until it falls below 6 percent.
Pelosi didn't share financial details about what a compromise on extended unemployment benefits could entail, but two former Democratic economic officials have offered a proposal.
Timothy Geithner, who served as treasury secretary during the Obama administration, and Jason Furman, who was the Council of Economic Advisers chairman, proposed a system that would add a federal supplement of 40 percent of wages, with a $400 cap, in states where unemployment was around 15 percent. By using a replacement rate instead of a flat dollar amount, this would ensure that people weren't receiving unemployment in excess of 100 percent of their wages, Furman told a House committee in June.
Newsweek reached out to the Treasury Department for comment but did not receive a response in time for publication.
Experts told Newsweek in June that extending unemployment benefits was critical, as millions of people were still out of work and state reopenings were slow.
Henry Farber, an economics professor at Princeton, said fully removing supplemental employment benefits from people who rely on them to pay their bills could cause a food crisis. To overcome resistance to the benefits extension that's fueled by people being overcompensated, he suggested a compromise could be a 100 percent replacement rate, which would make people "whole" for what they lost.
Extra $600 in Unemployment Is Ending This Month—Here's What We Know About Future Payments | U.S.