Extradition Stalled for Man at Center of Gretchen Whitmer Kidnapping Plot
One of the men charged in the plot to kidnap Michigan Governor Gretchen Whitmer lost a battle challenging his extradition on Tuesday, but the judge agreed to stall the decision while his appeal is being heard.
On Tuesday, Brian Higgins of Wisconsin Dells, Wisconsin, argued that his extradition paperwork should be invalidated because Whitmer was the one to sign it.
Higgins' attorney, Christopher Van Wagner, said that because Whitmer is the reported victim of the plot, she is a conflict of interest who should not be able to extradite Higgins to Michigan.
Assistant Attorney General John Pallas, who represented the state of Michigan at the hearing, argued that the governor's involvement in paperwork was necessary and does not impact Higgins' guilt or innocence.
Todd Hepler, a judge for the Columbia County Circuit Court in Wisconsin, rejected Higgins' challenge in a Zoom hearing, adding that Whitmer was not involved in bringing the charges against Higgins, nor is she involved in the legal proceedings.
Higgins has been accused of surveilling the governor's vacation home, according to a police affidavit filed in the case, and faces one count of providing material support to terrorist acts. If found guilty, Higgins could face up to 20 years in prison.
In the FBI profile of Higgins filed in court, he was identified as a member of the Wisconsin Patriot Three-Percenter Militia and the "intel guy" for the organization.
Although Helper agreed Higgins should be expedited to Michigan, the judge granted a delay, saying that the public would not be at risk if Higgins were to remain in custody in Wisconsin while his attorney appealed the Tuesday approval.
"Mr. Higgins is not being deported to some third-world kangaroo court," Hepler said. "He will enjoy all of the constitutional rights guaranteed to every American citizen, including due process of law."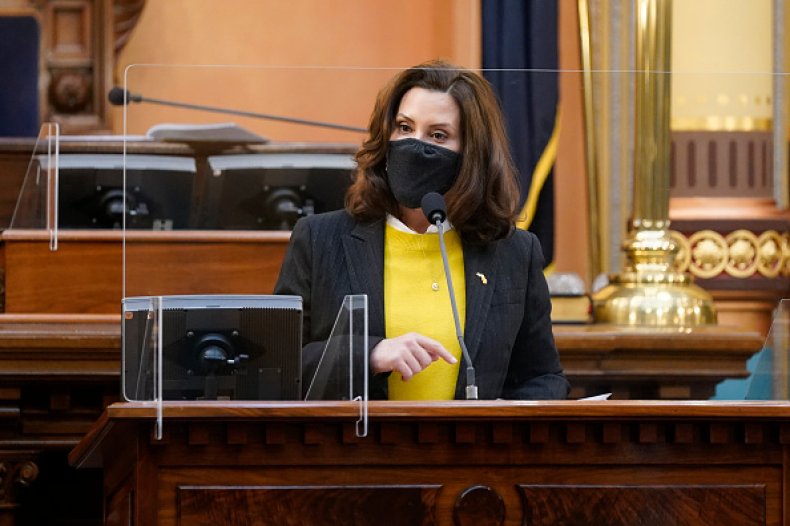 Pallas argued that Higgins' appeal could take a year, which would make the case more difficult as he would be separated from the other 13 defendants as prosecutors argue the domestic terrorism case.
Van Wagner disputed that the stall would be lengthy, saying the appeal for his extradition could be expedited and handled within 90 days. He argued the delay could have been avoided altogether had another Michigan official signed the paperwork instead of Whitmer.
"It is certainly an issue of first impression and, because there is no slippery slope, when you're in a gray area, you are over the line," Van Wagner said at the hearing. "This court should not associate itself with that gray area by endorsing the paperwork as it sits."
Higgins will remain in a Columbia County jail until the appeal is decided.
Van Wagner also accused Whitmer of violating Michigan's ethics law by using her power as the governor to bring justice for the benefit of her personal safety.
Of the 14 men charged in the case, one other had to be extradited, in that case from South Carolina. The others are from Michigan.
Newsweek reached out to Whitmer's office for comment but did not hear back before publication.