An American Airlines flight heading to Florida was diverted to Louisiana after 10 people were injured when the plane hit severe turbulence.
Flight 2401 had left Dallas Fort Worth International Airport at around 7:30 p.m. local time on Thursday June 24 with 190 passengers and six flight attendants on board, the airline confirmed to Newsweek.
But the flight diverted to New Orleans after briefly encountering severe turbulence on the way to Tampa, Florida, the airline said.
Paramedics met the plane when it landed at Louis Armstrong International Airport in New Orleans at around 9.30 p.m.
Ten people—eight passengers and two flight attendants—were transported to the hospital with injuries.
Sheri Parsley-Najera, a woman who said she was on the flight, described the experience in a post on Facebook Monday.
Parsley-Najera said the plane hit clear-air turbulence, which is sudden and severe and occurs without visual clues, and suddenly dropped 150 feet.
"There was no bad weather and the flight was smooth prior to this. It was so scary, and I/most of the flight thought we were going down," Parsley-Najera wrote.
She said she avoided coming out of her seat thanks to her seatbelt, but several other passengers hit the ceiling and one man who wasn't wearing a seatbelt landed on passengers.
"I was about to get up to go to the bathroom, but thankfully the drink cart was in my way," she wrote. "It happened with no warning, the drink cart hit the ceiling, drinks went all over the people in the isle caddy corner to us, a few people hit the ceiling and one man that was not buckled up landed on some people."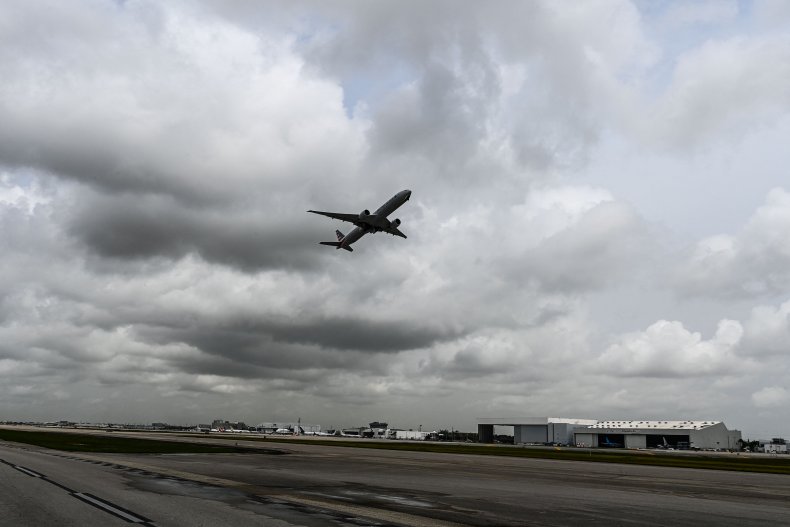 She added: "Our pilot said he has been flying for 27 years and never experienced anything like this." Parsley-Najera has been contacted for additional comment.
An American Airlines spokeswoman declined to comment further on what occurred, or on Parsley-Najera's post, citing confidentiality reasons.
The flight continued on to Tampa later on Thursday night, the airline said in a statement.
"We apologize to our customers for the trouble this caused, and we thank our team members for keeping our passengers safe," it said.
A day later, three flight attendants and a passenger were injured in a similar incident. A Southwest Airlines flight was in the initial descent toward its destination of Salt Lake City, Utah, when it encountered turbulence, according to the Aviation Herald.
Update 6/30 8.50 a.m.: This article has been updated with information from American Airlines.