Extremely Rare Flower Draws Large Crowd at Abandoned Gas Station
On Tuesday, those local to the San Francisco Bay area were greeted by the strong smell of an exceptionally rare flower. When an amorphophallus titanum, also known as a corpse flower, appeared at an abandoned gas station, over 1,000 people hopped in line to take photos of the flower and bask in its beauty. Though, to truly enjoy its presence, one has to ignore its stench.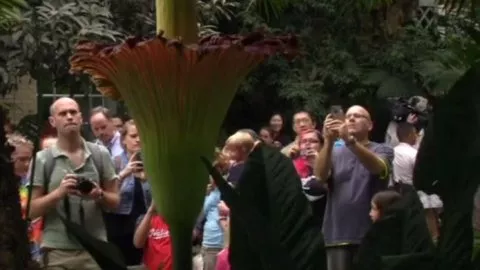 The plant gets its name "corpse flower" from its putrid scent. Often compared to rotting flesh, the scent, while terrible to humans, attracts the flower's natural pollinators: flesh flies and carrion beetles. But its aroma isn't the only thing that makes this flower unique.
Corpse flowers can grow up to 12 feet tall and typically take a decade to bloom. The bloom cycle only lasts 24 to 36 hours, meaning sightings are hard to come by. The flower is also incredibly rare, with the International Union Conservation of Nature estimating that fewer than 1,000 individuals remain in the wild. So when one San Francisco nursery owner noticed that his corpse flower was ready to bloom, he decided it would be best to share it with the community.
Solomon Leyva is a nursery owner in Alameda, California, who works with exceptionally rare plants, reports The Guardian. According to the outlet, he was inspired to take the plant to the community after his social media posts of the flower began to generate interest.
He told the San Francisco Chronicle: "I grabbed my wagon, went down to my greenhouse, put it in with the help of a friend of mine, dragged it down here to this abandoned building and people just started showing up."
According to the outlet, Leyva estimates that over 1,200 people showed up to view the specimen and ask questions. Locals were thrilled to see the plant with their own eyes.
"Such a treat," commented one of his Instagram followers on a post he shared of the flower. "Thank you for sharing your lil' stinker with us."
"Thank you so much for sharing this in public yesterday," commented another. "I was so grateful to be able to see one in person and close up! With no barrier we got to experience all of its rare beauty. We really appreciate your hard work that made this happen."
As expected, the flower shriveled up after one day. Leyva shared a photo of the sad-looking flower with a caption that read: "flower is spent. all done for this year."
It appears that viewing the rare corpse flower is well worth the time spent, even if it does smell like death and decay.
{{#isDisplay}} {{/isDisplay}}