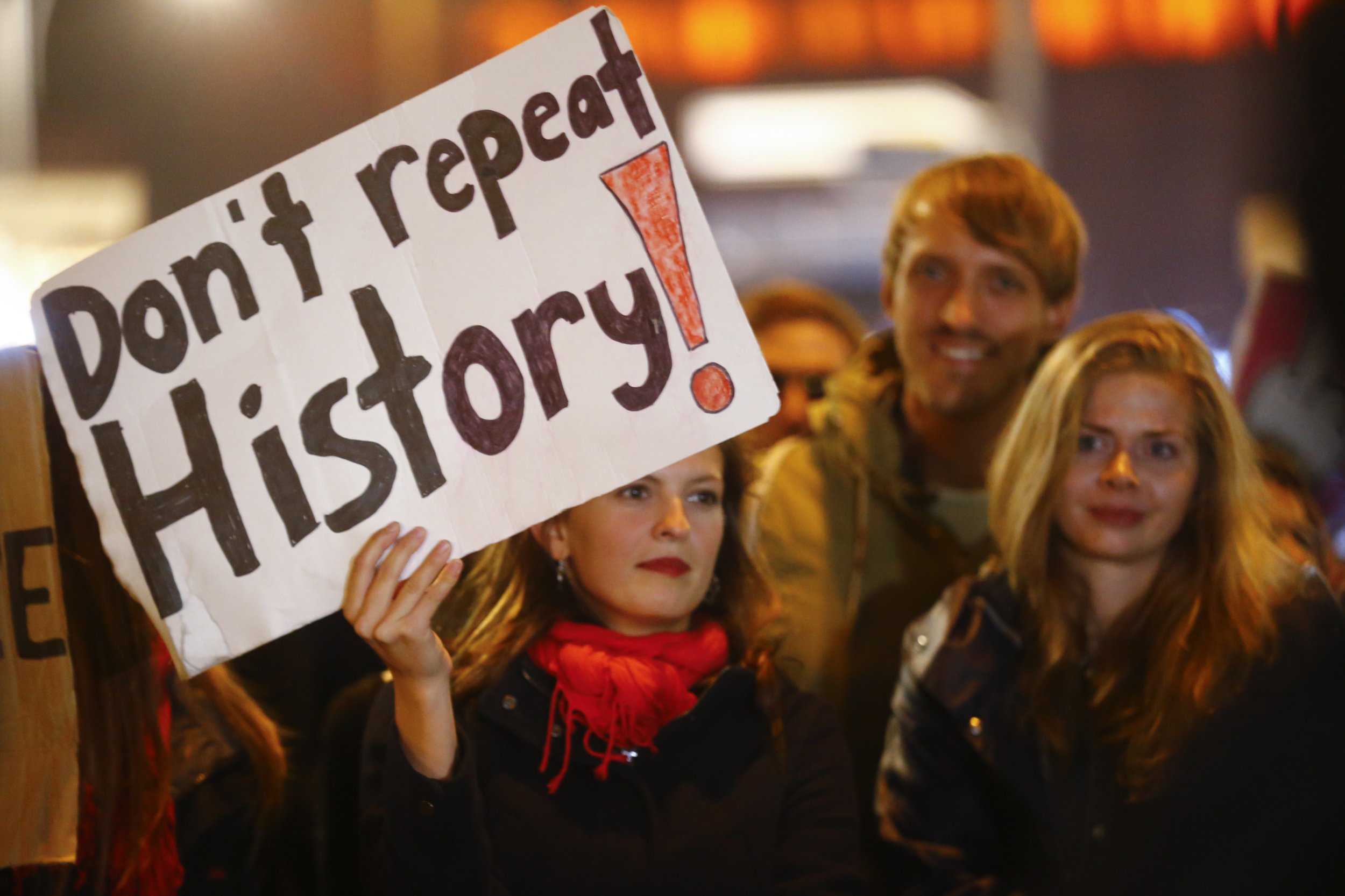 A neo-Nazi party now controls one-eighth of the German Parliament, and it used a proven formula to get there: populism and anti-immigration, anti-Muslim, anti-bipartisanship sentiments.
The Alternative for Germany, which proposed banning mosques and veils, won 12.6 percent of voter support. It's the first time a far-right extremist party has won so many seats since the Nazi era. The AfD is now the third-largest party in the country, and it follows a trend of right-wing, anti-immigration politics across Europe.
Germany is not alone: In Hungary, current Prime Minister Viktor Orbán came from the far-right, anti-immigrant Fidesz party, and the country's third-largest party, far-right Jobbik, advocates anti-Semitism. In France, Marine Le Pen's populist, anti-immigrant party lost to Emmanuel Macron, but with a whopping 34 percent of voter support. In December 2016, Austria only narrowly rejected the platform of Norbert Hofer, leader of the Nazi-spawned Freedom Party set up in 1950.
The United States, too, elected a president who campaigned on anti-immigrant rhetoric.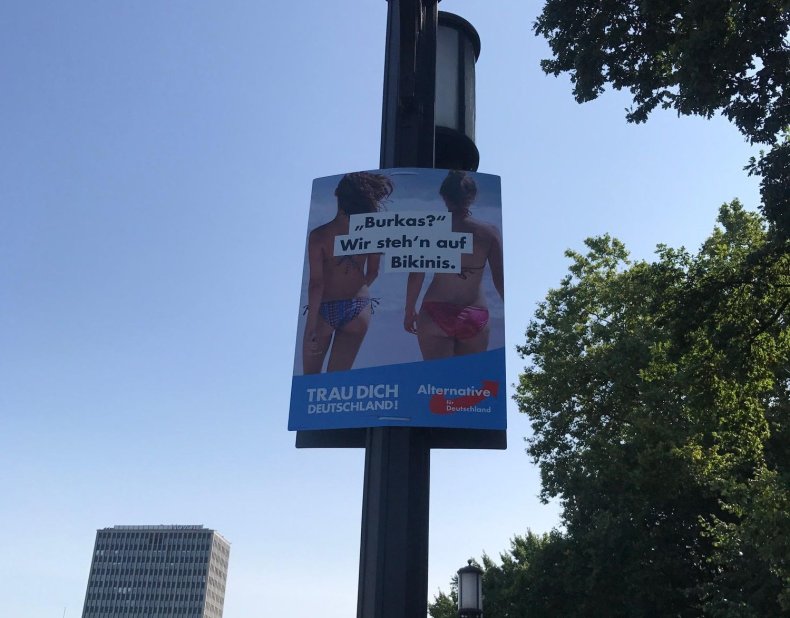 Fringe parties often start on the margins, and get dismissed by larger parties. But what does it take for an extremist, fringe party to grow into a force to be reckoned with? How, in short, did this happen? Here are the keys:
Bi-Partisanship Divides, Rather Than Unites
Nearly half of the AfD's 2.2 million supporters this election split off from Merkel's conservative Christian Democratic Union, according to Infratest Dimap, a German polling and research center. Merkel was criticized in her third term and her final debate with opponent Martin Schulz for agreeing with too many progressive stances and departing from her party's conservative roots.
Something that's difficult to even fathom in American politics has become, in German politics, a powerful dividing force: too much bipartisanship.
"If you vote Democrat and I vote Republican, and yet we end up with a Demo-Republican government, then at a certain point you and I are both going to get frustrated," said Erik Jones, director of European Studies at the Johns Hopkins School of Advanced International Studies. "The more often we vote with what we think are alternatives, but end up getting the same damn thing, the more disenchanted we are going to be."
Fringe groups do not always live on the far right, and they do not always wield a message of hate. In the U.S., we saw a jolt to both the center-left and the center-right in the 2016 presidential election when Bernie Sanders won over a group of young voters who were so disillusioned by the Democratic National Committee that they were not only open to, but profoundly inspired by, radical policies like socialist healthcare and free education. Sanders even captured the support of people who later voted for Donald Trump.
Trump, similarly, ran under the umbrella of the Republican Party, but consistently departs from its core tenets, even siding with Democrats in Congress when his frustration with Republican attempts at healthcare legislation reached a peak. In the words of conservative commentator S.E. Cupp, Trump "wears the Republican party like a rented tuxedo. And at the end of this adventure, it's going to be crumpled in the corner with cigarette-butt stains."
And Trump supporters, data show, don't care about his alignment with Republican ideals. A study published by Michael Barber and Jeremy Pope at Brigham Young University showed "group loyalty" motivates Republican voters more than ideologies and platforms.
"Trump voters are essentially willing to follow President Trump wherever he goes in the political landscape," says Wade Jacoby, a professor of political science at Brigham Young University.
Germany Has Red States, Too
You've heard about J.D. Vance's Hillbilly Elegy enough to last a lifetime. But the voice of the common man, the cries of populism, are not dying out. In fact, populism unites far-right movements more than perhaps any other factor.
Even in a strong economy like Germany's, even with an education system designed to value trades and manual labor, people with low incomes and in rural areas struggle to experience the same prosperity as their urban, high-income counterparts. They feel a sting not reflected in their country's high GDP and low unemployment numbers. The top 10 percent of Germans earn a third of the country's income, and they own 60 percent of all assets, according to the German Institute for Economic Research. Poverty is on the rise, hitting a record high (since reunification) of 15.7 percent in 2015. Germany's lowest earners haven't received raises in 15 years.
"AfD is stronger in parts that have been economically not doing so well, especially in rural parts where people feel forgotten, where public transport is not coming that often," says Carsten Koschmieder, political scientist at the Free University of Berlin.
According to Jacoby, populism is rooted in an anti-elitism that speaks to the common man when he feels ignored. Populism allows the AfD "to combine an economic criticism of the government, basically that they're looking out for elites, with a democratic criticism, that they're not looking out for the people."
"The idea of democracy is that the people know what to do," he says.
Islam And Immigrants Are Scapegoats
Europe is the most divided region in the world when it comes to accepting immigrants, according to a Gallup report, with acceptance at its lowest in Hungary and Eastern Europe and its highest in Sweden.
And indeed, the AfD modeled its platform upon this disconnect between public sentiment and public policy. Merkel's most contentious stance was her acceptance of 900,000 refugees in 2015, and it was the focus of furious protesters at her typically low-key campaign events. This summer, AfD supporters twice in one week threw tomatoes at the chancellor, and several more times showed up with whistles that made it hard to hear her speech and carried banners that read, "Merkel must go!"
In Saxony, the site of some of those protests and an eastern state where the AfD is at its strongest, the party won 27 percent of the vote and beat out all other parties. Only 0.1 percent of Saxony is Muslim (the average for Germany is 5 percent), and in 2014, almost half of all racist attacks in Germany occurred in the eastern region, The Economist reported.
"In the East part of Germany," Koschmieder says, "there were no foreigners until now...When you don't meet foreign people, it's far easier to have prejudice against them."
Enrico Leusch is a 19-year-old in Rhineland-Palatine who founded Facebook's largest AfD-supporter group,"AfD Sympathisanten," which has over 24,000 members. He wrote in an email that he voted AfD, in his first election, because he thinks it's the "only party in Germany which preserves the interests of the German people."
"The sharia is against our liberalism, norms and values," he wrote. "Don't understand me wrong. I don't have anything [against] Muslims, but I don't see that Muslims living in Germany do anything against fundamental Islam."