Extremists Ignored Contact Attempts by Woman in San Bernardino Shooting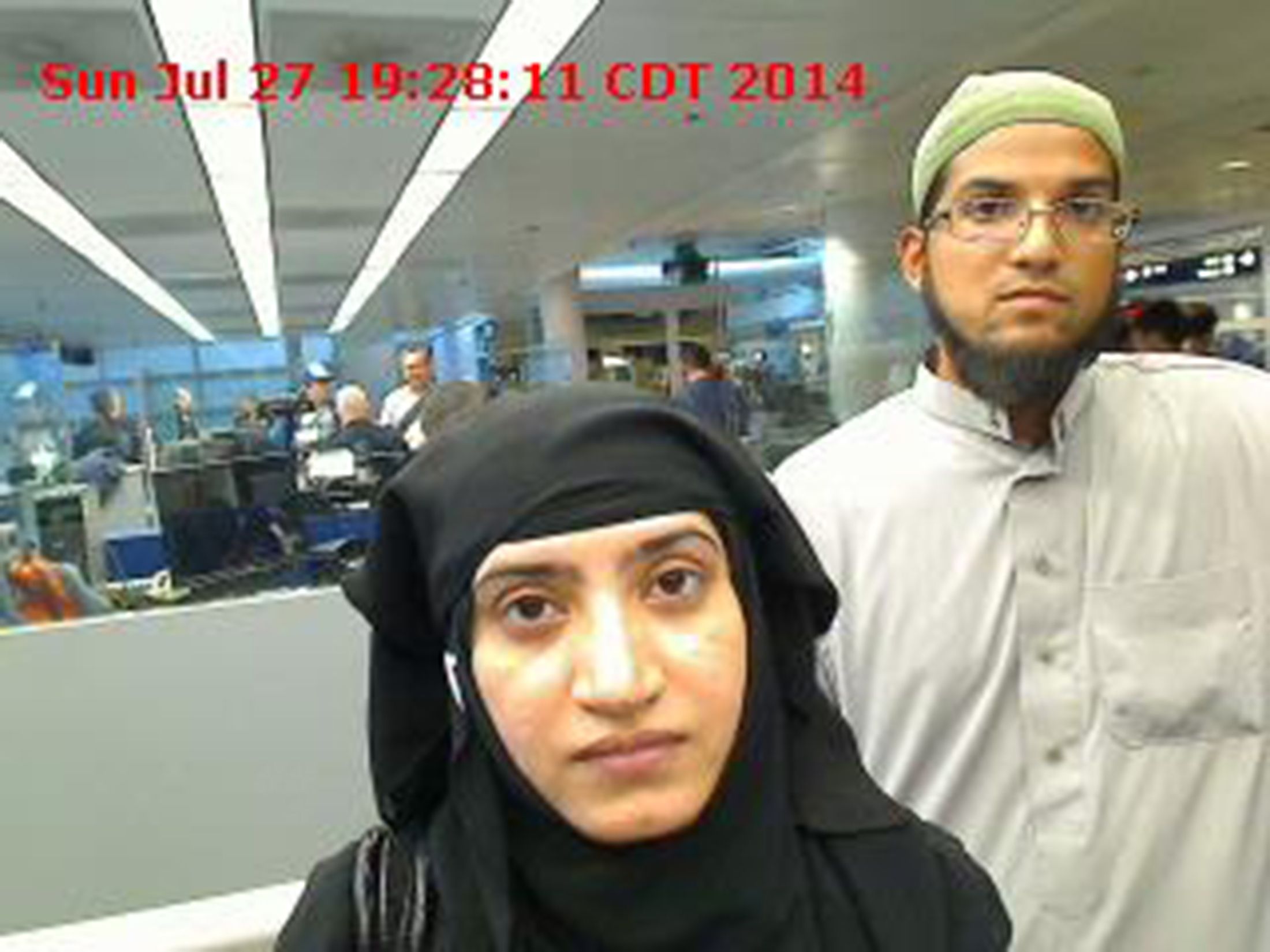 Islamic militant groups ignored contact attempts from Pakistan-born Tashfeen Malik in the months before she and her husband killed 14 people at a California holiday party, probably because they feared getting caught in a U.S. law enforcement sting, U.S. government sources said on Thursday.
Disclosures of her overtures to extremists abroad surfaced as the investigation of the Dec. 2 shooting rampage in San Bernardino, about 60 miles (100 km) east of Los Angeles, took a new turn with divers searching a small lake near the scene of the massacre.
The number of organizations that Malik, 29, tried to contact and how she sought to reach them were unclear, but the groups almost certainly included al Qaeda's Syria-based official affiliate, the Nusrah Front, the government sources said.
One source said investigators have little, if any, evidence that Malik or her husband, Syed Rizwan Farook, 28, had any direct contact with Islamic State, which has seized control of large swaths of Syria and Iraq and claimed responsibility for assaults in Paris last month that left 130 people dead.
FBI Director James Comey has said Malik and Farook declared at about the time of their attack that they were acting on behalf of Islamic State, which in turn has embraced the couple as among its followers.
But U.S. government sources have said there was no evidence that the Islamic State even knew of the couple before the killings.
Militant groups sought out by Malik likely ignored her approaches because they have become extremely wary of responding to outsiders they do not know or who have not been introduced to them, sources said.
The husband and wife were killed in a shootout with police hours after they opened fire with assault rifles at a holiday gathering of Farook's co-workers at the Inland Regional Center social services agency in San Bernardino.
Fourteen people were killed, and the number of wounded was raised to 22 on Thursday from 21 after a woman injured in the assault came forward, officials said.
The FBI said it is treating the shooting attack as an act of terrorism. If the massacre proves to have been the work of killers inspired by Islamic militants, it would mark the deadliest such attack on U.S. soil since Sept. 11, 2001.
On Thursday a team of divers from the FBI and San Bernardino County Sheriff's Department began searching the waters of Seccombe Lake Park, about 2-1/2 miles (4 km) north of the Inland Regional Center, seeking additional clues in the mass shooting.
The search of the lake, which could last for days, stemmed from an unspecified lead "indicating that the subjects came into this area" on the day of the attack, said David Bowdich, assistant director in charge of the FBI's Los Angeles field office. "We put a dive team into the lake as a logical part of that lead."
Bowdich said he would not discuss the "specific evidence we're looking for," but said it was essentially "anything that had to do with this particular crime."
He added: "We may come up with nothing."
CNN reported they sought a computer hard drive that belonged to the couple.
The attack by Farook, the U.S.-born son of Pakistani immigrants, and Malik, a Pakistani native he married in Saudi Arabia last year, has heightened security concerns in the United States and become an issue in the U.S. presidential campaign.
Comey, along with U.S. Homeland Security Secretary Jeh Johnson and John Mulligan, deputy director of the National Counterterrorism Center, briefed members of both houses of Congress on Thursday about the investigation in closed, classified sessions.
"The current impression is that these two people were acting alone," U.S. Senator Angus King of Maine told CNN after the briefing. But he added that he was troubled by the fact that the couple had tried to cover their tracks by destroying their cellphones and other electronic equipment.