Ex–White House Doctor Ronny Jackson Denies 'Political Hit Job' On-Duty Intoxication Accusation
Former White House physician Ronny Jackson denied allegations published Wednesday in a government watchdog report that accused him of being inebriated while on presidential trips and also said he bullied subordinates.
Jackson, now a congressman representing Texas' 13th District, worked in the White House Medical Unit (WHMU) during the administrations of former Presidents George W. Bush, Barack Obama and Donald Trump. He became the physician to the president during Obama's time in office, and Trump later appointed him to become the chief medical adviser.
The Department of Defense's Office of Inspector General began investigating Jackson after Trump nominated him to lead the Department of Veterans Affairs in the spring of 2018, a nomination Jackson later withdrew. The Senate Armed Services Committee requested the investigation after allegations against Jackson arose, according to the OIG report.
In a statement shared with Newsweek, Jackson called the report a revived "political hit job" from three years ago that has come back around because of his continued allegiance to Trump.
"Today, a Department of Defense Inspector General report has resurrected those same false allegations from my years with the Obama Administration because I have refused to turn my back on President Trump," he said. "Democrats are using this report to repeat and rehash untrue attacks on my integrity, so I want to be clear."
Jackson went on, "I'm proud of the work environment I fostered under three different Presidents of both parties; I take my professional responsibility with respect to prescription drug practices seriously; and I flat out reject any allegation that I consumed alcohol while on duty. I also categorically deny any implication that I was in any way sexually inappropriate at work, outside of work, or anywhere with any member of my staff or anyone else. That is not me and what is alleged did not happen."
Jackson also said he has "honorably served my country in the U.S. Navy, served patients who trusted me with their care, served three Presidents in the White House, and now I serve the people of Texas' 13th District in Congress. I have not and will not ever conduct myself in a way that undermines the sincerity with which I take my oath to my country or my constituents."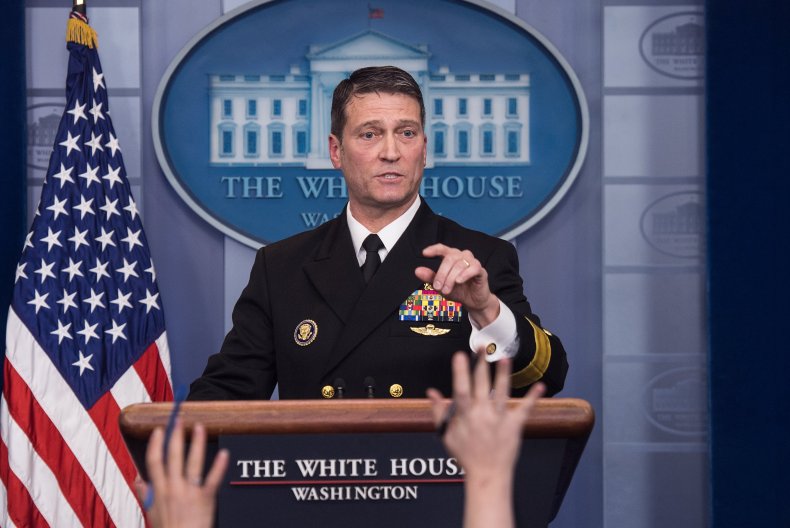 The OIG report said investigators spoke with Jackson and 78 witnesses over the course of the investigation, though it said those interviews were complicated by the office of the White House counsel's "insistence about being present at all interviews of current WHMU employees." The OIG report was further complicated when the counsel's office recommended that Jackson pass on answering questions about any alleged events after he became the White House physician in 2013, the report said.
The OIG said it completed its report based on testimony gathered from former WHMU employees and relevant documents, the combination of which the report said was "sufficient to determine the facts and reach conclusions regarding these allegations based on a preponderance of available evidence." Jackson questioned that sufficiency following the report's Wednesday release.
The OIG report accused Jackson of "failure to treat subordinates with dignity and respect" throughout his time in the WHMU, which the report said "created a negative work environment that witnesses said made an unfavorable impact on the overall command climate."
The report also alleged Jackson "engaged in inappropriate conduct involving the use of alcohol" on two occasions during presidential trips in April 2014 and March 2016. The alleged incidents in April 2014 involved Jackson allegedly making sexually suggestive comments about a female subordinate and allegedly erratic behavior while intoxicated during a presidential trip to the Philippines.
The report also outlines conflicting reports from witnesses regarding incidents in March 2016, when Jackson was accused of being intoxicated while on duty during a presidential trip to Argentina. Though one witness reported that Jackson smelled of alcohol while on duty, other witnesses either said they did not remember interacting with Jackson during that trip or said he was not on duty at the time they saw him consume alcohol.
The OIG appeared to believe the accusations, based on the evidence gathered over the course of its investigation.
"RDML Jackson made sexual and denigrating statements about one of his female medical subordinates to another of his subordinates," the report concluded. "RDML Jackson drank alcohol with his subordinates in Manila, became intoxicated, and, while in his hotel room, engaged in behavior that witnesses described as screaming and yelling, and behavior that some complained might wake the President."
The report also concluded that Jackson "violated WHMO [White House Medical Office] policy by drinking a beer while on a presidential trip to Bariloche, Argentina." The report said he "created a negative WHMU work environment" and suggested his use of Ambien while traveling raised questions about his ability to carry out the tasks required of the White House physician.
In a fact sheet Jackson's office provided to Newsweek, Jackson referenced past praise Obama gave him for his work and pointed to gaps that he said existed in the OIG's report. Regarding the alleged 2016 incident in Argentina, Jackson pointed to the witnesses who testified that they did not recall him smelling of alcohol.
"Unfortunately, the DODIG decided to publish its report prior to Dr. Jackson's having had the benefit of any due process—he has yet to be informed of the identity of a single witness or had any opportunity to ask them about their allegations," the fact sheet said. "To the contrary, purportedly numerous confidential witnesses have had the opportunity to disparage Dr. Jackson after he was thrust into the public spotlight by President Trump's nomination of him."