ExxonMobil, Chevron Smash Profit Records During Gas Prices Surge
ExxonMobil and Chevron have announced a huge spike in profits for the second quarter of 2022 as they benefit from a surge in energy prices that has left American drivers paying more at the pump.
The second-quarter results released on Friday for ExxonMobil showed a profit of $17.9 billion, a more than three-fold increase from its first-quarter earnings of $5.5 billion, which itself was double its profits compared to the same quarter last year. Its previous record net income came in the second quarter of 2012 at $15.91 billion.
Exxon's revenue soared to $115.7 billion from $67.7 billion a year ago which was well ahead of predictions. The company said it increased oil and gas production in the Permian Basin by about 130,000 oil-equivalent barrels a day and refining throughput by 180,000 barrels per day compared with the first half of 2021, MarketWatch reported.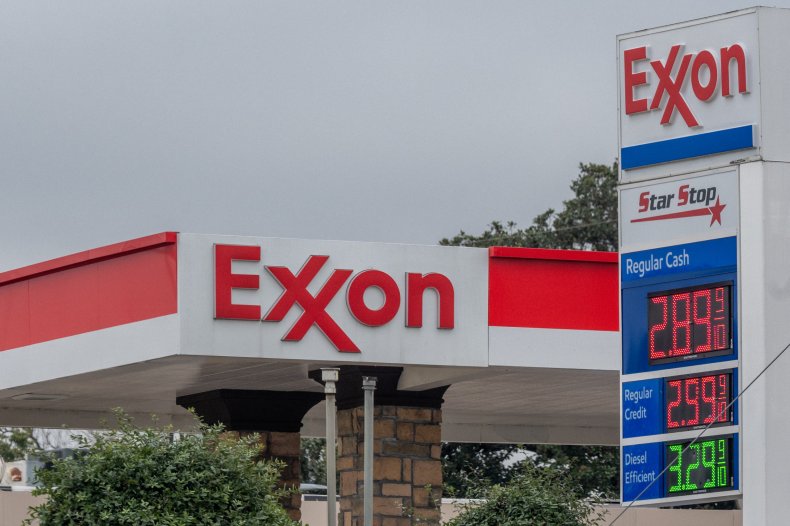 Meanwhile, Chevron earned a record $11.6 billion profit in the second quarter of 2022, which was almost four times higher than the $3.1 billion it made in the same period last year, The Wall Street Journal reported.
This follows months of volatile gas prices in the U.S. which hit a national record high of $5.02 per gallon on June 14, although it has dropped since then. Shares in ExxonMobil have soared 44.1 percent this year, according to Nasdaq, as commodity prices, in particular oil, have remained strong.
It poses a political problem for the administration of President Joe Biden, who has attacked the oil industry's high profits saying last month that Exxon had "made more money than God."
He said that his administration was going to "make sure everyone knows Exxon's profits" suggesting that his government would try to direct anger over high fuel prices to Big Oil.
Biden has accused oil and gas companies of profiting off Russian President Vladimir Putin's invasion of Ukraine and not doing enough to lower fuel costs. The oil industry has blamed high gas prices on Biden, complaining of what they perceive as limits on domestic oil and gas production.
Friday's figures come a day after Shell posted record results with a $11.5 billion second-quarter profit smashing the mark it set only three months ago, lifted by strong gas trading and a tripling of refining profit.
The spike in profits also came as the U.S. entered the official definition of a recession after figures from the Commerce Department showed U.S. Gross Domestic Product (GDP) fell by an annualized rate of 0.9 percent in the second quarter of 2022.
Analysts have estimated that the oil supermajors such as ExxonMobil and Shell, as well as Chevron, BP and Total will unveil a combined $55 billion in second-quarter profits in the coming days, according to S&P Capital IQ.
These profits would exceed even 2008 levels, when crude prices hit $147 a barrel and raised questions over how drivers' pain has been Big Oil's gain.